Opportunity for the "Autopedia" Car Marketplace Platform to Enter the GoTo Ecosystem
GoTo Boy Thohir commissioner is rumored to be buying 5%-10% shares in Adi Sarana Armada's subsidiary
Recently, Garibaldi 'Boy' Thohir officially held a 10 percent stake in PT Tri Adi Bersama (Anteraja) worth IDR 70,55 billion. Now, Boy Thohir is again rumored to be buying 5-10 percent of the shares owned by PT Autopedia Sukses Lestari Tbk (IDX: ASLC).
Both Anteraja and Autopedia are subsidiaries of PT Adi Sarana Armada Tbk (IDX: ASSA). Meanwhile, Boy is listed as the President Commissioner PT GoTo Gojek Tokopedia Tbk (IDX: GOTO) which has just been officially listed on the Indonesia Stock Exchange (IDX).
His acquisition of Anteraja shares automatically brought the logistics company into GoTo's giant ecosystem. Of course this corporate action will be in line with the strategy hyperlocal which is being promoted by GoTo.
Based on a public expose some time ago, GoTo Co-founder and CEO Andre Soelistyo said he would use the IPO funds to execute the hyperlocal strategy through three subsidiaries, namely Gojek (ride hailing), Tokopedia (E-commerce), and GoTo Financial (fintech). On line ride hailing and E-commerce, logistics plays a very important role.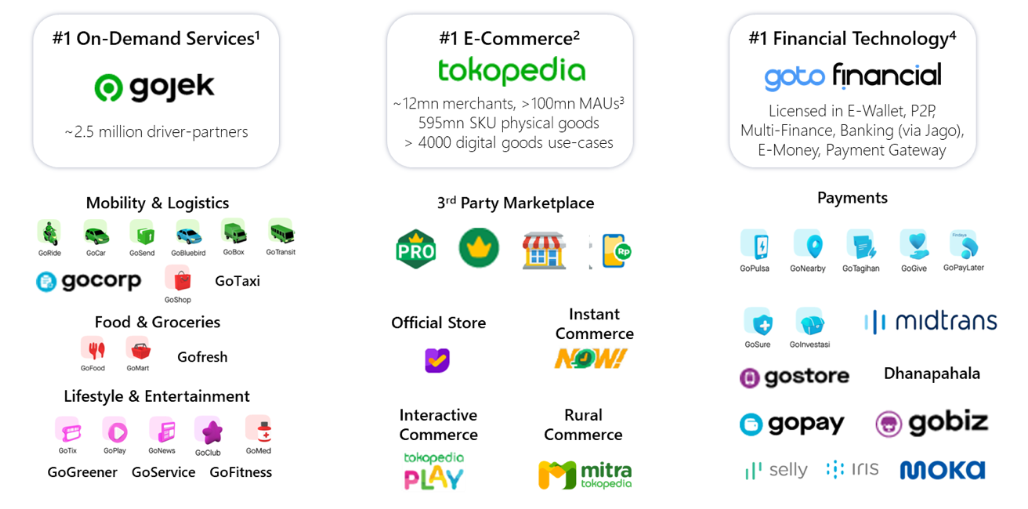 Then what about Autopedia?
O2O car sales
If you look at its business model, Adi Sarana currently has a strong position in the automotive sector through three business pillars, namely JBA Indonesia, Caroline.id, and Cartalog.
JBA is a vehicle auction platform, good online nor offline, supported by 34 auction networks offline throughout Indonesia. Most of them target B2B involving third party companies, namely financing and dealers. Cartalog is a platform for engine AI-based technology that provides price lists to all players in the automotive industry, especially used car sellers and buyers.
Then, Caroline.id is marketplace C2C and B2C that connects used car buyers and sellers with transparent prices. Through this platform, sellers can send appraisal to judge, to do listing, and processing cars for sale. In the B2C realm, Caroline.id competes with a number of players, such as Carro, OLX, and Carsome.
As of the third quarter of 2021, JBA Indonesia has auctioned 75.000 vehicles, more than 20.000 users, and more than 50.000 downloads on the Google Play Store. Caroline recorded transactions of more than 100 cars, and has 1.000 app downloads on the Play Store, while Cartalog still has 5.000 downloads.
Based on an interview with DailySocial.id last year, Director Adi Sarana Fleet Jany Candra said he was focusing on strengthening digitalization in his three business pillars and improving the digital-based automotive ecosystem that was integrated with the latest technology. Autopedia is also aiming to become O2O for used cars through the Caroline and JBA brands.
"Currently, we are still focused on developing existing businesses and strengthening the company's fundamentals by making digital-based technological innovations. However, we still have to see future business developments when we talk about the possibility of collaboration with platforms that have a large digital ecosystem," he said. to DailySocial.id.
If it is true that it is included in the GoTo ecosystem, a quite possible scenario is to integrate Adi Sarana's services into the Tokopedia platform, which has also penetrated into the sale of new and used cars. GoTo's giant ecosystem allows Adi Sarana to expand its car sales channel.
One of Tokopedia's ongoing collaborations is with Carro. Car record car buying trends online contactless have increased 100% from month to month. As of September 2020, three out of ten cars were sold, occurring simultaneously contactless.
In addition, platforms car marketplace can also be an alternative for Go-Car driver-partners who may need assistance in procuring a fleet. As is known, platforms similar to Autopedia usually also cooperate with financing institutions for the purchase of used cars --- or trade-in activities.
Business car marketplace growing rapidly
In Indonesia, the car marketplace business is developing well with the C2B2C business model. Several platforms that have served this market include Carsome, Carro, Moladin, OLX Autos, to the most recent one is Broom. Apart from providing a platform, they also act to buy and sell used cars directly from/to customers.
In the industry of buying and selling used vehicles, there are still a number of classic challenges faced by the perpetrators. Starting from market fragmentation, price transparency, product inventory, inspection system, to ease of financing. Each game competes to present the best solution in solving the issue.
Are you sure to continue this transaction?
processing your transactions....