Oto.com Acquires Carvaganza Media Group, Ambitious to Completely Digitize Automotive Business
Acquisitions include the Motorvaganza portal and Autovaganza as a subsidiary of Carvaganza
Automotive technology platform Oto.com recently announced that it has acquired automotive media Carvaganza and its two subsidiaries Motorvaganza and Autovaganza. This acquisition aims to increase the company's business scope to digitize the entire sales process of automotive products in Indonesia.
Since debut in 2015, Oto.com known as online portal (listing) which helps users get detailed information about car and motorcycle products. Including promo information, insurance and purchase credit.
To DailySocial, CEO of Oto.com Wasudewan said that after the acquisition there would be no fusion of sites -- although Oto.com previously also presented news and brief tips about automotive. The three media portals will continue to stand apart as usual.
Business plan in 2020
Furthermore, Wasudewan said, this year his company has also implemented a sustainable AI-based approach. One of its goals is to help its partners (in this case ATPM - the sole agent of the brand holder; the company appointed by the car/motorcycle manufacturer to market the product) in recognizing more deeply the habits and desires of consumers.
Every time users visit the Oto.com site in search of automotive products, they can fill in their personal data to be used.follow up with offer by ATPM. Oto.com does not conduct buying and selling transactions on its portal and is focused on providing information for new units. Wasudewan said that a month he could get around 250 thousand data for sales prospects.
Oto.com itself is part of the CarDekho Group. The automotive digital startup, based in Indonesia, has currently raised around US$190 million from a number of investors, including Sequoia, Hillhouse Capital, CapitalG, Tybourne Capital etc. They came to Indonesia in collaboration with the corporate media KMK Online (part of EMTEK).
Shifting media consumption trends
Wasudewan also commented on the current trend of media consumption among Indonesians. Not a few people turn to channels like YouTube to get automotive product reviews. Therefore one of the cornerstones of Oto.com acquired Carvaganza is to provide comprehensive information about related industries.
Background founder, Munawar Chalil, is also believed to be playing a key role. Especially in the industry, he is considered one of the important figures in the automotive news line. By continuing to present in-depth discussions about automotive products, it is believed that the Carvaganza reporting model will still be relevant and in demand by the public.
"Every year there are 1 million new cars sold in Indonesia, this number is projected to continue to increase along with the increase in GDP and infrastructure. When we first started in 2015, we saw that there were no portals that focused on providing detailed information about car products. Then we started a site that focus on that," said Wasudewan.
He continued, "One of the key factors of Carvaganza, Motovaganza and Autovaganza is that they are quite close to the automotive enthusiasm and have a good bond between them. With this acquisition, we will provide comprehensive and holistic value to all stakeholders involved in the industry ( including consumers, banks, multi-financers, dealers, marketers etc.)."
Meanwhile Munawar as Publisher & Group Chief Editor of Carvaganza "By joining Oto.com, we have the opportunity to grow better. We can also make a more meaningful contribution to the automotive industry. Oto.com is a platform listing and the largest car market place in Indonesia supported by quality people and technology. No wonder in four years its presence has become the number one automotive market in Indonesia."
Automotive site in Indonesia
In a publication entitled "Car Marketplace Survey 2018" DSResearch found that from 1871 survey respondents, 96,02% of them used digital platforms to get information about automotive products.
Therefore now the automotive site is fertile in Indonesia. Not only providing information, but also sales channels. There's a shape marketplace, there are also those who specialize in selling or buying used cars, and others.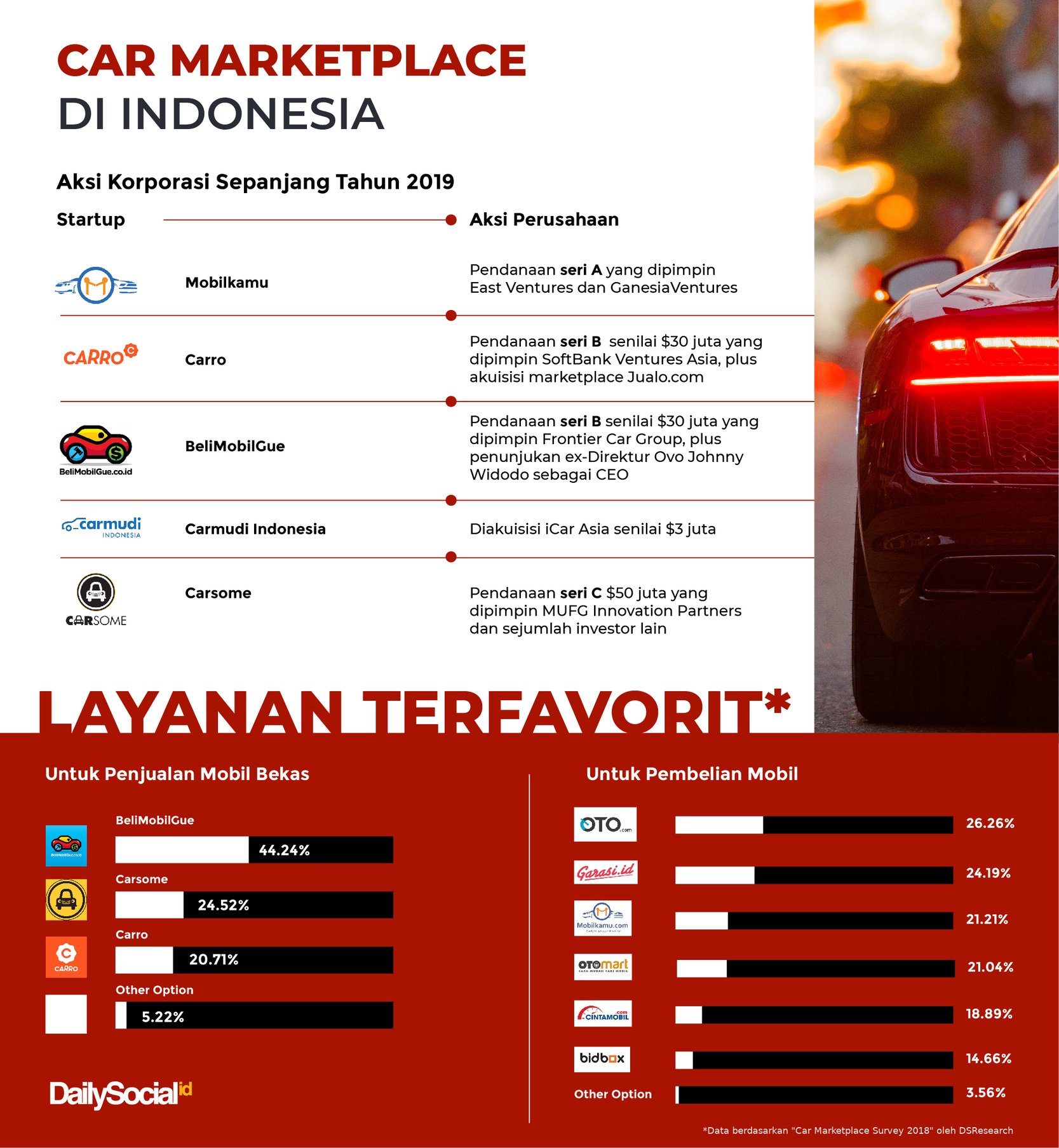 Application Information Will Show Up Here
Are you sure to continue this transaction?
processing your transactions....