Carro Claims to Have Pocketed $4 Million in EBITDA
This positive EBITDA realization was achieved thanks to Carro's efforts to avoid the subsidy war
Startups marketplace Carro automotive recorded an EBITDA of over $4 million in the first quarter of FY2024. According to its official statement, Carro's EBITDA is now at runrate annualized value of over $50 million or 10x its total in fiscal 2023.
The company said that it had exceeded its profitability target in Q1 2024 despite the weak seasonal situation in Southeast Asia, such as Eid, Songkran and other Hari Raya. Then, the gross profit margin in that period rose 14% compared to the realization in FY2023 of 9%.
Carro Co-Founder & CEO Aaron Tan said his non-involvement in the subsidy war allowed the company to generate positive EBITDA in four quarters.
"Execution on a digital ecosystem-based business model has strengthened our business fundamentals and is more resilient by contributing additional recurring revenue."
In addition, it is considered that the investment from Jardine C&C will help it achieve greater revenue growth, especially from the after-sales side. Carro's insurtech partners ZA Tech and MSIG are said to have yielded significant results, with written gross premiums growing nearly 100% year over year.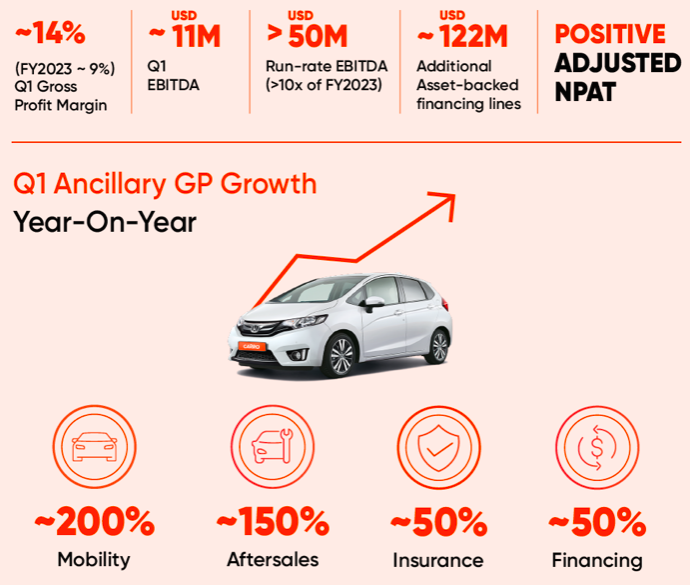 Aaron added, with strong cash flow and no operating losses, it had made the right decision to expand into Japan and other markets. This expansion will ensure even stronger growth in the coming years.
Carro CFO Ernest Chew revealed that the company has bucked industry trends and delivered a solid performance in the first quarter, where profitability metrics on all fronts improved. "Our EBITDA in the first quarter was 3x over our entire financial year last year. We are looking to continue to be EBITDA positive across our core markets."
Business marketplace automotive, which contributes 85 percent of Carro's total revenue, is also claimed to have pocketed an increase in gross profit margins over the 12 months. In addition, the contribution of supporting components which represent almost 60% of Carro's gross profit keeps the company from being under pressure to sell more in order to meet its profitability targets.
Therefore, it targets significant revenue growth in the near future. "We are a few of the technology startups that have achieved profit, not only in the Asian region, but also globally." Close it.
The digital-based automotive business is also affected by economic uncertainty. Two of its competitors, Moladin and Carsome, are known to be trying to strengthen their business foundation amidst the macroeconomic crisis.
Both Moladin and Carsome are pursuing mass layoffs in order to achieve a sustainable business in the long term. Moladin tries to get back up by going into financing business line which is believed to be able to strengthen the used car ecosystem, due to the high need for financing in the industry. Meanwhile, Carsome's employee efficiency measures are not only implemented in business units in Indonesia, but also in Thailand and Malaysia.
Based on the financial performance of the fiscal year 2022, Carsome recorded a 250% increase in revenue to $1,5 billion with Carsome Certified's new regional retail line accounting for 35% of total revenue. Carsome also claims to have achieved profitability for the first time in the first quarter of 2023.
Application Information Will Show Up Here
Are you sure to continue this transaction?
processing your transactions....