Waste4Change Gets Additional Funding from Rumah Group After Winning CIIC 2023
AfterOil, Qarbotech, BANIQL were also the winners in each track, getting a prize of IDR 10 billion from East Ventures and Temasek Foundation
East Ventures and the Temasek Foundation have just announced the winners of the 2023 Climate Impact Innovations Challenge (CIIC) event. As previously known, this is a competition program aimed at startups with climate technology solutions in Indonesia. This announcement was made in sideline events ASEAN Business and Investment Summit 2023 which took place on 2 September 2023 at the Ritz-Carlton Jakarta.
This competition took 4 winners with different tracks. Here's the list of winners: AferOil from the Renewable Energy track; Qarbotech from the Food & Agriculture track; BANIQL from the Mobility track; And Waste4Changefrom the Marine track. The winners get a total prize of IDR 10 billion.
Waste4Change also received investment worth $70 thousand or IDR 1 billion from Rumah Group. Telkomsel Innovation Partners (TMI) are also committed to providing investment of the same value to one of the CIIC 2023 finalists. internal reviews --- to be announced soon.
Since its launch in early March 2023, CIIC has managed to receive 330 registrants. Then 12 finalists were selected to advance to the final round representing the 4 tracks that were contested.
"In the midst of the challenges facing the world, CIIC 2023 is a hope that displays real action in encouraging the development of positive climate solutions towards a sustainable future [...] Towards the end of this program, we believe there is still much we can do to reduce the impact of climate change. Therefore, we remain committed to continuing to support climate innovators in Indonesia and the region," said Co-Founder & Managing Partner East Ventures Willson Cuaca.
Meanwhile Head Programmes of Temasek Foundation Lim Hock Chuan said, "The four winners each offer a promising way to tackle urgent climate issues with the potential to have far-reaching impacts if scaled up. We are enthusiastic about the prospect of sustaining eco-friendly mobility batteries through the use of nickel waste ore; renewable energy through the production of synthetic gas from biomass waste; increasing crop yields and nutrition through increasing photosynthesis with spray solutions; and circular business models in recycling plastic waste."
East Ventures –as the initiator of CICC 2023-the last few years has been widely calling for impact investment. Their seriousness was accompanied by the formation of the team impact investing in his words. A number of startups that focus on green energy and climate change have also received investment, such as Xurya, Waste4Change, Rekosistem, Aria, Kabina, and several others.
They have also developed Sustainable Investment Framework (Sustainable Investment Network) to measure, track, and enhance the impact of its portfolio on the environment, economy, and society.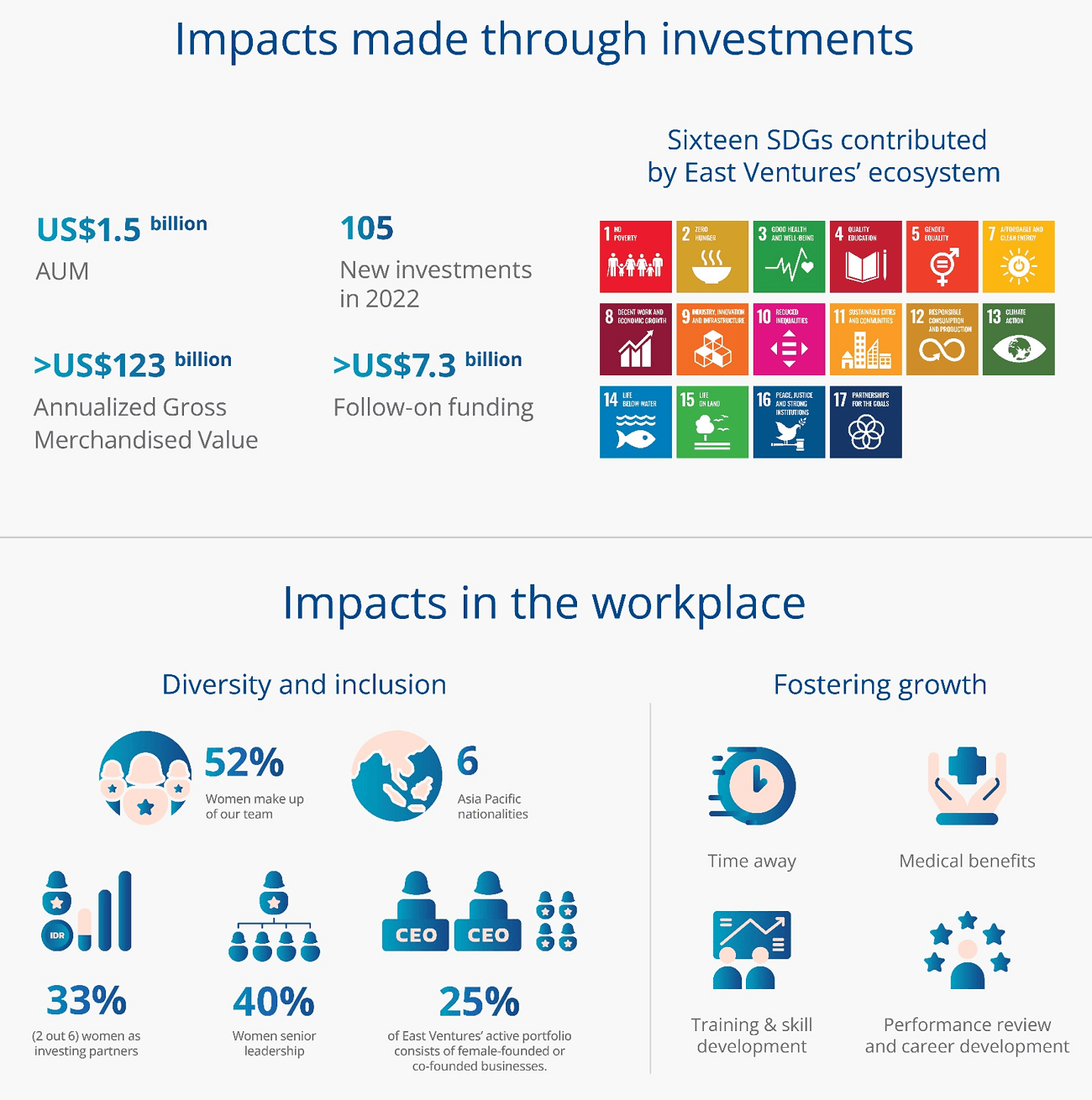 Are you sure to continue this transaction?
processing your transactions....