Collaborating with GogoKids, Kiddo Presents Various Choices of Online Classes for Children
Also exchange content with similar players from Malaysia
Aims to provide online class options to children, platforms ticketing and activity content Kiddo established a strategic partnership with GogoKids from Malaysia. Through this collaboration, users can take online classes from both countries. Child activity service providers from Indonesia can also market their class more broadly to Malaysian customers.
With the increasing choice of online activities from this neighboring country, he hopes to be able to encourage parents to continue to explore the potential of their children during quarantine at home. The activity categories vary from language, dance, painting, programming, communication, and others.
To DailySocial Co-Founder & CEO Kiddo Analia Tan revealed that Kiddo's collaboration with GogoKids is expected to provide a new color in children's learning activities and in each country. Previously, various choices of activities for children and families were available at Kiddo. During this PSBB period, Kiddo presents a selection of quality activities for Indonesian children. Classes that are usually attended by children can still be carried out virtually and ordered through the platform.
"We want to provide more choices for parents in Indonesia in choosing activities that suit their children's needs, so that their little ones can continue to develop their potential even though they have to #stayhome. On the other hand, we also want to help providers of child activities in Indonesia to expand its business wing to the Malaysian market through this collaboration," said Analia.
New features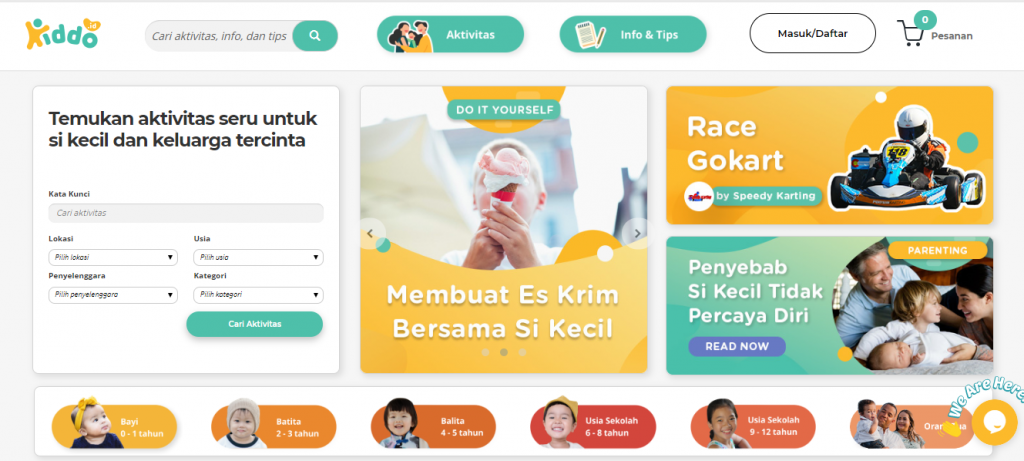 Kiddo has also released a new feature called Online Class By Kiddo, allows children's activities to be accessed at any time during the subscription period because they are packaged in the form of a learning video series. This innovation makes it easier for parents and children to access class materials because they can adjust their respective schedules.
"Usually there are parents who have difficulty managing time and mood of its own. children to study or play together. With the Online Class feature from Kiddo, parents can more freely manage their children's study time," said Analia.
Targeting the B2B and B2C markets, Kiddo claims to demand most of which come from B2C. However, to strengthen the B2B segment, Kiddo is also working with brand to help them in running brand activation.
Currently, user-chosen features include activity registration features, info & tips, and community collaboration. Kiddo also has thousands of registrants and is spread in several big cities in Indonesia, but is concentrated in Java Island.
"This year, our target is to launch a new feature which is currently still in development. Later this feature will make it easier for parents to help their children develop themselves according to their potential," said Analia.
Are you sure to continue this transaction?
processing your transactions....