Evermos Announces Series B Funding of More than 427 Billion Rupiah, Social Commerce Business Expands
This round was led by UOB Venture Management with the involvement of MDI Ventures, Telkomsel Innovation Partners, Future Shape, Jungle Ventures and Shunwei Capital
Startups social commerceEvermos announced that it has closed its series B funding of $30 million or equivalent to 427,3 billion Rupiah. This round was led by UOB Venture Management through the Asia Impact Investment Fund II. Some of the other investors involved include MDI Ventures, Telkomsel Innovation partner, Future Shape, and also supported by previous investors, namely Jungle Ventures and Shunwei Capital.
The fresh funds raised will be used to strengthen the leadership team, expand and develop technology. We previously reported the news of the Evermos series B round since last August 2021, including the presence of involvement of 2 CVC belonging to the Telkom group.
"Our vision is to empower one million micro-entrepreneurs in the next five years. One of the main factors influencing the way we do business is by measuring the sustainability and social impact of our platform," said Evermos Co-Founder & President Arip Tirta.
He also said that so far the company's income has been mostly supported by individuals and SMEs in the city tier-2 and 3. To strengthen their presence in the area, they are currently running a pilot program "Evermos Village", involving almost 100 villages. In this program, local residents who are still less productive are empowered to become partners reseller -- including being trained with the principles of entrepreneurship.
Concept social commerce Evermos
Since it was founded in November 2018 by Arip, Ghufron Mustaqim, Iqbal Muslimin, and Ilham Taufiq; Currently Evermos has around 100 thousand reseller active in 500 cities. They partner with more than 500 brand with 90% of them coming from curated local SMEs.
The products provided are mostly Muslim clothing commodities, halal health/beauty products, food and beverages, and others -- most of them prioritize halal products. From a business perspective, in the last two years they claim to have grown by up to 60 times.
The Evermos application facilitates people who want to be reseller. These users can then sell the products in the application to their network, via WhatsApp or social media. There is a profit sharing or reward applied. Evermos itself, in addition to providing products, also helps in terms of logistics management, customer support, and technology.
Evermos Co-Founder & Deputy CEO Ghufron Mustaqim stated that the basis of his business philosophy is 'Gotong Royong Economy', prioritizing collaborative economic empowerment. Through the network reseller existing, Evermos wants to be a means for local SMEs to develop their business, on the other hand it will generate additional income for reseller.
Potency social commerce in Indonesia
Total GMV generated from trading business online indeed continues to grow rapidly in Indonesia – until now it still has the largest proportion in the region. According to Bain & Co. data, as visualized by Statista, in 2020 the total GMV for trading business online in Indonesia has reached $47 billion.
Although the majority come from E-commerce or online marketplace, service social commerce has a contribution that is not small, which is about $ 12 billion.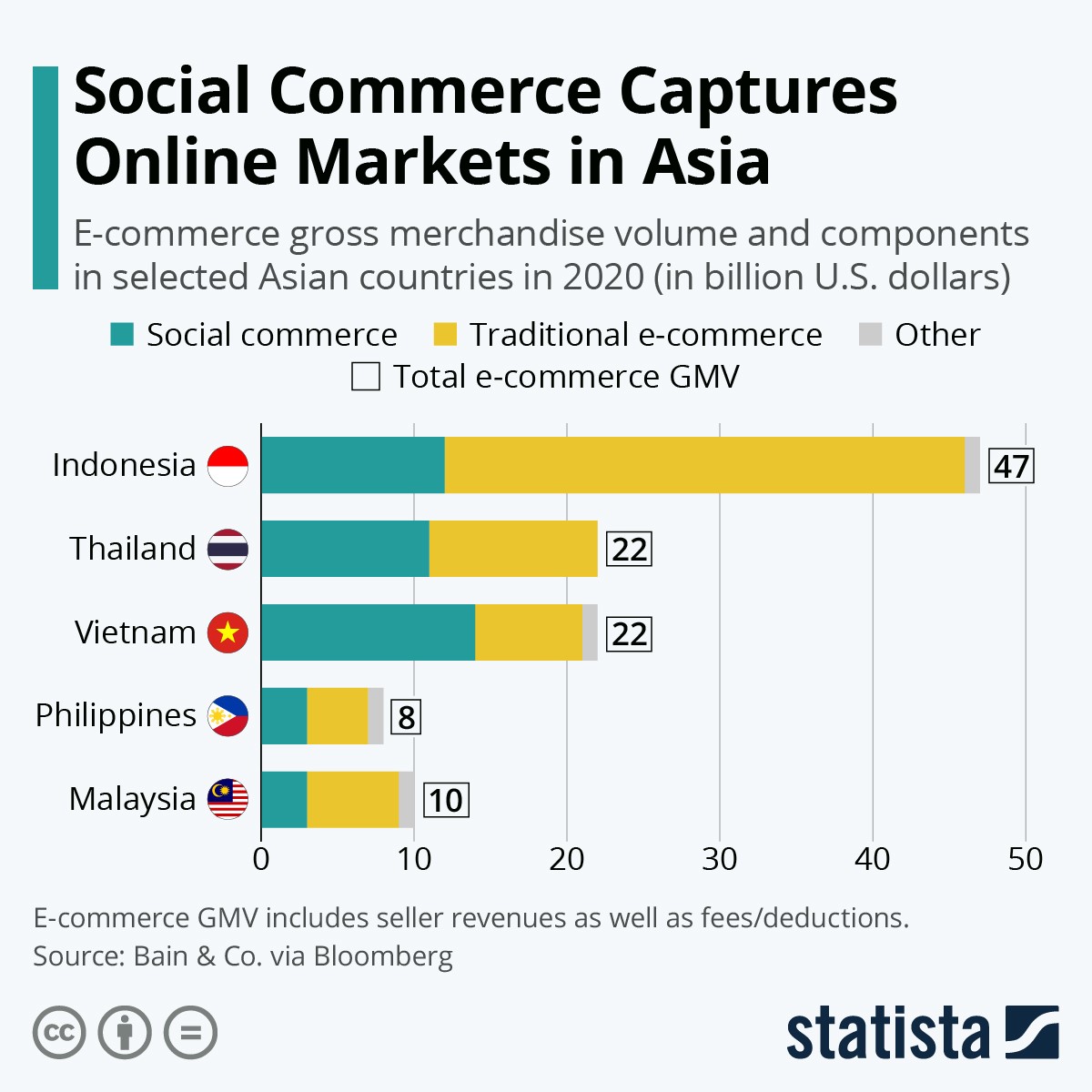 Meanwhile, according to McKinsey, business social commerce projected to grow rapidly to $25 billion by 2022. The pandemic condition is one of the catalysts, this is related to changes in the way people shop and the job opportunities offered by social commerce.
UOB Venture Management Senior Director Clarissa Loh explained, the model social commerce Evermos can be a bridge in addressing this gap, by enabling resellerto market the products of local SMEs.
"The Evermos platform is empowering too brand and create a source of income for the lower middle class who have minimal access and opportunities, but have and use smartphones (underserved community)," added Clarissa.
Player social commerce in Indonesia
In Indonesia, there are already several platforms that offer similar services. Even throughout 2021, several startups social commerce others also receive funding from investors, including:
| | |
| --- | --- |
| Startups | Funding Stages |
| RateS | Serie A |
| Raena | Serie A |
| WeBuy | Series A, 114 billion Rupiah |
| Super | Series B, 405 billion Rupiah |
| Trade | Pre-Series A |
Application Information Will Show Up Here
Are you sure to continue this transaction?
processing your transactions....