Astra and WeLab Launch Saqu Bank, Digital Banking Service for Solopreneurs
Bank Saqu is the result of the transformation of Bank Jasa Jakarta after being acquired by Astra Financial and WeLab Sky
Bank Jasa Jakarta (BJJ), a bank owned by the Astra Group and WeLab, officially launched the Bank Saqu application on Monday (20/11). Bank Saqu is ready to compete with a number of other digital banking applications in Indonesia.
President Director of Bank Jasa Jakarta Leo Koesmanto revealed that Bank Saqu has a different position from existing digital banking. Saqu Bank targets the youth segment, especially young people solopreneur in Indonesia.
"We have to have positioning which is different from existing digital banking. Many active young people have businesses or side gigs. "This segment has a productive way of thinking, not consumerism," said Leo at the Saqu Bank launch event in Jakarta.
Quoting one study, Saqu Bank said there was an estimate of 117 million solopreneur in Indonesia in 2030. The study also estimates that the contribution of solopreneurs to GDP will reach 36% in 2030.
"With local market insight and good coverage of the Astra ecosystem offline and online, as well as WeLab's technological prowess, we believe Bank Saqu is able to position itself to enter this promising market," he added.
Saqu Bank can now be downloaded on the Google Play Store and Apple Store. The following are a number of services/features:
Saku: pocket feature that customers can personalize with up to 20 pockets
Busposito: deposit product, claimed to be the first in Indonesia, which utilizes the power of community. This means that the more people join Busposita, the greater the interest customers will receive.
Tubematic: customers can save automatically from each rounding transaction via QRIS.
Booster Pocket: special pocket to store everything cashback which customers obtain from transactions, including Tabungmatic.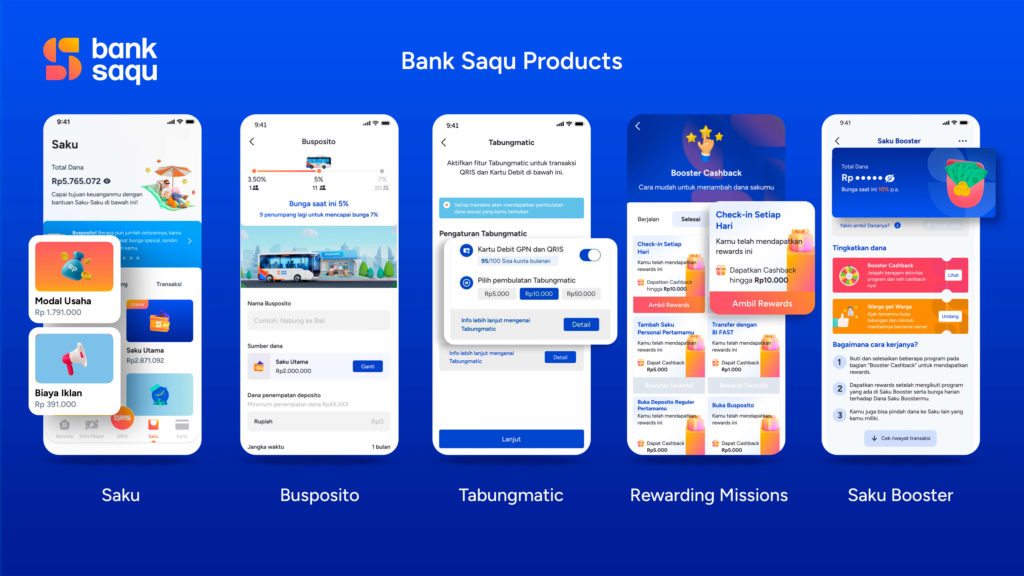 For information, Bank Saqu is the result of the transformation of Bank Jasa Jakarta (BJJ) that has been completed acquired by PT Astra International Tbk through its subsidiary PT Sedaya Multi Investama (Astra Financial) together with WeLab through WeLab Sky.
Astra Financial and WeLab Sky are the controlling shareholders with share ownership of 49,56% each. The completion of the acquisition transaction was completed last year.
Still continue
The trend of transforming conventional banks into digital banks continues today. Superbank (formerly Bank Fama) is the result of an acquisition by the EMTEK Group, Grab, and Singtel. Recently, a digital bank from South Korea, Kakaobank will also acquire 10% of Superbank shares.
Then, Hibank (formerly Bank Mayora) was also acquired by PT Bank Negara Indonesia Tbk (BNI) last year. BNI collaborates with Sea Group as Bank Mayora's technology partner. Both Superbank and Hibank are also preparing their digital banking services which are both targeting the MSME segment.
Other digital banks that have a similar approach exist Royal Bank, which targets the working segment gig economy or informal workers. Temporary, Aladdin Bank prefer an approach that touches the daily aspects of users by collaborating with the Alfamart retail network.
Application Information Will Show Up Here
Are you sure to continue this transaction?
processing your transactions....