Crypto Outlook 2022: Crypto transactions in Indonesia are declining
The number of crypto investors exceeded 16,4 million people, surpassing capital market investors which amounted to 9,98 million people
The Indonesian Blockchain Association (ABI) and Indonesia Crypto Network (ICN) have just released "Indonesia Crypto Outlook Report 2022" which highlights the development of the industry blockchain and homeland crypto at this time of year.
"This landscape was created with the aim of providing a comprehensive picture of the industrial ecosystem blockchain and crypto assets in Indonesia," he said Chairwoman ABI Asih Karnengsih.
This report mentions that the industry blockchain and cryptocurrencies in Indonesia have grown exponentially over the past six years. This growth was also supported by an increase in internet penetration, which currently has reached 77% or as many as 210 million users.
As of October 2022, the number of crypto investors in the country was recorded at 16,4 million people, surpassing capital market investors of 9,98 million people. However, During the January-October 2022 period, crypto transactions in Indonesia fell by 61% or to IDR 279,8 trillion from the same period last year which broke the Rp. 717,99 trillion figure.
Breaking down by type, Indodax data records Bitcoin as the asset with the highest transactions for three consecutive years from 2018-2020. In 2021, Dogecoin takes over the top spot with total transactions of IDR 40,8 trillion. Then as of August 2022, Theter took the biggest transaction with IDR 18,4 trillion.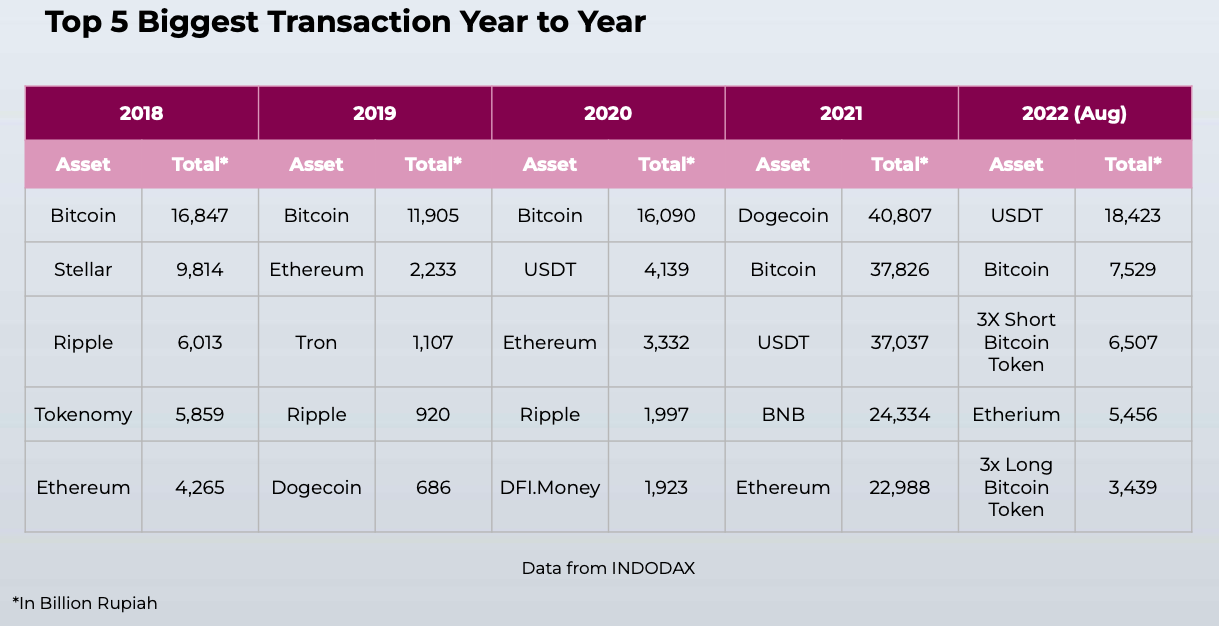 Based on data from the Ministry of Communication and Informatics, currently there are 569 companies or startups registered in the Online Single Submission (OSS) system that are included in the category "Blockchain Technology Development Activities" with the Standard Classification of Industrial Business Fields (KBLI) 62014.
Meanwhile, ecosystem landscape blockchain and Indonesian crypto is mapped into 12 categories from a total of 383 crypto projects; still dominated by Blockchain platforms (90), Decentralize Finance (84), and transaction-based
Previously, reported from Liputan6.com, Chairman of the Indonesian Association of Crypto Asset Traders (ASPAKRINDO) Teguh Kurniawan Harmanda assessed that the decline in the volume of crypto transactions in Indonesia occurred due to the domino effect of the global macroeconomic crisis. The market was sluggish due to the monetary policy of the United States (US),
"Global financial system shocks can have a sizeable effect on the crypto market. These shocks are a macroeconomic situation that is faltering due to recession and heated geopolitics. This can make the situation crypto winter could happen," he said.
Crypto policy
This year has also been a busy year for policies initiated by the government to tighten regulations on the crypto industry in Indonesia. This report notes a number of new policies that have emerged, such as the collection of Income Tax (PPh) and Value Added Tax (VAT) in crypto asset purchase transactions effective from May 1, 2022.
The government will impose PPh and VAT at final rates of 0,1% and 0,11% respectively for registered traders, and 0,2% and 0,22% respectively for traders who have not been registered. Meanwhile, the total tax revenue from crypto assets as of October 2022 reached IDR 191,1 million.
Then, CoFTRA issued an amendment to CoFTRA Regulation Number 8 of 2022 concerning Guidelines for Organizing Crypto Asset Physical Market Trading on Futures Exchanges from CoFTRA Regulation Number 8 of 2021 concerning Guidelines for Organizing Crypto Asset Physical Market Trading on Futures Exchanges.
This report also highlights Bank Indonesia's steps to explore the development of a Central Bank Digital Currency (CBDC) or Digital Rupiah through the Garuda Project. For your information, Bank Indonesia (BI) issues white paper Rupiah Digital with the blessing of President Joko Widodo last November.
"The development of Digital Rupiah will become the only legal digital payment instrument in Indonesia." Said the Governor of Bank Indonesia Perry Warijiyo as quoted from detik.com.
Are you sure to continue this transaction?
processing your transactions....