Boku Report: OVO Leads "Mobile Wallet" Market Share in Indonesia
The payment fintech service competition is still wide open with a projected volume of 16 billion transactions in 2025
Payment network provider company mobile devicesboku recently released a survey related to the market mobile wallet in this world. The survey entitled "Boku: 2021 Mobile Wallets Report" it also highlights the competition to usage behavior mobile wallet in Indonesia.
Indonesia is reported to be the third country in the world with growth mobile wallet fastest, its penetration is predicted to soar threefold with transactions estimated to increase tenfold in the next five years.
This report reveals, transaction volume mobile wallet in Indonesia is estimated to reach 1,7 billion in 2020 and increase to 16 billion transactions in 2025. Meanwhile, the transaction value in 2020 reaches $28 billion and is estimated to grow significantly to $107 billion or IDR1,55 quadrillion in 2025.
Total users mobile wallet Indonesia is recorded at 63,6 million or 25,6% of the total population. This figure is also expected to increase to 202 million users or 76,5% share in 2025.
In the report, there are five Indonesian players who are fiercely competing in the market mobile wallets. If sorted by the highest transaction growth in 2020, the fifth mobile wallet These include (1) OVO with $10,7 million, (2) ShopeePay with $4,3 million, (3) LinkAja with $3,9 million, (4) Gopay with $3,7 million, and (5) DANA with $3,4, XNUMX million.

OVO outperforms usage mobile wallet in Indonesia with 38,2% market share, followed by ShopeePay (15,6%), LinkAja (13,9%), Gopay (13,2%), DANA (12,2%), and others (6,9%).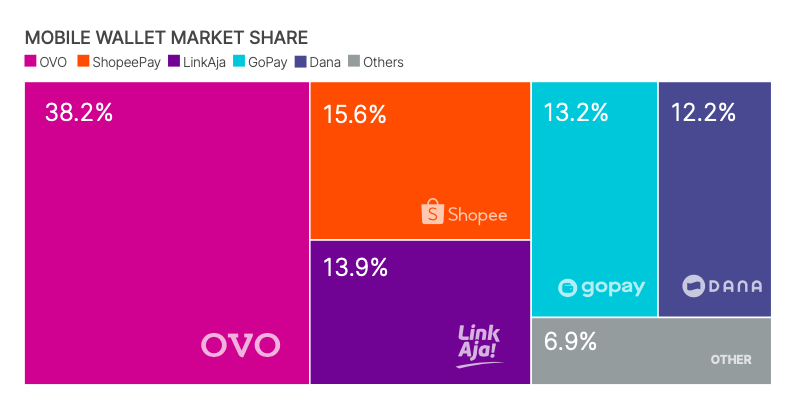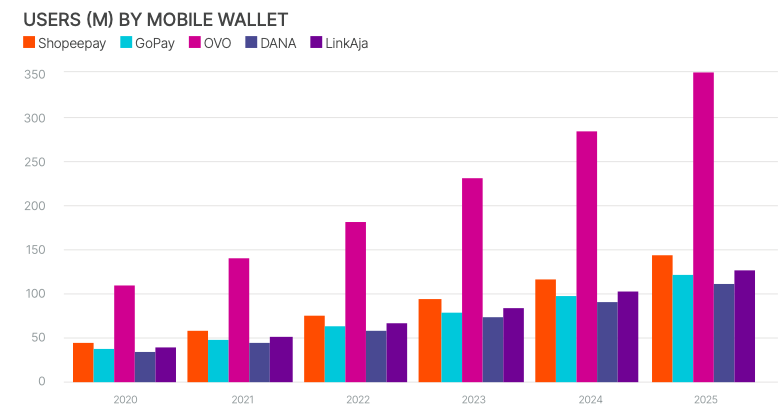 This survey reveals, mobile wallet have a significant role in driving acquisitions new customer in e-commerce services. On the other hand, five players mobile wallet in Indonesia are competing fiercely to take a niche market.
"Intense competition in the market mobile wallet also triggered by the involvement of Venture Capital (VC) which aggressively invests in players," the report said.
This can be seen from how ShopeePay is able to outperform several players incumbent, such as Gopay and DANA in 2020. ShopeePay is considered to provide many discounts and promotions to consumers thanks to capital support from investors. This factor brought him to the second position of usage mobile wallet most in Indonesia.
User behavior mobile wallet in Indonesia
Boku also conducted a survey of 1035 respondents to find out the landscape of usage behavior mobile wallet in Indonesia. As a result, the average Indonesian consumer uses 3,2 mobile wallet to maximize the benefits of each service. These findings are as much as the results of a usage survey in India.
There are five biggest reasons Indonesian consumers use mobile wallet including digital payments (73%), cashback/discount from mobile wallet (69%), want to try (61%), cashback/discounts from certain merchants (57%), and because they want to stop using cash (53%).
"Cashback become the main factor why the average consumer uses 3,2 mobile wallet. This factor is followed by a follow-up question, namely 'why do you use more than one wallet'. Respondents answered they wanted to collect benefitt is different from each service," he explained.
In usage activities, Indonesian consumers mostly use mobile wallet for top up, payments, bills, transfers. This is actually a signal of how mobile wallet menjadi proxy to help open a community account.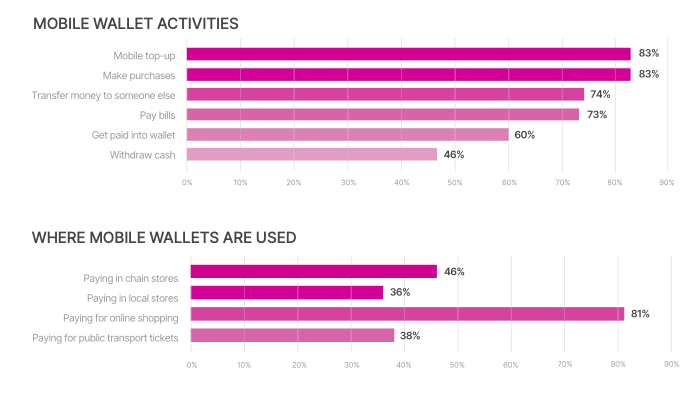 Then, this report also found that 81% of respondents in Indonesia used a lot of mobile wallet for shopping online. When compared to direct in-store payments of 40% combined, this sums up how Indonesian consumers are so centered on e-commerce services.
According to respondents, shopping online be the top function they use a lot on "great app". "These findings make Indonesia a market mobile only with market competition mobile wallet and great app strong," he added.
Furthermore, Indonesia is one of the fastest markets in the world for usage mobile payments. As a result, Indonesia is one of the countries in the world that has a fast transition from using cash to cash mobile wallet.
"We found cash payments, bank transfers, and debit cards to be the types of payments that many consumers are starting to abandon and switch to mobile wallet. Even payments via mobile devices outperform credit cards, which explains the low penetration of credit cards in Indonesia," the report said.
On the other hand, Indonesia is also difficult to accept merchant. This is due to the fragmentation of the market and the rapid changes in consumer preferences. In fact, Indonesia has a great opportunity to empower payments online pada merchant.
Are you sure to continue this transaction?
processing your transactions....