BukuKas Gets Series A Funding Of IDR 142 Billion Led By Sequoia Capital India
Other investors involved include Saison Capital, January Capital, Founderbank Capital, Cambium Grove, Endeavor Catalyst, and Amrish Rau
BukuKas, a startup developer of financial recording applications for MSMEs today (12/1) announced that it has received series A funding worth $10 million or equivalent to 142 billion Rupiah. This round was led by Sequoia Capital India with the participation of previous investors, namely Saison Capital, January Capital, Founderbank Capital, Cambium Grove, Endeavor Catalyst, and Amrish Rau.
Since its founding in 2019, BukuKas has managed to raise $22 million or the equivalent of 313 billion Rupiah from investors -- including through round seed and pre-series A. Additional capital will be focused on accelerating acquisitions merchant, and strengthening the technical/product team in the Jakarta and Bangalore offices.
As of November 2020, BukuKas has 3,5 million app users with 1,8 million active monthly users. However, Cashbook don't play alone in this market share. Its closest competitor is BukuWarung, with a similar business model to millions of users. In addition, there are several local startups that have also launched MSME financial records applications, including Credibook, mood, Business Friend, My Accounting, etc.
"We see this funding round as a strong belief in the huge market opportunity, as well as the team's capabilities and execution so far. While we have grown rapidly this year, we are just getting started. This round is an important step for us to continue working towards our mission to empowering 60 million small traders and retailers in Indonesia to switch to digital," said BukuKas Co-Founder & CEO Krishnan Menon.
In a previous interview with DailySocial, he said that his business is positioned as a MSME digitization software company that will develop into a player fintech. "The merchants have realized that go-digital very important to their business. Traders save 2-4 hours a day, 20% costs and minimize manual calculation errors. We also allow merchants to recover cashback 3x faster because the process is automated."
Then regarding the business model he also explained, "We currently have an interesting initial experiment on monetization, but it is still too early. It can be done in many ways, some of which are obvious such as SaaS, financial solutions, and there are some other interesting ones but not yet can we be part of this time."
In its release, BukuKas also announced its acquisition of the Daily Financial Records application. This company action has actually been carried out since last September 2020; with the hope of strengthening their leadership in the related segment.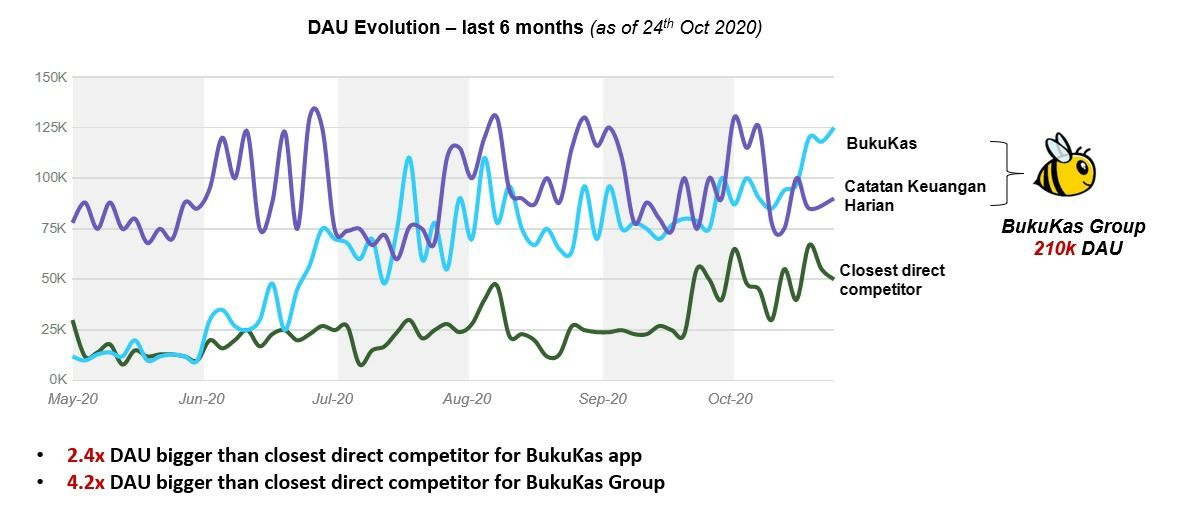 "While app features can be replicated as they evolve, maintaining an extreme level of simplicity in a product while adding substantial value will be a challenge. Ultimately it is the companies that are able to make this happen on a large scale that will take the lead," said Krishnan.
With unique characteristics, the Indonesian market does need a special touch. This is what the BukuKas team also believes, is represented in feature adjustments. For example, to be able to reach users in small cities, they bring fashion features offline with automatic synchronization when the user is successfully connected to the internet network.
Furthermore, the Co-Founder & COO of BukuKas, Lorenzo Peracchione, said that in the near future there will be several new features including digital payment integration. "Merchants will be able to collect money from their customers using various payment options in an easy way. Payments will be automatically added in the BukuKas app, further automating the bookkeeping process and reducing the inconvenience for our users."
BukuKas has also just released an innovative inventory management module in its application. This feature allows small traders to track the movement of their stock without creating the complex frameworks that characterize current inventory management solutions.
Application Information Will Show Up Here
Are you sure to continue this transaction?
processing your transactions....