Vexanium wants to Transform Loyalty Platform with Blockchain
Being in the ICO stage, present as a PaaS-based product
One more platform based blockchain will be present in Indonesia. Vexanium initiated by two Co-Founders, namely Danny Baskara and Robin Jang. The focus is on creating Platform as a Service (PaaS) products for record keeping rewards, loyalty points, tokenization generation vouchers/coupons to advertising platforms.
In this early stage, Vexanium made its debut by conducting an ICO (Initial Coin Offering) campaign. Like a startup blockchain in general, Vexanium gave birth to a new crypto token called "VEX" to be used as a transaction medium. As of this writing, Vexanium has entered ICO phase 1, having previously successfully closed the pre-ICO phase.
Decentralized model offered blockchain considered to be able to bring efficiency in marketing. In its implementation, the Vexanium system will beembed with services or applications that the business owner already owns. The VEX token will be the basis of transactions in it, companies using the related platform can buy and use for loyalty programs.
Vexanium business model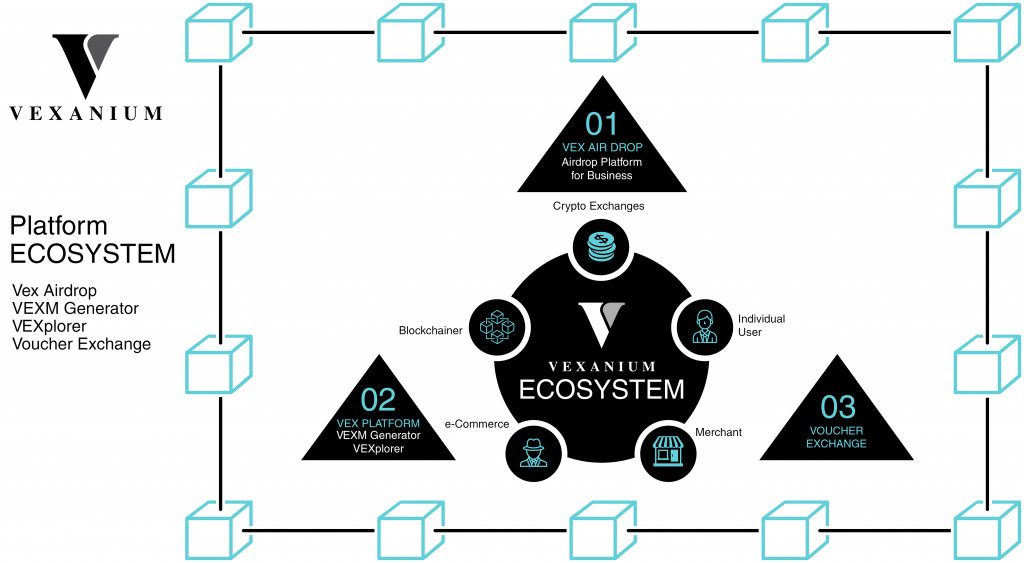 The Vexanium platform ecosystem consists of three main systems. First there is Vex Airdrop, this is designed to make it easier for business people "blockchain exchanger" distribute or share VEX tokens. Then the second is the VEX Platform, consisting of the VEXM Generator and VEXplorer, designed to make it easier for businesses to create and manage tokens owned by companies for their marketing activities. The third is Voucher Exchange, in which it allows VEX tokens to be operated by merchant business and consumers.
For example, for a loyalty program, a business can buy VEX tokens. After customization (eg with brand business), Vexanium system can automatically distribute tokens with specified amount to users according to promotion targets. Because it is nominal, the token can be exchanged to subsidize the purchase price of the related product, or users can also sell it through an exchange channel that will be connected to VEX, the token is also traded on INDODAX.
"Vexanium will focus first on Indonesia and our initial target is a company that is already technologically literate. For the (platform) it is quite ready, the process blockchain only happens in backend so from the side user or merchant there's not much difference in terms of UI/UX, it's almost service-like loyalty or vouchers in general," Danny explained to DailySocial.
Incessantly publish
A number of digital business players in Indonesia have joined as advisor at Vexanium. Some of them are Calvin Kizana (PicMix), Jason Lamuda (Berrybenka), Anton Soeharyo (Touchten), Edi Sulistyo (Loket.com), and Joseph Aditya (Ralali). Advisor is reportedly also acting as a angel investors for Vexanium.
Confidence of advisor This may be due to the business model and gait founder in the former business. Danny Baskara is known as the founder of the platform Voucher. What Danny and his team are currently doing is making a transformation from what was previously done through mechanisms blockchain. However, Danny insists that Evoucher and Vexanium are two different entities.
"Vexanium and Evoucher are two separate entities, if the Evoucher business model is centralized like tech startups in general, that is, as middleman or intermediary between merchant and buyers. Meanwhile, Vexanium's business model is very different, but the similarities are that they are both a solution between the two merchant and buyers," said Danny.
To increase participation in the ICO stage, Danny intensively publishes in various blockchain events, both local and international events.
Are you sure to continue this transaction?
processing your transactions....