Astra Returns to Lead Series D Funding of IDR 1,5 Trillion for Halodoc [UPDATED]
The total investment that has been disbursed by Astra for Halodoc reached $135 million
PT Astra International Tbk through its subsidiary, PT Astra Digital International (Astra Digital), led the Series D funding round for Halodoc valued at $100 million (over Rp.1,5 trillion). Mentioned total investment that Astra has disbursed for Halodoc reached $135 million (more than IDR 2 trillion).
In an official statement released today (28/7), Openspace and Novo Holdings, an investor from Denmark, also participated in the round.
The company believes that this collaboration can provide innovative solutions for the community, as well as have a positive impact on the health industry and the growth of the digital economy in the country.
The company made a number of investments for the health industry in Indonesia, viz Halodoc (2021 and 2023) and Hermina (2022). They believe in synergy between Halodoc, Hermina, and the Astra ecosystem can create a smooth patient journey, and open up more opportunities for the community to obtain equitable and quality health services throughout the country.
"The high demand for access to quality health services has driven the increasing adoption of digital technology in health services. Astra considers that the health sector in Indonesia has good growth prospects in the long term. This is also supported by the government's efforts to advance the health service sector in the country. ," said Astra President Director Djony Bunarto Tjondro.
Openspace partner Shane Chesson said that his party is proud to be able to participate and continue the partnership that has been forged together Halodoc since 2017. "The choice of digital health services is the main choice for patients, and Halodoc being at the forefront, has built a relationship of trust and a variety of services that provide special insights," he said.
CEO & Co-Founder of Halodoc Jonathan Sudharta added, after the impact of the pandemic, Indonesia is at a very important moment where there is a challenge on how companies can meet the growing demand for access to quality health services in Indonesia. The company also focuses on solution provider of health problems experienced by users, by simplifying health access.
"Our appreciation for the trust Astra and our stakeholders have given is invaluable support in our journey of implementing technology for health needs," he said.
These fresh funds will be focused on four things:
Strengthening its integrated ecosystem with more health actors ranging from doctors, pharmacists, hospitals, clinics, to insurance providers;
Developing various preventive health services, including Home Lab services that enable users to get various health test services from home comfortably and privately;
Developing Asuransiku, so that users can get health services that have been integrated with insurance services in a more seamless and affordable manner;
Increasing public awareness of a healthy lifestyle and the importance of maintaining health before getting sick.
In Indonesia itself, Halodoc compete directly with a number of players. Some of them are Alodokter, Good Doctor, KlikDokter, Prixa, and several others.
Achievement Halodoc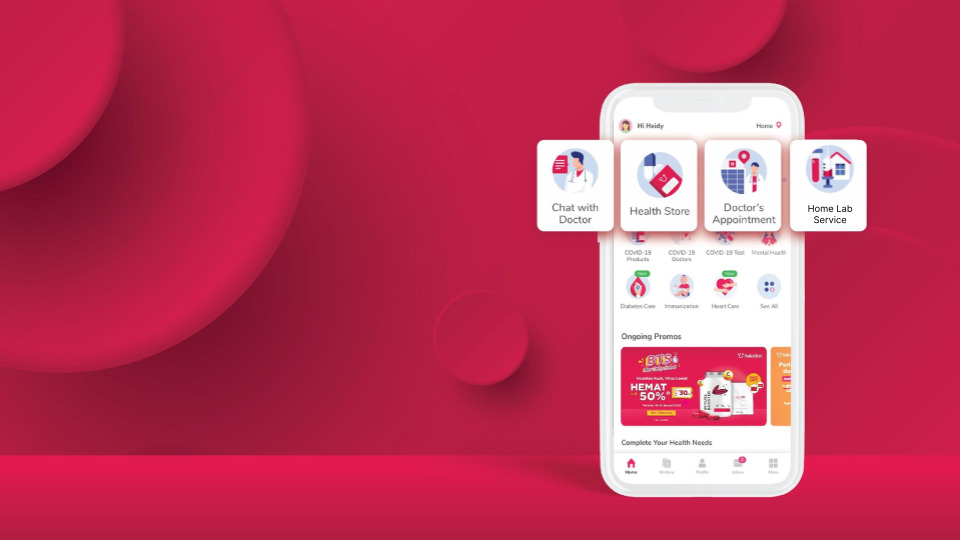 The momentum of the COVID-19 pandemic has indirectly encouraged people to use telemedicine services, for example online medical consultations online. Based on data from the Indonesian Telemedicine Alliance (Atensi) there were approximately 17,9 million health consulting activities originating from 19 telemedicine companies in 2022. This number shows that digital technology plays a key role in the progress of the health industry at this time.
Since launching in 2016, Halodoc has opened access to more than 20.000 medical practitioners, 3.300 hospitals, and 4.900 pharmacies. By 2022, there will be more than 20 million monthly active users connected to the platform Halodoc.
Halodoc taking an approach to technology to have integrated health services for the community, ranging from telemedicine with registered doctors, ordering trusted drugs, booking diagnostic lab services, booking visits with doctors at hospitals to insurance arrangements, third party payments and administration.
With increasing public awareness of health, Halodoc educating public health that focuses on preventive actions, including through health articles that can be found easily on applications and blogs Halodoc.
It becomes a strategy Halodoc to target potential users through a more relevant approach. Then, presenting preventive service solutions Halodoc such as Home Lab which allows people to carry out health tests from home in private and seamless pattern.
From the side of the user profile, the application Halodoc has been designed to meet the health needs of all age groups, from gen Z, millennials, to baby boomers. Some of the innovations presented range from Appointment services, Home Lab, Mental Health, and Animal Health.
For the younger generation, which makes up 53,81% of Indonesia's total population, practical and instant technology-based services have become a necessity in their daily lives. Therefore, Halodoc integrate various health services seamlessly in just one application.
Meanwhile, Halodoc also shows concern for users among the elderly by presenting a service that facilitates the process of consulting a doctor for them caregiver (caring family members) with the Elderly Care service as well as the Subscription feature that helps remind and facilitate the purchase of health products regularly for parents.
Based on Statista data, it is predicted that by 2027, the digital health industry will be worth $3,97 billion, growing at a Compound Annual Growth Rate (CAGR) of 15% of the market value in 2022 of $1,98 billion.
-
*) We added additional information: other investors who joined and the use of investment funds
Application Information Will Show Up Here
Are you sure to continue this transaction?
processing your transactions....