OTT Service Connoisseur Preferences: Free with Ads vs Subscription
Exploring the results of a survey conducted by The Trade Desk and Kantar on the penetration and adoption of video applications in Indonesia and Southeast Asia
Services over the top (OTT) is predicted to be one of the most significant business variants in the technology industry. Basically an OTT service is defined as an application online which presents video shows, giving users the freedom to watch content according to their taste -- also known as a platform video on-demand.
According to the results of research conducted The Trade Desk and Kantar, the penetration of OTT services in Southeast Asia has now exceeded 31%, embracing around 180 million users. Indonesia itself is projected to have 66 million users of OTT services, with a penetration rate of 24%.
During the pandemic, the OTT market in Indonesia also experienced an increase of up to 43%. Even from the survey results, the majority of users in Indonesia (54%) spend 1-4 hours per day on OTT services.
Free content with ads
Basically, the main business model of OTT services is generally by subscribing to premium features. However, the players are also aware that currently the majority of consumers come from TV viewers. They are used to accessing content for free, even though they must also get advertising content.
Then the model is also applied in OTT. Many applications that provide services for free by including ads. From the survey itself, 89% tend to have no problem with these ads as long as they can enjoy free content. And the average Indonesian people surveyed (52%) still tolerate 2-3 advertisements in a video show.
However, if explored more deeply, the percentage of usage is still largely subscription-based. In Indonesia, 40% of respondents said they use subscription impressions, and only 12% rely solely on free impressions with advertisements. That is, there is a good reception with the monetization of the subscription.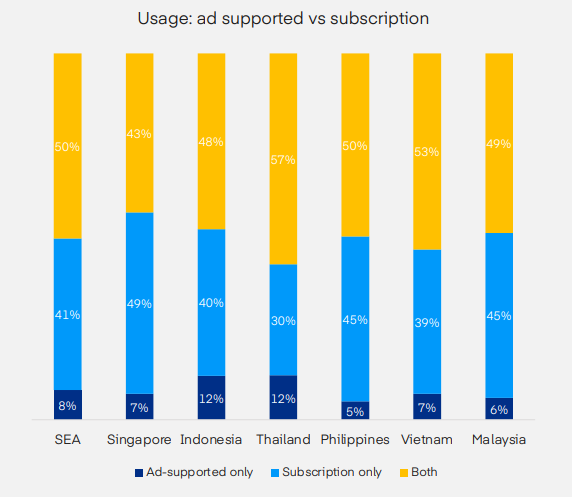 From a platform owner's perspective, they also have quite an impressive proposition for paying subscribers. For example, WeTV, basically users can access all the content in it for free and this implies that there are advertisements. However, 42% of its user base is still paying for the premium plan.
In a interview with Tencent representative, we got their strategy to convert free to paid users. One of them is exclusive content, for example in a series premium users can watch the next episode a few days/weeks faster than the free one.
In addition to the players mentioned above, several platforms including local ones have finally adopted the same model – free access with ads. Call it what is done by Vidio or Goplay. This approach was found to be good for gaining interest among new users who were previously unfamiliar with the platform video on-demand.
For businesses, this concept also supports their B2B strategy to profit from the owners brand requiring awareness, pasted into more relevant content or more suitable target users for their demographics.
Local content is the driving force
From the results of the survey regarding content variants, 54% of respondents said they like Western film/series content. Then 43% prefer local content. Followed by Korean content (39%), Chinese (23%), and Japanese (15%). It becomes interesting because local impressions have a fairly high proposition. So this is an opportunity for platform owners to embrace more works from local filmmakers.
On the other hand, this should also be a good opportunity for local production houses to take advantage of the presence of OTT to showcase their work. Especially because the physical restrictions due to the pandemic have also resulted in cinemas having to close again.
-
Header Image: Depositphotos.com
Are you sure to continue this transaction?
processing your transactions....