Populix Report: 86% People Shop Through Social Media Platforms
TikTok Shop is the most popular social media platform for shopping; Evermos is the most recognized social commerce startup
Social commerce over the last two years skyrocketed to become the most used platform for making purchases. One of the reasons why social commerce more and more attention, because consumers want to find more interesting experiences when shopping, as well as speed and efficiency when shipping goods. Shopping options on social media are also increasingly being chosen by the younger generation.
Gen Z's TikTok Shop
In a report entitled "The Social Commerce Landscape in Indonesia" released by Populix It was revealed that 52% of Indonesians were aware of the trend of buying and selling transactions through social media. The survey also revealed that 65% of respondents said social commerce is shopping using social media.
Meanwhile, 17% said that group transactions use social media. See the rest social commerce is shopping utilizing friends and viewing content.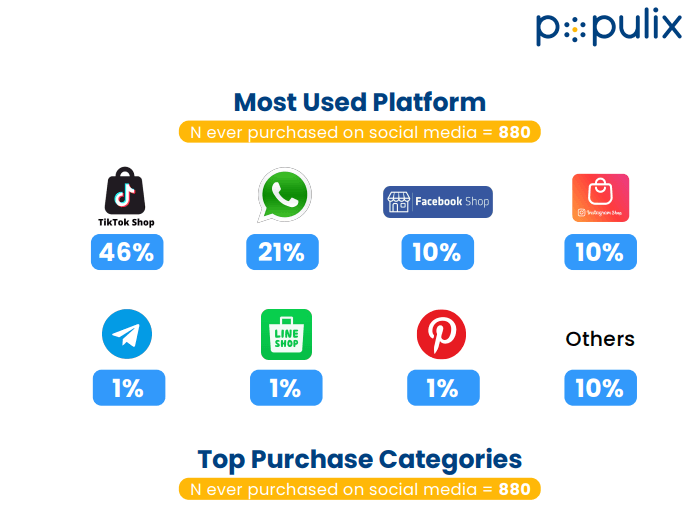 86% of Indonesians have shopped through social media platforms with TikTok Shop (45%) as the most frequently used platform, followed by WhatsApp (21%), Facebook Shop (10%), and Instagram Shop (10%). The product categories most purchased by the public through social media platforms are clothing (61%), beauty products (43%), and food and beverages (38%).
In the report, it is stated that 4 out of 5 respondents have made purchases using social media. The platforms they use the most are TikTok Shop and WhatsApp. The average money spent on these shopping activities is more than IDR 200 thousand. Besides TikTok and WhatsApp, other platforms that are also widely used are Facebook Shop (10%), Instagram Shop (10%), Telegram, Line Shop and Pinterest (1%).
Although currently WhatsApp is still widely used as a second choice platform for shopping online, but in the future it is predicted that its position will be shifted and replaced by Instagram Shop. The research also mentions that the older generation is likely to use WhatsApp the most, compared to the younger generation.
In terms of demographics, most users come from the age of 18-25 years. Surabaya (59%) is the location where the most users use social media for shopping activities. Followed by Medan (55%) and Jakarta (54%).
Evermos becomes "top of mind" platform social commerce
Social commerce increasingly popular because it becomes a new option for shopping online easily and allows direct interaction with sellers while browsing social media, without having to switch apps. On the seller's side, social commerce enabling them to reach a wider range of potential customers.
The report revealed, 46% of Indonesians still do not know about the presence of the platform social commerce in Indonesia. Among the people who are aware of social commerce platforms, 35% of them say that they have never used the platform.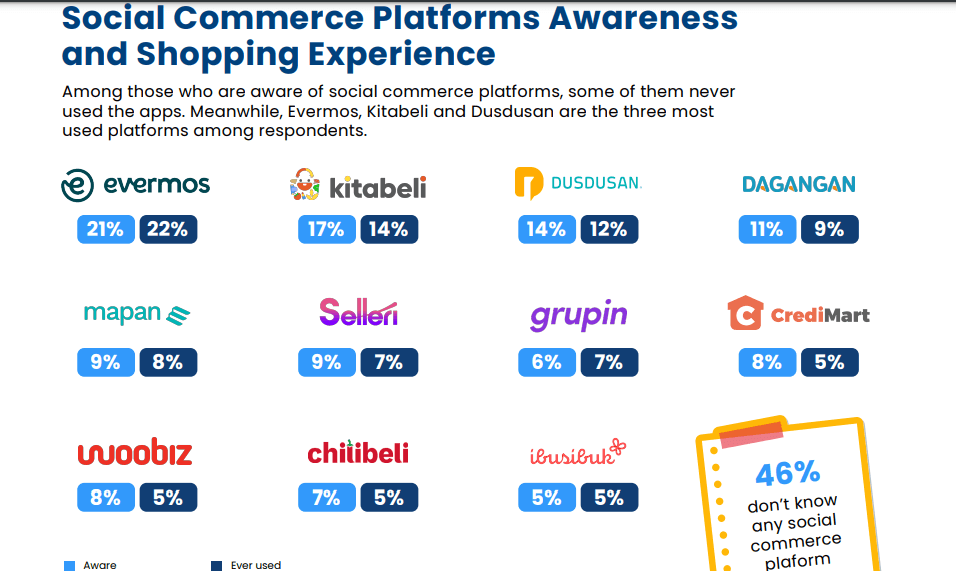 Interesting information that was later also shared by Populix is ​​that those who have enjoyed social commerce services, most of them are users who live in specific areas and use platforms that they are familiar with before. Evermos (22%), Kitabeli (14%) and Dusdusan (12%) are the three most widely used social commerce platforms by the public. Bandung is the largest area for Evermos users. Meanwhile, most of KitaBeli's users come from Surabaya.
Other social commerce platforms that have also been used by the respondents include Dagangan (9%), established (8%), Selleri (7%), Grupin (7%), CrediMart (5%), Woobiz (5%) . Ages 26-35 (24%) are the most users who have used social commerce platforms.
While Bandung is the most common location, users are used to using social commerce platforms. Followed by Semarang (25%), Medan (21%) and Jakarta (21%). The lower class (24%) are the most users for social commerce services.
"Most of the Indonesian people know and have tried shopping through social commerce for daily transactions such as buying clothes and beauty products. Moreover, the rapid trend of social commerce brought by the Covid-19 pandemic has also contributed to the emergence of social interaction-based buying and selling platforms as an alternative choice of shopping medium for the community," said Populix Co-Founder and CEO Timothy Astandu.
According to the data collected DSInnovate in "Social Commerce Report", platform market size social commerce will reach $8,6 billion by 2022. Social commerce becomes relevant to target consumers outside the metropolitan city. Approach online and offline what is done to bridge gap digital literacy of various groups that have not been touched by services E-commerce.
Are you sure to continue this transaction?
processing your transactions....