GoTo's Net Loss Decreases in the First Half of 2023, Pursue Profitability Through Affordable Strategies
GoTo recorded adjusted EBITDA fell by 69% to -Rp 2,8 trillion in the first half of 2023
PT GoTo Gojek Tokopedia Tbk (IDX: GOTO) recorded a decrease in net loss of 49% (YoY) to IDR 7,2 trillion in the first half of 2023. With improvements adjusted EBITDA, which shrank 69% to -Rp 2,8 trillion, GoTo is still optimistic that it can achieve its profitability target in the fourth quarter of 2023.
In a summary of the financial performance for the first semester of 2023, the company posted net income of IDR 6,8 trillion, growing 102% compared to the same period in the previous year, which was around IDR 3,39 trillion. Goto said that this growth was also driven by increased monetization in all business lines with take rate overall reached 4,1% or up 40 bps (YoY).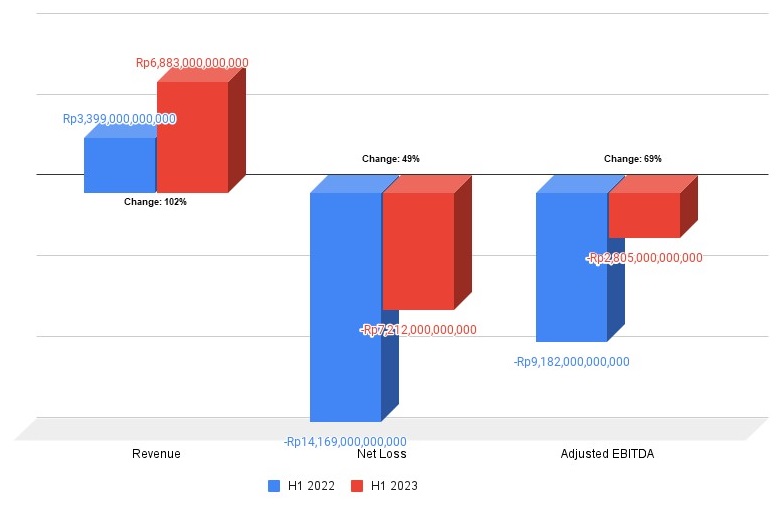 The business lines summarized in this performance summary include: on-demand, e-commerce, fintech, and logistics. Overall, four businesses recorded improvements in adjusted EBITDA, especially line on-demand shrank 87% to -Rp410 billion; as well as E-commerce shrank 80% to -Rp752 billion.
In terms of Gross Transaction Value (GTV), line on-demand and E-commerce decreased by 7% to Rp26 trillion and 8% to Rp121 trillion respectively. Meanwhile, line E-commerce recorded the highest gross income growth of 14% to Rp4,4 trillion.
"Economy Mode products and services Gojek keeps printing new users, as well as bringing back inactive users. This move is in line with the business unit's core growth strategy on-demand to expand the total potential market (TAM) by targeting consumers who prioritize price," wrote GoTo's management in its official statement.
Based on internal analysis, GoTo can double the market potential in businesses on-demand (Gojek) when reaching more price-prioritized consumer groups (customer budgets). Therefore, this strategy is being pursued by the company in the GoFood Save, GoCar Save, and GoTransit Multimoda services.
On line E-commerce (Tokopedia), the company claims to have reduced 15% of the total logistics costs E-commerce through logistics services in-houseGoTo Logistics (GTL). Meanwhile in the Financial Technology line, the company has just released (spin off) the GoPay application in order to broaden the user base in an inclusive manner outside the ecosystem Gojek and Tokopedia.
Application availability GoPay is also GoTo's strategic move to introduce financial services to new users, for example cash loans and its collaboration with Bank Jago with effective credit risk management. It noted that GoTo consumer loans rose 21% (QoQ) to IDR 1 trillion in 2Q23
On line logistics, GoTo notes that it has served about one in five deliveries on Tokopedia. Subsidies for shipping costs per order have decreased by 15% since early 2023. By managing logistics in an efficient way in-house and service fulfillmenthis, it can lower logistics costs even further.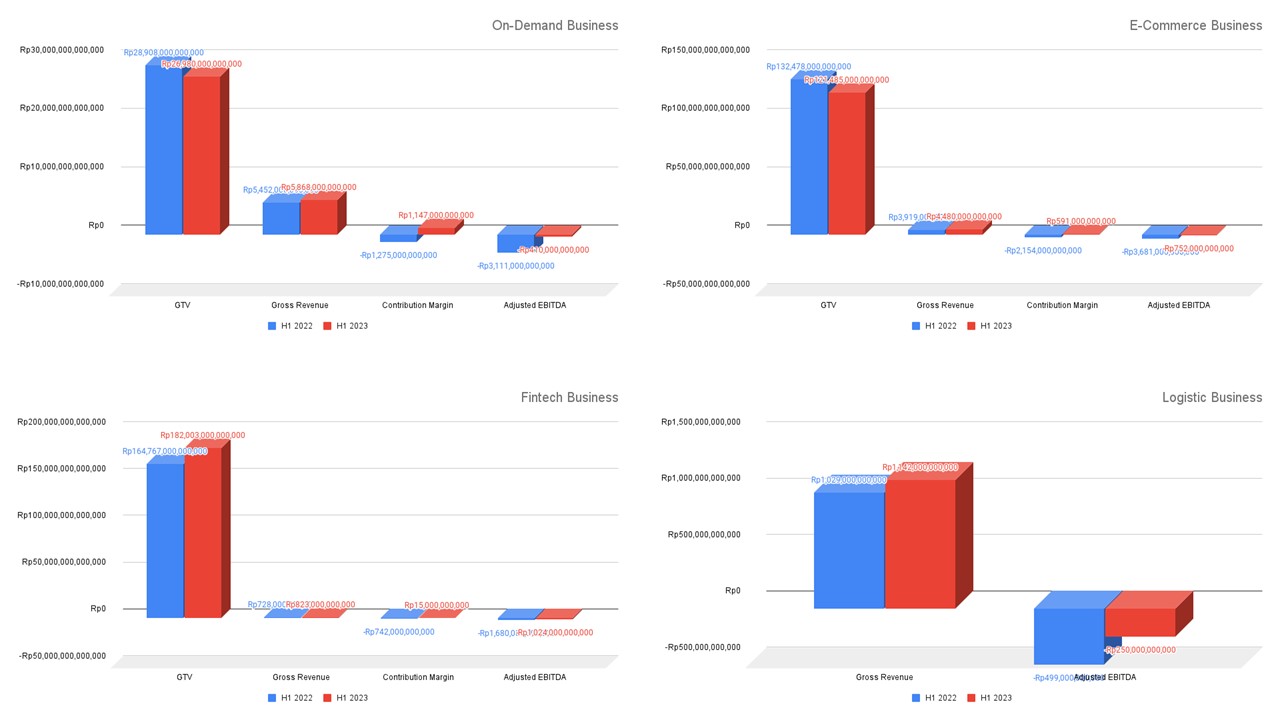 Performance exposure
In the GoTo Performance Earning Call session (16/8), GoTo Chief Director Patrick Walujo reveal that cash burns still a key challenge in pursuing profitability, the company has tightened costs over the past three quarters.
However, GoTo claims to have managed to reduce costs extensively, reflected in a 43% (YoY) reduction in incentive and product marketing costs or equivalent to a savings of IDR 2,7 trillion in 2Q23.
"Cutting costs has a positive impact on business growth. Therefore, we continue to follow guidance with a target to reach adjusted EBITDA positive in 4Q23. This is not our end goal, but achieving growth profit sustainable," said Patrick in the Q&A session.
Deputy Managing Director of GoTo Thomas Husted added that the company continues to cut costs that are not essential to its core business. "We're going to focus on being techindependent by reducing reliance on third-party technology solutions providers. We have deep dives and it turns out [spendinghis] big. We will deploy technology team in-house and looking for solutions to become an organization that read."
GoTo targets adjusted EBITDA in 2023 is in the range of -Rp 3,8 trillion to -Rp 4,5 trillion. This is a revision of the previous target, which was between -Rp 4,6 trillion to -Rp 5,3 trillion due to improved performance in the first half of 2023.
In line with performance improvements, continued Patrick, the company is currently observing its core business, including on-demand and e-commerce. Based on the hypothesis in line on-demand, the company observed that the Economy Mode product has a better potential for profitability than the product Existing. "We are currently monitoring, if the results are good, we will invest more there."
in line E-commerce, the company is also improving assortment products on its platform to drive user interest, especially in segments customer budgets. With this strategy, GoTo can increase service offerings, for example through loans (lending), and drive total potential market (TAM) to increase its customer base.
"Affordability strategy it's our focus now to aim customer budgets. Our analysis shows this strategy can drive market growth. Economy Mode has proven to be a good result. We will continue to sharpen our service order strategy appeal for customer's budget" added GoTo E-Commerce Director Melissa Siska Juminto.
As of June 30, 2023, GoTo had a cash and cash equivalent financial position of IDR 25,4 trillion and a credit facility of around IDR 4,65 trillion, of which IDR 3,1 trillion had not been used.
Application Information Will Show Up Here
Are you sure to continue this transaction?
processing your transactions....