Berita
Ajaib Group Kini Miliki 40% Saham Bank Bumi Arta
Ingin menjadi pengendali baru Bank Bumi Arta melalui penambahan kepemilikan saham
Ajaib Group melalui PT Takjub Finansial Teknologi (TFT) kembali meningkatkan porsi kepemilikan sahamnya di PT Bank Bumi Arta Tbk (IDX: BNBA) sebanyak 443,52 juta saham atau setara 16 persen dari seluruh modal ditempatkan dan disetor penuh.
Berdasarkan keterbukaan informasi di Bursa Efek Indonesia (BEI), transaksi pembelian saham ini dilaksanakan pada 8 April 2022 dengan harga pelaksanaan Rp1.345 per saham.
Sebelumnya, Ajaib Group mencaplok sebanyak 665,2 juta saham atau mewakili 24 persen saham Bank Bumi Arta pada November 2021. Dengan penambahan ini, Ajaib kini menguasai 1,10 miliar saham atau setara 40 persen dari seluruh modal ditempatkan dan disetor penuh.
Manajemen Ajaib Group mengungkap bahwa pihaknya ingin menjadi pemegang saham pengendali baru Bank Bumi Arta melalui penambahan kepemilikan saham ini.
Ekspansi produk
Dalam pemberitaan sebelumnya, Director of Stock Brokerage Ajaib Sekuritas Anna Lora sempat menyampaikan bahwa akuisisi ini akan memudahkan Ajaib untuk mengembangkan lebih banyak produk di masa depan.
Perusahaan mulai memperkenalkan layanan baru bernama Margin Trading Ajaib pada Maret. Sebagai informasi, margin trading merupakan pinjaman yang difasilitasi perusahaan sekuritas kepada nasabah pemilik rekening efek.
Margin Trading Ajaib memungkinkan pengguna untuk menebus jumlah saham lebih banyak dengan menggunakan pinjaman dana dari perusahaan sekuritas. Ajaib memfasilitasi Margin Trading dengan 0% pada biaya broker dan bunga margin.
Saat ini, bisnis utama Ajaib adalah platform investasi untuk saham dan reksa dana. Per Desember 2021, total investor Ajaib telah mencapai 1,4 juta orang. Dari angka tersebut, sebesar 96 persen merupakan investor pemula dan 90 persen masuk kelompok usia muda.
Sementara data BEI per akhir 2021 mencatat baru ada 7,48 juta investor retail di Indonesia. Namun, angka tersebut tumbuh signifikan sebesar 92,7 persen dibandingkan akhir 2020 yang hanya sekitar 3,88 juta investor.
Jika mengacu pada model bisnis Robinhood, platform trading dan investasi ini menerapkan komisi nol pada layanannya. Robinhood memonetisasi bisnis melalui sejumlah skema, termasuk margin trading, cash management fee, hingga Robinhood Gold.
Fintech akuisisi bank
Sempat dihubungi secara terpisah, Direktur Center of Economic and Law Studies (Celios) Bhima Yudhistira menyebutkan sejumlah faktor kuat yang melandasi aksi startup fintech mengakuisisi bank.
Akuisisi bank akan memampukan startup fintech untuk meningkatkan inklusi keuangan ke seluruh Indonesia. Salah satunya lewat fasilitas pinjaman modal usaha dengan plafon lebih tinggi. Dalam catatan kami, beberapa startup fintech yang mengakuisisi bank ini fokus di segmen UMKM.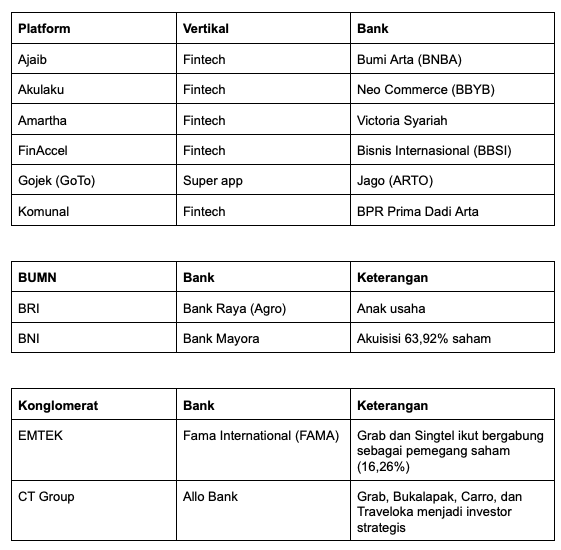 Faktor lainnya, bank-bank yang diakuisisi ini merupakan bank kecil. Mereka dicaplok dengan harga murah karena tidak mampu memenuhi syarat modal minimum yang ditetapkan OJK. Lagi pula, akuisisi bank kecil lebih memudahkan perusahaan untuk melakukan transformasi karena infrastruktur dan kantor cabangnya kecil.
Application Information Will Show Up Here
Are you sure to continue this transaction?
processing your transaction....