Guide to Overcoming Login Problems due to Stores Blocked by Tokopedia
The Right Solution to Overcome Blocked Store Problems on Tokopedia
Online shop at Tokopedia is one of the popular ways for sellers to sell their products online. However, in some cases, sellers are sometimes unable to log in to their accounts because they are blocked by the platform.
Why is the account blocked? What's the cause? How to handle it? We will discuss it in detail in the following article.
Blocked Store Account

Credit picture by Beritanjung
Blocked shops on Tokopedia are online shops that can no longer be accessed or found by buyers. This is an action taken by Tokopedia in response to violations of Tokopedia's Terms and Conditions by sellers. Blocked stores may experience temporary or permanent blocking, depending on the level of violation and Tokopedia policies.
Causes of Shop Blocking
There are several common reasons why online shops on Tokopedia can be blocked. Here are some of the causes.
Selling Prohibited Products & Content Does Not Meet Standards
One of the main reasons stores are blocked is the sale of prohibited products such as products containing dangerous materials or sharp weapons, as well as content that violates the standards in Tokopedia's Terms and Conditions.
Directing Buyers to Make Transactions Outside Tokopedia
Sellers are not allowed to invite buyers to make transactions outside Tokopedia. All transactions must be carried out on the Tokopedia platform.
Misusing Buyer Data
Sellers may not use buyer data such as addresses or telephone numbers for purposes other than delivery. This is to maintain buyer privacy.
Indication of Manipulation
If there are indications of transaction manipulation, such as suspiciously high sales, lack of valid delivery receipts, or other suspicious actions for personal gain, the store may be blocked.
Indications of Stores Deceiving Buyers
Sellers should not ask for sensitive information such as verification codes or Password from buyers. This can be considered a deceptive act.
Store Duplication
Deliberately copying products or descriptions from other stores may result in store bans.
Poor Store Performance
If a store frequently refuses orders, has inappropriate products in stock, or provides an unpleasant experience to buyers, this can also lead to the store being blocked.
Connecting to Suspicious Accounts
If the store is connected to suspicious accounts that violate Tokopedia's Terms and Conditions, this could be a cause for blocking.
Indication of Threats or Harsh Words
Threats, use of other users' data or harsh words in communication with buyers can also result in blocking the store.
How to Reopen a Blocked Store
If your store is temporarily blocked, you can follow these steps to reopen it:
Make sure your shop no longer sells products that violate Tokopedia's Terms and Conditions.
Open your Shop page in your Tokopedia account.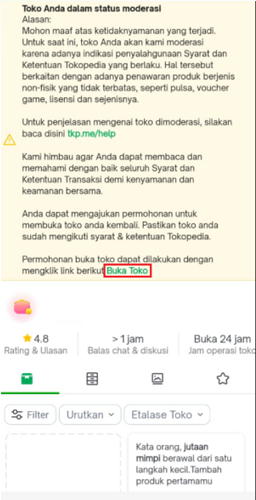 Credit picture by Tokopedia
Fill in the information column with your request to reopen the shop.
Click Save.
Wait for the checking results from the Tokopedia Team. This may take up to 1x24 hours.
It is important to always comply with Tokopedia rules and policies to keep your store up and running smoothly. If your store is permanently blocked, the only solution is to open a new store that complies with Tokopedia guidelines.
By understanding why your store was blocked and the steps to reopen it, you can run your online business on Tokopedia better and maintain the integrity of your store.
Are you sure to continue this transaction?
processing your transactions....