Two "Impact" Startups from Indonesia Receive Grants from The Incubation Network
Bersinar and Kibumi Garbage Banks are among the five selected innovators to receive grants with a total of IDR 1 billion
Two startups from Indonesia, Bersinar Garbage Bank and Kibumi, were selected to take part in the "Plastic Waste to Value Southeast Asia Challenge" program organized by The Incubation Network. Both are included in the five selected participants in the program which aims to encourage recycling activities and upcycling plastic waste.
This program is the result of a collaboration between The Incubation Network, Global Plastic Action Partnership, Uplink by the World Economic Forum, and the Alliance to End Plastic Waste which will provide grants of $72.000 or around IDR 1 billion for selected innovators. Meanwhile, the grant funds come from the Alliance to End Plastic Waste, and are supported by SecondMuse, The Circulate Initiative, Global Affairs Canada, and DEFRA.
Nicholas Kolesch representing the Alliance to End Plastic Waste revealed that since the beginning the company has been involved and connected with many entrepreneurs who are pioneering innovations and new business models to improve the management and circularity of plastic waste. "We are trying to support startups to be able to demonstrate technically and economically viable business model solutions, as well as position them for investment, scaling and replication," he explained.
Furthermore, the grant funds that have been disbursed are planned to be used to boost business operational capacity and improve work facilities. This opportunity allows every innovator to manage, process and recycle larger amounts of plastic waste.
During the five months the program ran, the five innovators were given access to a range of resources and support, including workshops, mentor adjustments and networking opportunities. There are nine experts coming from among business leaders, financial experts, marketing and public relations experts, and investment specialists to act as mentors.
In addition, innovators are also equipped with preparation in business development through workshops that focus on waste management and recycling, marketing, and others. The insights and directions gained from this activity are expected to refine their marketing strategy to serve a wider market.
CEO of Shining Garbage Bank Fei Febri revealed, "thanks to the grants we received from this program, we were able to invest in trucks pickup new trash. This opportunity also allows us to collect more waste from our target unit's waste bank."
Founded in 2019, The Incubation Network is a partnership between the non-profit organization, The Circulate Initiative, and the innovation and impact company, SecondMuse. "Within three years, the company has provided business improvement assistance to 358 startups, equivalent to preventing nearly 148 thousand metric tons of plastic waste pollution into the environment," said Global Head of Circularity SecondMuse Simon Baldwin.
Waste management performance in Indonesia
Based on UNEP data (2017), Indonesia is known to be the largest waste producing country in Southeast Asia with a figure of 64 million tonnes per year. With the 4th highest population in the world and low public awareness, supporting a culture of recycling waste is a big challenge that this nation must face.
Quoting Indonesian data, Indonesia's waste management performance is said to be getting better in 2022. The Ministry of Environment and Forestry (KLHK) reports that the Waste Management Performance Index (IKPS) score in Indonesia is 50,25 points in 2022. This value has increased by 0,38% compared to the previous year which amounted to 50,06 points.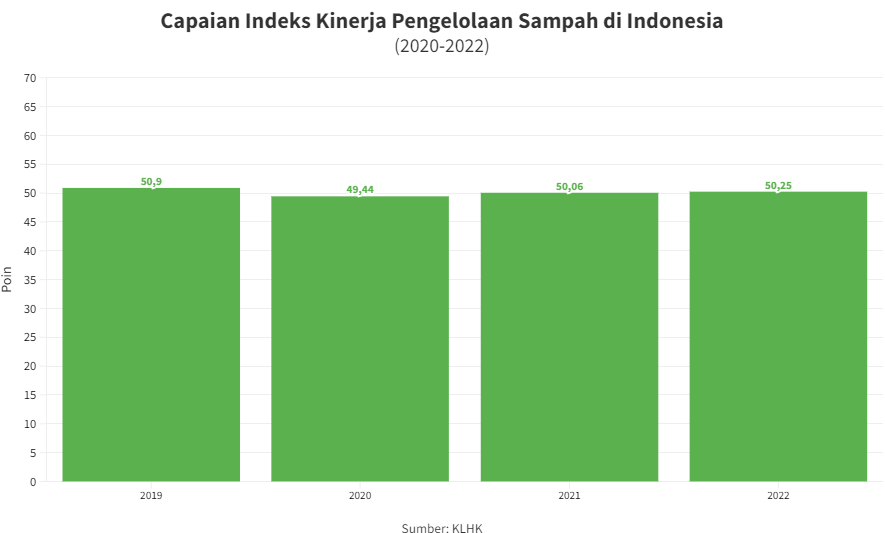 This achievement cannot be separated from the fact that there are more and more startups or waste management services in Indonesia. In Indonesia itself, besides the two grant recipients above, startups that offer waste management services are included Octopus, moneyand Recosystem.
Are you sure to continue this transaction?
processing your transactions....