TikTok Shop Transactions Predicted to Reach IDR 230 Trillion, Ready to Overtake Lazada and Tokopedia
Summarizes Momentum Works data and reports entitled "The TikTok Shop Playbook"
Gross transaction value (Gross Merchandise Value/GMV) The TikTok Shop in Southeast Asia is predicted to reach $15 billion (around Rp.230 trillion) in 2023. This figure will make it on par with Lazada and Tokopedia which have existed for more than a decade.
Menurut report Momentum Works Dalam "The TikTok Shop Playbook", detailing the GMV generated by the TikTok Shop to reach $600 million in 2021 and $4,4 billion in 2022 respectively. The increase was supported because in those years the platform social commerce The expansion from Indonesia to five main markets in Southeast Asia. However, its market share remains low, only single digits across all of these markets.
In Indonesia only, TikTok Shop is in fifth place (5%) based on its market share last year, while in five other countries, it is in the range of 1% -4%. Shopee has a market share of 36%, followed by Tokopedia (35%), Lazada (10%), Bukalapak (10%) and Blibli (4%).
Regionally, GMV donated Shopee is still the biggest $47,9 billion. Then followed by Lazada with GMV of $ 20,1 billion and Tokopedia of $ 18,4 billion.
"However, it is important to note that in most of these markets, the TikTok Shop started from scratch at the start of the year - and in Indonesia, the TikTok Shop had already reached $10 million daily by the end of 2022. That growth will continue in 2023, with the latest indications that across multiple markets, TikTok Store GMV levels in 2023 are close to Lazada's performance levels," the report states.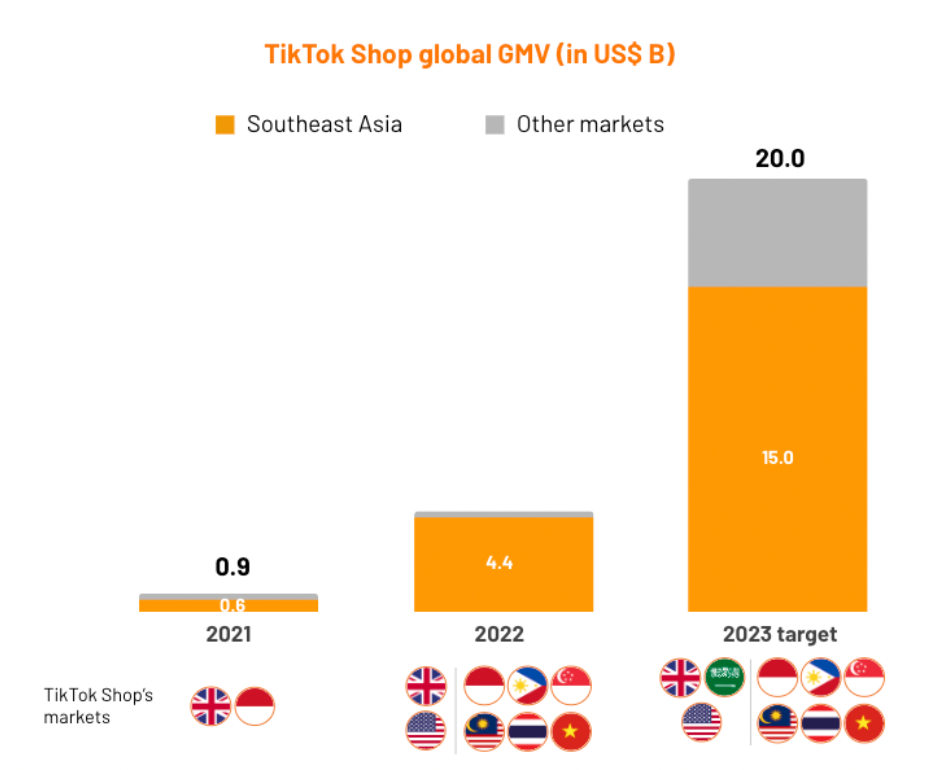 The TikTok Shop is now present in nine countries, including Southeast Asia, the UK, Saudi Arabia and the US. The company aims to achieve a GMV of $20 billion globally this year, as much as $15 billion will be contributed from Southeast Asia.
Momentum Works said that many experts were skeptical of this target. But when seen on the ground, at least in Southeast Asia alone, the numbers are on track for the first half of this year. Challenges and some organizational issues in the process, but TikTok's efforts to convert it continue.
"The developments appear chaotic, with skepticism from the ecosystem and even some key stakeholders (internal and external). Nonetheless, so far the leadership and organization have adapted, in an effort to achieve e-commerce."
Product category
Meanwhile, the most purchased products from the TikTok Shop are the beauty and personal care category based on performance in the first quarter of 2023. The two brands that sold the most for the Indonesian market alone were Skintific and The Originote. Estimated GMV is $6 million (over 200k sales volume) and $4,2 million (over 360k sales volume).
This category based on GMV contributed 70%, compared to other categories such as women's fashion (9%), culinary (5%), smartphones and electronics (4%), household furniture (5%), and toys and hobbies (7%) ).
This category is also the easiest and most realistic for sellers/key opinion leader (KOL), especially in video or live streaming whose demonstration was carried out real-time. Sellers can demonstrate products in a visually appealing format that can be easily replicated at scale, resulting in better conversion rates.
Monetization opportunity
The report also says that by 2022, TikTok's monthly active users (MAU) will exceed 1 billion globally, spending billions of hours on the platform. Monetizing its user base is a top priority for TikTok and its parent, ByteDance.
Unlike other social & content platforms including Meta (Facebook), ByteDance seems very determined to make e-commerce the main pillar of monetization, globally.
As is known, for many years, platform E-commerce build an efficient ecosystem and wheels. The TikTok Shop has a natural advantage in customer traffic and the company's commitment to allocating the majority of those visits to e-commerce shopping.
"As the TikTok Shop grows and begins to gain more leverage over the payment/fulfillment infrastructure, the TikTok Shop can and should be able to become a profitable business in the key markets where it operates."
Shopee has shown that even in Southeast Asia, with relatively lower consumption power compared to developed countries, profits can still be made.
It's just that Momentum Works cannot predict how big the volume or market share of TikTok Shop is in its main markets, because it really depends on several factors, including the ongoing commitment and evolution of the TikTok Shop organization, as well as external factors in politics, geopolitics, competitive response and of course course, global economic conditions.
Are you sure to continue this transaction?
processing your transactions....