Supporting the Empowerment of Women Entrepreneurs, Superbank Establishes Partnership with Amartha
The mission of this collaboration is to provide access to more than 1 million women micro entrepreneurs who are currently members of Amartha's services
Shortly after change name, Superbank maneuvers to show its commitment in expanding access to inclusive financing for the community underbanked in Indonesia. Recently, Superbank announced a strategic partnership with microfinance technology platform PT Amartha Mikro Fintek (Amartha).
In particular, the mission of this collaboration is to provide access to more than 1 million women micro entrepreneurs who are currently members of Amartha's services. The aim is to provide the working capital loans needed for their business to grow and develop.
In a press release received by Dailysocial, Sukiwan as Chief Business Officer of Superbank, said, "As a newly transformed bank with a focus on digital and supported by one of the widest ecosystems in Southeast Asia, we are committed to bridging the financial gap for the community. underbanked to improve the welfare of more Indonesian people. This strategic partnership with Amartha is specifically designed to empower women micro entrepreneurs. By providing access to safe and reliable financing solutions, we believe we can advance the businesses run by women micro entrepreneurs to reach their full potential."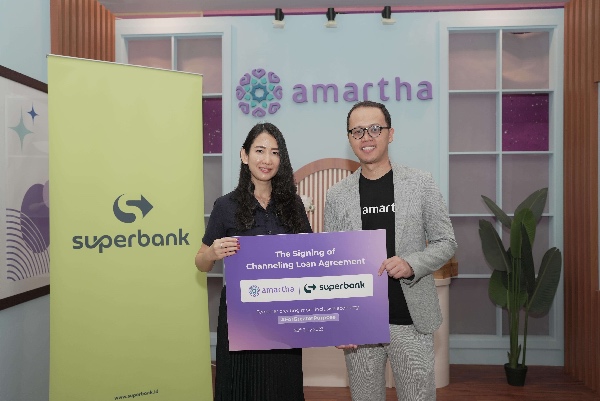 More than 64 million micro, small and medium enterprises (MSMEs) are actively operating in Indonesia, based on data from the Ministry of Cooperatives and Small and Medium Enterprises and the Ministry of Women's Empowerment and Child Protection. These MSMEs contribute 60% to Indonesia's Gross Domestic Product (GDP). The importance of the role of women in driving the growth and development of the national economy is emphasized, with 52,9% of micro businesses and 50,6% of small businesses being run by women entrepreneurs.
Ministry of Finance data supports the importance of accommodating this segment by showing that women entrepreneurs account for more than 95% or more than 6,4 million debtors of the government's ultra micro financing (UMi) program.
Julie Fauzie, Chief Funding Officer of Amartha, emphasized, "Amartha realizes that providing equitable access to financial inclusion requires a lot of collaboration, one of which is what we did with Superbank. Through this collaboration, we are able to combine technology and competency assets to simplify the loan application process so that it is more efficient and easily accessible for ultra-micro entrepreneurs in Indonesia. Amartha is optimistic that this collaboration can have a sustainable impact on grassroots MSMEs, and become an inspiration for other institutions to jointly encourage the grassroots economy through inclusive financial access."
Amartha Strategic Partnership
Apart from Superbanks, recently Amartha has also entered into partnerships with Nobu Bank to support the capital of ultra micro entrepreneurs in rural areas in various locations in Indonesia.
Amartha and Nobu Bank are committed to participating in accelerating the provision of productive business capital for more than 30.000 Amartha fostered partners. These partners consist of various sectors, especially in Java, North Sumatra, West Sumatra and South Sumatra. The initial capital commitment reached 100 billion rupiah.
Amartha claims to have channeled capital worth more than IDR 12 trillion to more than 1,6 million MSMEs in Indonesia. Credit facility injection $100 million (over 1,4 trillion Rupiah) from San Francisco-based investment institution Community Investment Management (CIM) will recently assist the company in developing a transparent ecosystem of products.
Are you sure to continue this transaction?
processing your transactions....