Super-App Incessant "Adtech" Business Exploration
After GrabAds, GoGAN, and Tokopedia Marketing Solutions, now published Traveloka Ads
Platform owner super app in Indonesia are increasingly exploring business advertising technology or adtech. After Gojek, Tokopedia, and Grab, now Traveloka also presents a similar service with the same name Traveloka Ads.
Monitoring from the official website, Traveloka Ads offers advertising services for target audience with various slot options and flexible fees. Brand can target audiences based on a number of criteria, such as region/city, recent activity, user level, products purchased, and payment methods.
Traveloka Ads also presents a wide selection of slots placement starting from the main page of the application, m-web, and desktop; payment, points, and promo pages; as well as live stream.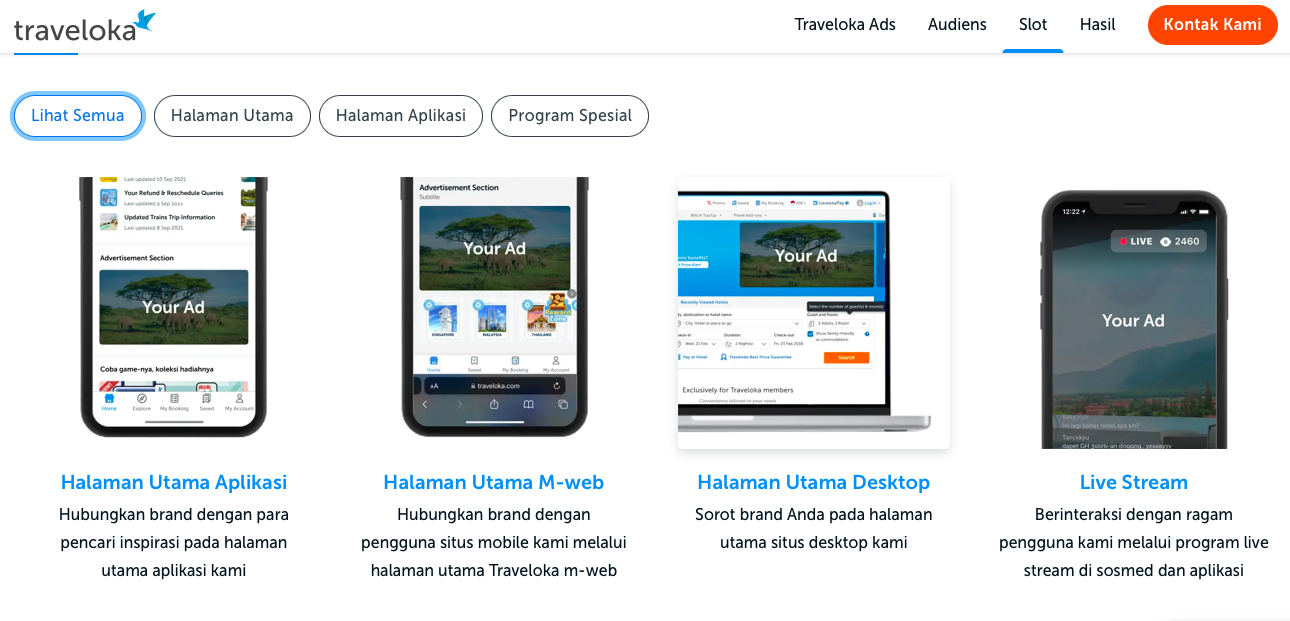 The Traveloka Ads service is also claimed to have produced optimal results for advertisers/owners brand. Banking clients were recorded as getting 13 million impressions from five credit card ad slots in three months. Then, clients videoon-demand also pocketed 1,2 million impressions and 1.000 daily visits of three application ad slots for 15 days on the Traveloka platform.
Traveloka's steps are serious about business adtech cannot be separated from the potential of digital advertising which is projected to continue to grow in the country. Besides that, super app already has a large user base with a diverse service support and transaction track record. Meanwhile, Traveloka has more than 50 million active monthly users (iOS, Android, desktop) and more than 15 products travel and lifestyle.
Research The report of Statista show budget digital advertising in Indonesia is projected to reach $2,55 billion in 2023, of which 62% of the total budget will be allocated for mobile, while the remaining 38% will be for desktop. Meanwhile, another research by Industry Research estimate the market adtech around $2021 billion globally in 20,3, and will increase by 13% to $42,08 billion in 2027.
Similar service
Grab has already entered the advertising business through Grabads (2018) even though the business model that was introduced at that time played in the realm online-to-offline (O2O). There are three categories of advertisements offered, viz mobile billboards, in-car engagementand in-app engagement.
Last year, GoTo Group went through Gojek and Tokopedia also announced their commitment to enter the advertising business. In running this business, both go together brand and separate business units. Gojek partnered with an adtech company from Taiwan, TenMax, to present Gojek Ads Network (GoGAN), while Tokopedia launched the "Tokopedia Marketing Solutions".
In previous news, Tokopedia stated that this service targets business players of various scales to maximize the platform E-commerce in the marketing strategy. Meanwhile, GoGAN allows businesses to run promotional and advertising campaigns by eliminating some of the friction and making it easier to place advertisements in a variety of different media.
Summarizes a number of sources, terms adtech often associated with use software give tcool which allows the agency brand, and a platform for aiming target audience and measure their digital ad campaigns. a number solution adtech which are widely used consist of Demand Side Platform (DSP), Supply Side Platform (SSP), and data management platform.
On a global scale, there are giants E-commerce Amazon does the business advertising via Amazon Ads. For The Amazon, the activity of buying and selling digital advertising is becoming more complex so that the solution adtech take on the role of streamlining the process. Basically, adtech can provide added value to the owner brand and agencies to effectively manage integrated campaigns, use budgets more efficiently, and maximize their ROI.
Application Information Will Show Up Here
Are you sure to continue this transaction?
processing your transactions....