SNAP Marks the Beginning of Indonesian "Open Banking" Standardization
Reflecting on Singapore, API Exchange and SGFinDex became the most successful open banking projects initiated by MAS, also supported by high trust from the public
Indonesia is starting to follow other global countries to start implementing the national Open API standard. Coinciding with the 76th Independence Day of the Republic of Indonesia, Bank Indonesia inaugurated the National Open API Payments Standard (SNAP). At the same time testing sandbox QRIS with Thailand (Thai QR Payment) called QRIS Interstate.
SNAP is a national standard set by BI for a set of protocols and instructions that facilitate open interconnection between applications in processing payment transactions. Therefore, SNAP unites various transaction services in Indonesia into one system.
According to BI Governor Perry Warjiyo, the standardization of the Payment Open API can create a healthy, competitive and innovative payment system industry, so that it can provide payment system services to the public that are efficient, safe, and reliable.
SNAP includes security technical standards, data standards, technical specifications, and national payment system governance guidance documents. There are two things that SNAP standardizes on.
First, technical and security standards documents, data standards, and SNAP technical specifications standardize, among others: communication protocols, API architecture types, data structures and formats, authentication methods, authorization methods, encryption methods, API access management requirements, structure data requests, to structure response data.
Second, the SNAP governance guidelines document standardize guidelines for consumer protection, data protection, precautionary requirements for service providers and service users, and contacts.
The implementation of SNAP is one of the important steps in accelerating open banking in the payment system area. This initiative is a follow-up to the vision of the Indonesian Payment System Blueprint (BSPI) 2025.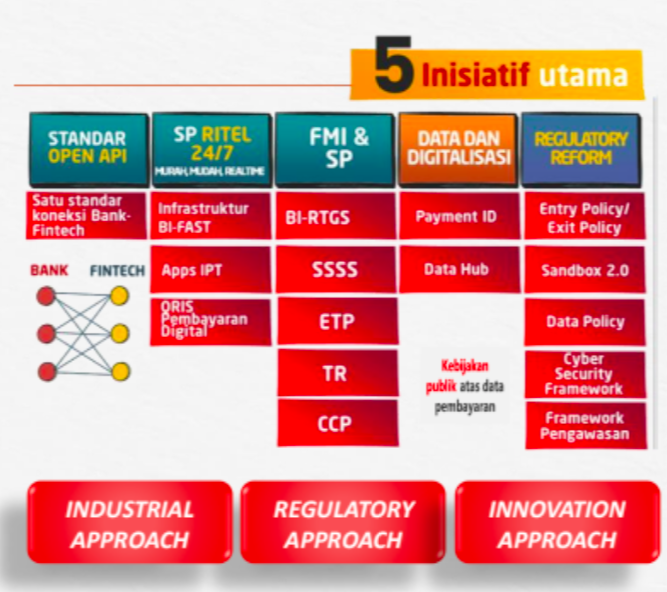 The preparation of the SNAP was jointly carried out by the Indonesian Payment System Association (ASPI) by forming a National Working Group (WG). Before the national WG was formed, BI first issued a Consultative Paper on Open API Payment Standards by Bank Indonesia in the first quarter of 2020.
Long before the central bank set the standard for this Open API, the industry had taken the first step by making their own version of the Open API. One of them is BCA which launched API BCA in 2017. Mentioned BCA API transaction volume grew 4,8 times in the last two years. Its transactions have penetrated more than 1 billion transaction activities and have been used by more than 2.500 business customers.
Its feature development has reached hundreds to meet various business needs, such as balance information, account mutations, transfers, BCA Virtual Account, and others. For business customers, BCA's API implementation makes it easier for them to reconcile payment receipt transactions, automate and simplify business transaction processes.
International QRIS
Meanwhile, regarding the Intercountry QRIS which is included in the SNAP section, for the beginning, it cooperates with the Bank of Thailand (BOT). For consumers or tourists from Indonesia and Thailand, they can make payments by scanning the QR code in each country.
Perry says, QRIS development Between countries and Thailand can be a new milestone in facilitating community activities between the two countries, especially for tourists.
Technically, the settlement of this Intercountry QRIS transaction uses the local currency of each country or local currency settlement (LCS) through the selected bank or appointed cross currency dealers (ACCD).
Interconnect switching to switching built between switching the two countries, namely Rintis, Artajasa, Jalin and Alto from Indonesia with National ITMX (NITMX) from Thailand. The selected ACCD banks in Indonesia are BCA, BNI, and BRI. Meanwhile, the ACCD banks in Thailand are Bangkok Bank (BBL), Bank of Ayudhya (Krungsri), and CIMB Thai Bank (CIMBT).
This project also involves 13 QRIS providers. They are Bank Sinarmas, Bank Mega, Bank Permata, Bank BSI, Telkom Indonesia, Maybank, ShopeePay, LinkAja, DANA, Bank Mandiri, CIMB Niaga, and Otto Cash.
The full commercial phase with Thailand will be carried out in the first quarter of 2022. After Thailand, the central bank is waiting for a trial with Malaysia. "After Thailand, we are with Malaysia and after that there have been several other ASEAN countries that are interested and have agreed," explained the Assistant Governor of the Head of the BI Payment System Policy Department, Filianingsih Hendarta, quoting from Dataword.
After the ASEAN scale, in the next phase of Intercountry QRIS will be prepared for cross-country outside ASEAN. One of them, with Saudi Arabia.
open banking in Singapore

Of course, the presence of SNAP makes it easier for the financial services industry to connect digitally with non-bank players. The closest example that can be seen is Singapore, which is one of the mecca of developed countries in Asia.
Basically, the spirit of open banking is to benefit consumers through improved consumer experience, access to products that support open banking, and better financial decision making by combining their financial information in one platform.
The Monetary Authority of Singapore (MAS) is the main driver of development open banking massive in Singapore. One of the main initiatives they took was to introduce API Exchange (APIX), a collaboration platform that is a solid foundation for the growth of open banking.
APIX is the world's first cross-border open architecture platform and aims to support financial innovation and inclusion in ASEAN and around the world. The platform, which was launched in November 2018, is a place where financial institutions and fintech companies can easily connect and collaborate on design experiences through APIs.
According to MatchMove Founder & CEO Shailesh Naik, he has seen progress in collaboration between banks and companies fintech in this field for the past two years. Banks are now more willing to cooperate and start reaching out to stay competitive due to processes in the company fintech become more attractive and cost-effective for the conventional financial sector.
Another important milestone through MAS is the Financial Planning Digital Services initiative, which aims to facilitate data portability with a secure API framework. On 7 December 2020, MAS launched the Singapore Financial Data Exchange (SGFinDex), which involves consolidating financial data from banks and government agencies in one place instead of multiple locations.
This is facilitated through Singapore's national digital identity, Singapore Personal Access (SingPass), which is a single sign-on service used by Singaporeans to transact with more than 60 government agencies online. Consumers have the option of providing access to the financial institutions they choose to share their information with.
This infrastructure was developed by the public sector in collaboration with ABS and the seven participating banks, making SGFinDex the first public digital infrastructure in the world to use a national digital identity and a centrally managed online approval system.
MAS Managing Director Ravi Menon conveyed the importance of strengthening trust in the financial sector. More value on offer open banking must be balanced with the risks posed by sharing customer data between various parties.
In the 2019 Global Financial Services Consumer Study published by Accenture, 75% of consumers stated that they are very careful about the privacy of their data, data security breaches being the second biggest concern for consumers. Therefore, for Singapore's open banking to be truly acceptable, customers must be fully confident that their data is safe.
While data banking in Singapore is regulated by the Banking Act and the enhanced Personal Data Protection Act, banks must also play their part and continue to be vigilant in protecting their customer data to benefit consumers and industry, and ensure the success of open banking in Singapore.
In this regard, the handling of data leakage must be taken seriously by the government and related agencies. Director of CELIOS (Center of Economic and Law Studies) Bhima Yudhistira said that this issue has recently become increasingly sensitive, amid the vigorous development of the digital economy.
"If this issue continues, it will certainly disrupt the growth of digital banks or those related to it. Because consumers will find it difficult to believe that their data is safe and protected," he said in a panel discussion held by Infobank.
The public's lack of trust in digital financial services is reflected in the survey conducted Digital 2021 Report. Mentioned application penetration banking and financial services d Indonesia is still low only 39,2% of respondents. This figure is lower than Thailand's 68,1%, Malaysia's 55,7%, and the Philippines' 42,1%.
While, mobile payment also low at 29,2% compared to the world average, which is 30,9%. far from Thailand, the Philippines, and Vietnam. Meanwhile, the use of QR codes in Indonesia is only 42% of the adult population. Lost to Malaysia 77% and Singapore 79%.
Are you sure to continue this transaction?
processing your transactions....