SleekFlow Offers Complete Solutions for MSMEs to Explore the Domain of Social Commerce
Has six reliable product pillars, along with the official WhatsApp Business Solution Provider partnership
In this modern era, social media has become an integral part of people's lives. Not only as a means of entertainment, social media has also become an effective platform for selling. This phenomenon is known as social commerce. In Indonesia, social commerce is becoming a trend. Based on data from "Social Commerce 2022" report by DSInnovate, the social commerce market in Indonesia in 2022 will reach 8,6 billion dollars, with an annual growth of around 55 percent, and is expected to continue to grow to reach 86.7 billion dollars in 2028.
Social commerce offers advantages that cannot be ignored for small and medium enterprises, or MSMEs. In addition to relatively lower costs compared to other e-commerce platforms, social commerce also provides wider opportunities for MSMEs to develop markets, as well as activate brand loyalty to manage a much better customer base than before.
What is needed to manage social commerce?
To be able to manage social commerce effectively, there are several tools needed. First, you need to have an active and verified social media account. Apart from that, you also need to have a website or online store that is integrated with the social media.
Second, you need to have features that make it easy for customers to access the products or services you offer. Some of the features you can consider are chatbots, menu links, or "buy" buttons on your social media accounts. Lastly, you need to have a system that can monitor and manage incoming messages from customers. Thus, you can respond to customer questions or complaints quickly and effectively.
Get to know SleekFlow as a solution to increase sales in social commerce.
One platform that can help MSMEs in managing social commerce is sleepflow. SleekFlow is an omnichannel chat platform from Hong Kong which is currently entering the Indonesian market with a variety of key features such as managing messages from various channels into one inbox, smart-routing messages to the appropriate admin, and an auto-reply feature to increase customer satisfaction.
Henson Tsai as Founder & CEO said, Indonesia is an important market for SleekFlow due to the potential of the eCommerce industry which is still considered very bright in the future.
"Currently, 80 percent of online merchants in Indonesia obtain sales through social channels and messaging channels, and SleekFlow aims to help local merchants take this rising megatrend even further," say henson.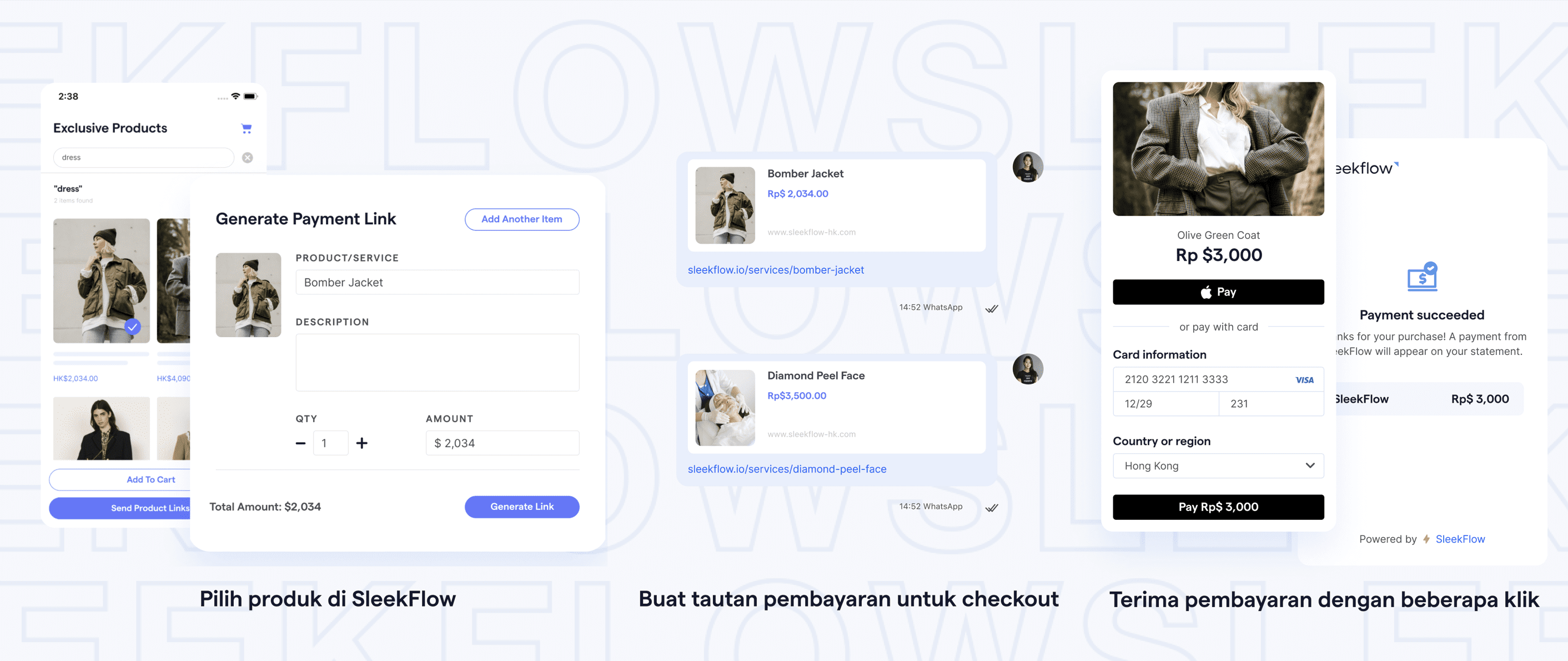 In full, the platform that has officially become a WhatsApp Business Solution Provider partner It offers a variety of products to accelerate social commerce efforts for businesses. There are 6 (six) product or service pillars offered such as; Omnichannel Inbox, Social Customer Relationship Management, Marketing & Broadcast Campaigns, Automations & Chatbot Solutions, In-Chat Payment Links, to Messaging Channels & Integrations. Solution for the WhatsApp Business service offered by SleekFlow is expected to be able to maximize brand marketing efforts. As reported by InsideRetail Asia, SleekFlow succeed assisting Bossini, a well-known brand from Asia in increasing its business traction, through the WhatsApp blast campaign, which is claimed to be able to contribute to an 18 percent increase in transactions.
On a global scale, SleekFlow solutions are used by more than five thousand brands, across a wide range of industries. From the information we got, well-known brands such as Lalamove, Shiseido, and Giordano are one of SleekFlow's business partners.
In Indonesia, for local MSMEs, SleekFlow seems to be an option to encourage sustainable industry and ecosystem growth. According to data from Statista, the number of active social media users in Indonesia in 2022 is estimated to reach 155 million people or around 70 percent of Indonesia's total population. This is a big opportunity for MSME actors which of course is not worth passing. It will be interesting for us to look forward to what SleekFlow's collaboration with the Indonesian MSME industry will look like in the future.
This article is supported by, SleekFlow.
Are you sure to continue this transaction?
processing your transactions....