FLIK Announces 17 Billion Rupiah Pre-Initial Funding, Develops One-stop "Checkout" Platform
East Ventures led funding, with participation from Init-6, GMO VenturePartners, and Saison Capital
FLIK, platform developer startup checkout integrated for a variety of services E-commerce has completed a pre-initial funding round (pre-seed) worth $ 1,1 million or the equivalent of 17 billion Rupiah. The round was led by East Ventures, with the participation of Init-6, GMO VenturePartners and Saison Capital.
This startup was founded by Ahmad Gadi. Previously he was known as one of the founders Pawoon.
Through the solutions offered, FLIK embeds itself into all aspects of consumer shopping, starting from helping consumers find product inspiration, payment, delivery, tracking, refunds, to returns. Simply put, in one application, consumers can make multiple shopping transactions E-commerce all at once and monitor them in one centralized dashboard.
Not only that, FLIK also provides services aimed at business people, creators and developers. For businesses, a number of features are provided to help them increase sales conversions in e-commerce. Among them are using the Checkout Link service, Checkout Widget, Checkout Button, Checkout QR which can be applied on various platforms, including social media.
The features mentioned above can also be used by content creators to natively embed a product purchase link to their content, such as their blog or social media. The ability to synchronize inventory in real-time also ensures that product availability information is always on time.
Meanwhile, for developers, there is an instant checkout API service to make it easier for site/application users.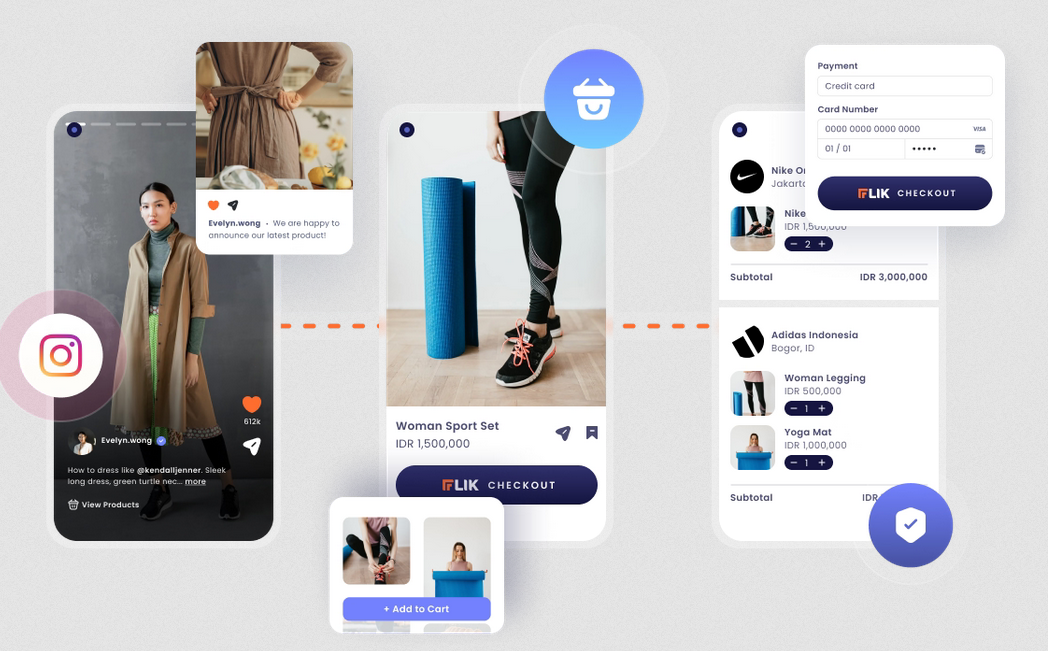 "We believe in solutions checkout One integrated solution offered by FLIK is the right solution to remove barriers in sales and payments, empowering buyers, brands and content creators all at once. With a promising digital economy in Indonesia and the region, we are excited to see more adoption and growth from FLIK in the near future," said East Ventures Partner Avina Sugiarto.
Focus on helping the D2C ecosystem
FLIK wants to create "endless loops" mutually beneficial within the D2C ecosystem. When a user joins the FLIK network, whether as a brand, buyer or creator; will benefit and contribute to the D2C network.
"We are pleased to receive support from East Ventures and its vast ecosystem. FLIK is here to help brand increase transactions direct-to-consumer (D2C) by bringing together experiences checkout across various sales channels," said FLIK Co-Founder & CEO Ahmad Gadi.
As a platform, FLIK was established to strengthen infrastructure fintech and the buyer's experience. Its mission is to provide the best shopping experience by connecting shoppers to the products they love and enabling experiences checkout fastest, with the goal of helping brands increase checkout conversions and backorders.
Based on his in-depth experience, Ahmad realizes that buyers have various choices of shopping channels other than via marketplaces, like through the site E-commerce belongs to the brand, social media, or even through apps chatting. However, at the same time, buyers and brand D2C faced several obstacles.
The shopping experience is fragmented across channels E-commerce so that buyers have difficulty checking out. As a result, buyers prefer to buy products on the marketplace, especially with the cashback and promos offered.
"We are confident our solution will solve a wide range pain points experienced by buyers in completing transactions online in various channels and continue to empower brands and content creators to develop," said Ahmad.
Currently, Indonesia's e-commerce sector is one of the markets with the fastest growth in the world. The digital economy is valued at around $77 billion this year according to the e-Conomy 2022 report, and is predicted to reach $130 billion by 2025 with dominance from the digital economy sector. e-commerce.
Application Information Will Show Up Here
Are you sure to continue this transaction?
processing your transactions....