The "Car Marketplace" Business Thrives Amid High Interest in Used Cars
The ecosystem is still in its early stages, business opportunities are steady with innovation and build public trust
According to reports "Car Marketplace Survey 2018" published DSResearch, 96% of consumers now use digital media when looking for information, buying or selling a car. The data is also validated by market share, throughout 2019 the dynamics of the platform business marketplace pretty excited car.
Over the past year, there were at least five startups that announced their company's actions to the public, either in the form of additional business capital, strengthening management and acquisitions by players in similar sectors at the regional level.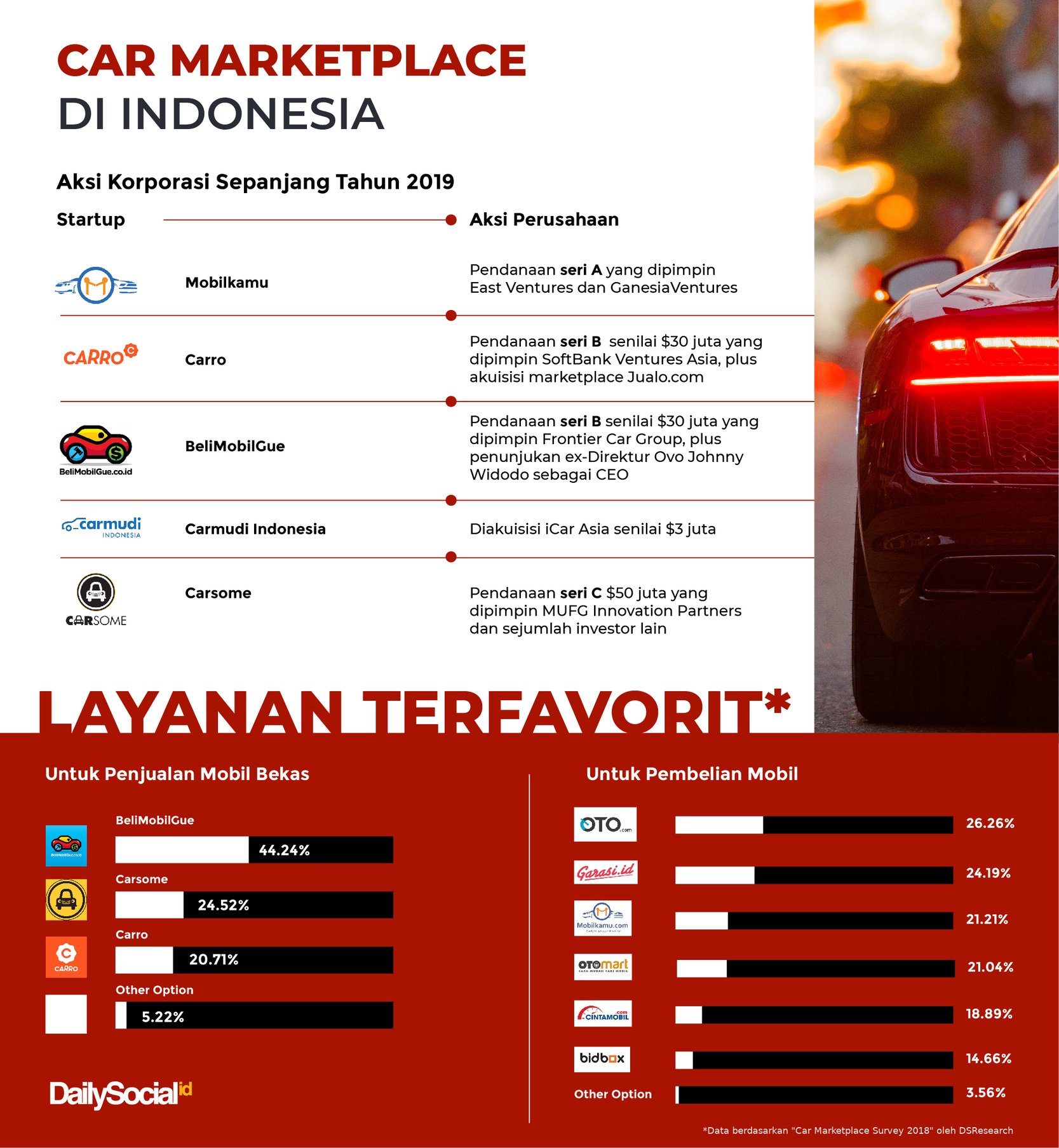 In the digital scene, automotive retail-related services are divided into several business models, both of which accommodate B2C or C2C schemes. The most popular are new car sales services (by businesses), used car sales services (by businesses and consumers), and used car sales services (by consumers).
Used car business prospects
From year to year, consumer interest in buying used cars continues to increase. One of them is recorded in study results Ipsos Business Consulting Indonesia as of 2016. The main supporting factors are a flexible payment system and a trusted used car dealer, besides the price is also cheaper.
In the first semester of 2019 there were sales slowdown domestic cars up to 11,5%. However, according to the Senior Manager of the WTC Mangga Dua Used Car Exchange, Herjanto Kosasih, this phenomenon was not felt in the used car market, only down about 7%. It was also saved because of the impact of several policies such as the implementation of odd and even police numbers, as well as public interest in the online taxi business.
From the point of view of a digital business that accommodates used car sales, BeliMobilGue CEO Johnny Widodo confirmed this. In his interview with DailySocial He said "The used car sales startup trend in 2020 is likely to continue to advance and grow rapidly. Although global economic growth will slow down a bit. This is because cars are now more of a necessity for the Indonesian people. their finances are more limited."
BeliMobilGue business itself buys used cars from the public. Users can upload information on units to be sold online, then follow up in the form of inspections, assessments to sales transactions.
MSee, there are no players yet car marketplace Johnny assessed that the startup ecosystem in the vertical is still in the early or early phase. It is also a challenge to change people's habits, from selling cars directly to dealers to digital platforms.
Marketplace
be an intermediary
Kthe habit of people doing transactions in online marketplace allegedly forming a buying and selling trend through digital platforms. Before special services such as BeliMobilGue became popular, users were also used to making car sales/purchase offers via email marketplace call it Kaskus Sale and Purchase, OLX, and so on. Even with the existing developments, OLX is also paying more attention to the car product category.
Head of Automotive OLX Indonesia Ivo Wassenar said that in 2019 (as of October) this happened increase in number used car seekers up to 33% or up to 490 thousand people. Popular brands such as Toyota Avanza, Toyota Innova, Honda Jazz, Daihatsu Xenia and Honda Brio are the most sought after.
Carro is a platform car marketplace from Singapore, who is actively expanding regionally. Intending to establish themselves in the Indonesian market, they acquired online marketplace Sello. Founder & CEO of Carro Aaron Tan said that the acquisition will increase the reach of the platform, as they consider Indonesia to be the largest market share in Southeast Asia.
The CEO of Jualo Pedro Principe added, "Basically, the business models of the two companies complement each other in many aspects.
HOLX also agrees with that, as marketplace which has a similar C2C concept. In 2019, they agreed to collaborate strategically with BeliMobilGue to increase service penetration in the automotive category.
"We will continue to develop the potential of our collaboration with OLX as our strategic partner in 2020. Existing developments are not only in existing fields but will also enter new fields within lifecycle used car," said Johnny.
T
business challenge
In the midst of growing public interest in using car marketplace There are two things that platform providers must do, namely maintaining trust and innovation.
User trust is the most frequently challenged digital technology industry to grow. Likewise for the startup industry buying and selling used cars. In fact, many people are still afraid to sell their car because they don't know much about the methods and processes involved.
While innovation is expected to improve aspects of the business in it, it provides a simplification of the complicated processes that occur in conventional business. For example, some platforms have started to provide car inspection services to ensure parts are still in good condition or provide integrated insurance services along with the purchase process.
Are you sure to continue this transaction?
processing your transactions....