Parent 99.co and Rumah123.com Get Series C Funding, Local Proptech Landscape Continues to Grow
The proptech startup business model continues to grow, not only listing but also offering convenience in the financing aspect
99 Group, parent company proptech 99.co and Rumah123.com, announced a series C funding of $52 million or equivalent to IDR 776 billion led by GAW Capital Partners. A $37 million fund was completed at the close of phase one. While the other $15 million is still in the form of investor commitments that will only be closed in the next few months. This acquisition brings the company's successfully booked equity fund to more than $80 million.
"We are very optimistic about the Southeast Asian market and our investment in the 99 Group is the right move. This brings synergies and helps us to better understand the market to open up investment opportunities and create capabilities. go-to-market for our projects to be at the forefront," said Humbert Pang on behalf of GAW Capital Partners.
Next focus 99 Group
According to the questions raised, the company will use this fresh fund to optimize the existing market potential in Singapore and Indonesia, as well as continue innovation, research, development, and expansion for new markets in the Southeast Asia region.
"This is a very good time to raise capital, with our achievements in mastering the property market and ready to expand, armed with the power of technology, in-depth experience and extensive business operational capabilities. Having a strong balance sheet will allow us to react swiftly and decisively to potential opportunities mergers and acquisitions which we predict will continue to grow," said 99 Group CEO Darius Cheung.
99 Group operates four platform brands proptech namely 99.co, iProperty.com.sg, Rumah123.com, and srx.com.sg. From the data shared, the company has experienced more than 8x sales growth during Q1/2019 to Q1/2022.
On the other hand, 99 Group has also experienced more than 4x traffic growth to 30 million per month in the same period. The number of agents joining Singapore has grown by 2x since the acquisition of SRX. While in Indonesia, it is also marketplace the number one most dominant property in Indonesia with more than 70% market share.
In Indonesia, 99 Group is led by Wasudewan. According to his explanation, this funding will be used to support expansion and product innovation development to make it easier for seekers and property industry players.
"Currently we are focusing on developing markets in several big cities outside Greater Jakarta, namely Surabaya, Bandung, Solo, Semarang and Makassar. The hope is that 99 Group Indonesia can become part of the property ecosystem at the regional level with the products and technology we have. For example, the KPR Salary Simulation product that can be used by prospective buyers to determine their ability to repay the house as well as X-Value or X-Value products. property price estimator tool which allows property seekers or sellers to get information on property price estimates more quickly," he explained.
For your information, last 2018 99 Group acquiring platform proptech local Urbanindo, to be further merged into the 99.co site.
Digitization of the property business is getting more attractive
In Indonesia alone, startups proptech types have been molded, especially those who provide services listing various types of properties. One of its closest competitors is Lamudi; not long ago they announced OLX Indonesia property business acquisition. This strategy is part of Lamudi's ambition to become a proptech largest in Indonesia.
Site
Average Visits (Apr-Jun 2022)
Rating (Real-Estate)
99. co
20 million+ (the site is accessed regionally,
specific from Indonesia 78,05%)
#1
home.com
3,7 million+
#2
Rumah123.com
4,5 million+
#3
Lamudi.co.id
1 million+
#4
*Traffic and ranking data sourced from SimilarWeb, accessed on 29 July 2022 at 14.00 WIB
Don't just stop on the platform listing property only, proptech has expanded to offer deeper capabilities --- both from the consumer and business side. One of the rapidly growing business models today is the digitization of the mortgage process or home ownership financing. Some platforms are trying to democratize a number of stages that were previously considered complicated and time-consuming --- even though they did not reach the financing process.
This year there are 4 startups that have received investor support to finalize their digital products in helping people get mortgages efficiently, they are IDEAL, Tanaku, Ringkas, and Pinhome. IDEAL for example, the application developed helps users calculate the cost and installments of property financing in detail according to their needs and preferences. They also provide an application system that allows users to apply for financing at several banks at once.
Platforms like IDEAL are directly connected to banks that provide credit, as well as property developers who run projects. The business model is commission based on each successful submission.
Although the business focus is broader, legacy platforms like 99.co actually already have similar features. The website currently has a mortgage menu, which includes a loan simulation calculator and loan application services. Currently, one of the banks that has become a partner of 99.co is BCA.
According to data, so far 75% of home purchases in Indonesia use the mortgage method. With minimal financial literacy, the majority of applicants have difficulty understanding the existing provisions, in addition to the long process. On the lender's side, a number of administrative stages were also deemed ineffective.
This opportunity is what startups are trying to win, considering that by 2021 the local mortgage industry will be worth $39 billion with a projected growth of 17% in the next five years. And the majority of its market share will fall to Gen Y and Gen Z in the next 10 years, so digitalization is considered to be well received.
business model proptech
In general, from the existing one, the business model proptech divided into three main categories. Namely a platform that digitizes the experience of using property, a platform that shares information about property, and a platform that bridges property financing needs.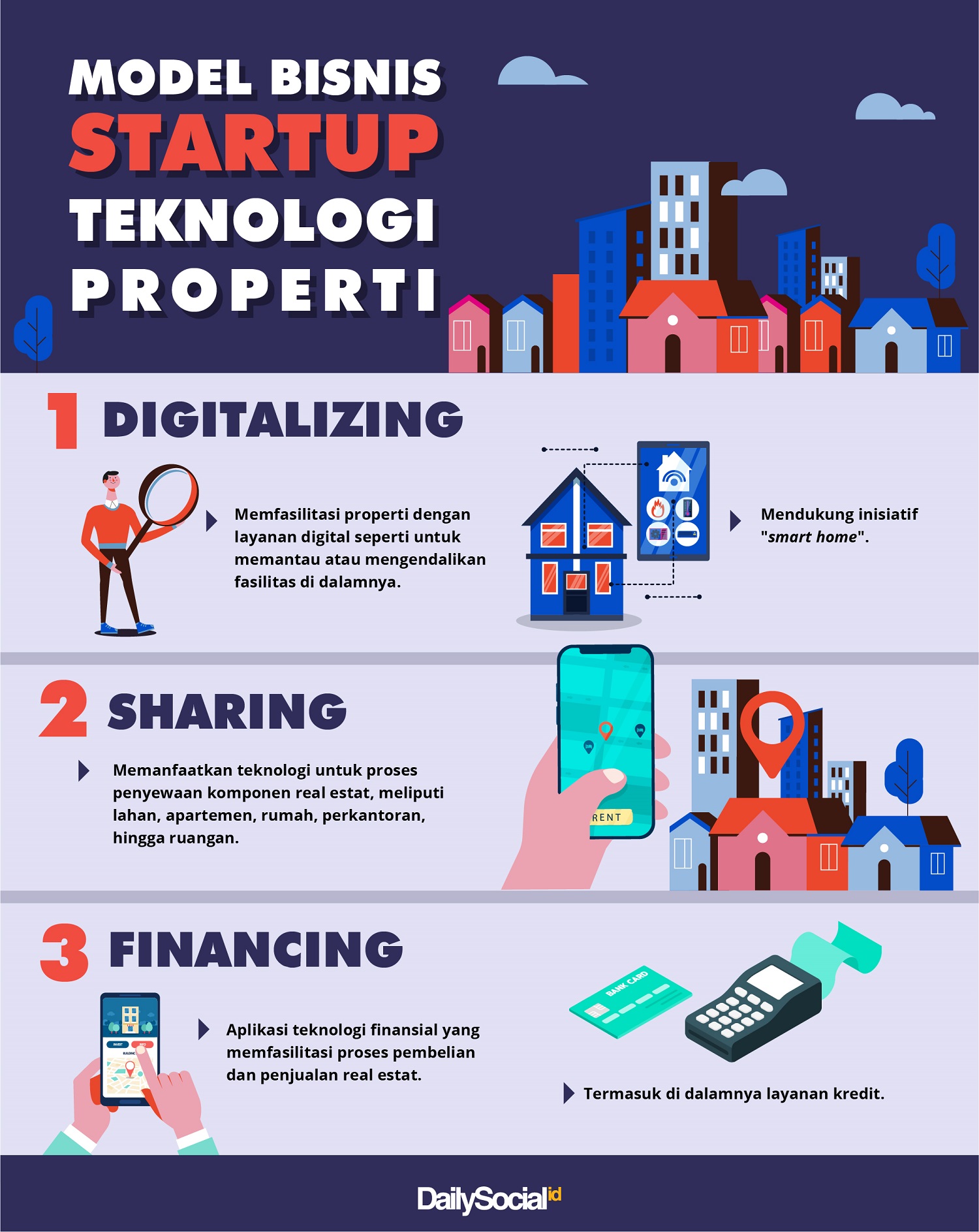 Interesting trend to catch, a platform proptech trying to present a comprehensive, interconnected ecosystem. Delivering various services connected in one centralized platform. For example, 99.co does, after users explore the desired property project, they can continue to understand about the available financing options.
This also expands their model, not only C2C, but also into B2B and B2B2C. The platforms will also be connected to the system owned by the developer or financial service institution.
However, innovation proptech it is still growing, targeting segments that have not been digitized. One business model that has also emerged this year is B2B Commerce which digitizes processes supply chain building materials for property development. Some of the startups playing here include Tokban, BRIK, and GoCement.
Recently BRIK gets seed funding 59 billion Rupiah led by AC Ventures. Meanwhile, Go-Cement previously also received support from a number of investors, including the Arise Fund. What they are developing aims to shorten the distribution chain of construction materials through a technology platform, connecting buyers with construction materials manufacturers efficiently.
Another service model is helping property owners to manage their assets, both in the form of boarding houses and apartments. Platforms such as Travelio, Mamikos (Singgahsini), or Rukita play in these areas. In addition to information in the form of listing, they help provide a more efficient rental transaction experience.
As a primary need, residential products have indeed become one of the most sought after. The presence of this digital innovation is expected to help various groups of people to overcome the issues that have been encountered so far to meet the need for housing --- from the search process to purchasing more easily and transparently.
Application Information Will Show Up Here
Are you sure to continue this transaction?
processing your transactions....