Utilize TikTok Shop Livestream Analytics Data for Shop Sales Success
Increase the Success of Your Online Business with Livestream Analytics TikTok Shop
Livestream Analytics is a feature in TikTok Shop that provides in-depth insight into the performance of live broadcasts (LIVE) on your online shop. In this article, we'll discuss what Livestream Analytics is, its benefits for sellers, and a breakdown of its useful features.
What is Livestream Analytics?
Livestream Analytics is a tool that allows online store owners in TikTok Shop to monitor and analyze their LIVE performance in detail. This feature combines data from live broadcasts by official creators and affiliates, so you can easily see your store's performance in one organized view.
Benefits of Livestream Analytics for Sellers
LIVE Performance Insights
With Livestream Analytics, you can have a complete picture of your store's LIVE performance over a period of time. This helps you identify trends and look for opportunities for improvement.
Deep Analysis
You can view important metrics such as revenue, number of orders, buyers, click through rate (CTR), and CO levels rates during the time period you specify. This helps you measure the effectiveness of LIVE sessions in generating sales.
Single LIVE session monitoring
You can check the performance of a single LIVE session, including revenue, orders, engagement, conversions and number of new followers. This data can also be downloaded for further analysis.
Affiliate Creator Evaluation
You can measure the LIVE performance of your affiliate creators or official store accounts over a period of time. This helps you in managing partners more effectively.
Detailed Functions in Livestream Analytics TikTok Shop
General data

Credit picture by TikTok
You can see today's LIVE data, including revenue and conversions via LIVE. There are four core indicators that you can check, namely, LIVE sessions, revenue, sales and buyers.
Historical Data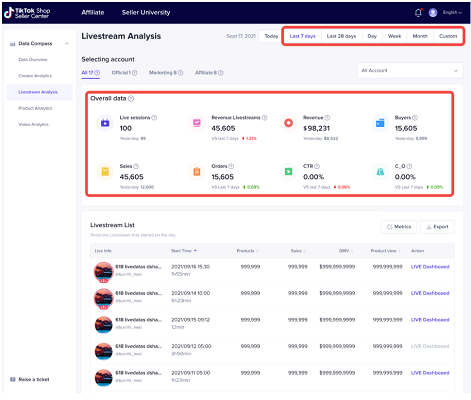 Credit picture by TikTok
You can choose to view historical data for the last 7 days, last 28 days, specific day, week, or month. This data includes the number of LIVE sessions, transaction information and orders generated during the time period you specify.
Livestream Register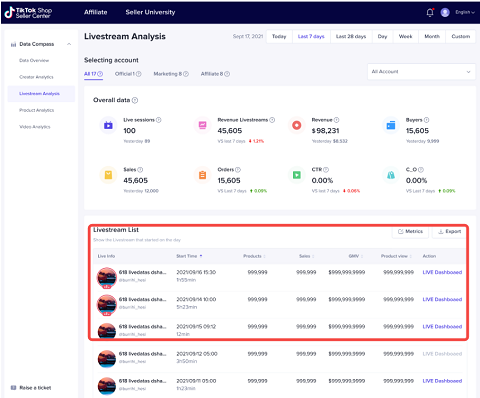 Credit picture by TikTok
You can check today's LIVE data or select a specific time period to see a list of live broadcasts that started during that period.
Performance Metrics
There are a variety of performance metrics, including revenue, number of products added to the live broadcast, number of products sold, orders placed, orders paid, number of buyers, average price, number of viewers, number of views, average duration of views, number of comments , number of times impressions were shared, number of likes, and number of new followers. Also includes metrics for product clicks, product impressions, CO rate, and CTR rate.
Creator Account Selection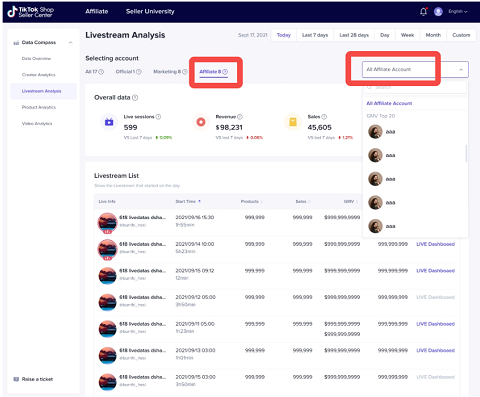 Credit picture by TikTok
You can choose to view store data over a specific time period, with the option to select account types such as official accounts, marketing accounts, affiliate accounts, or all creator accounts.
With Livestream Analytics, you have powerful tools to monitor, analyze, and optimize LIVE performance on your TikTok Shop. This helps you increase the effectiveness of your sales campaigns and achieve greater success in your online business. Don't miss the opportunity to take advantage of this feature for better business growth, okay?
Are you sure to continue this transaction?
processing your transactions....