Get to know Imajin's "Manufactur Hub" Startup and its Efforts to Encourage Indonesian Maker
DailySocial.id talks with Co-Founder and CEO Imajin Chendy Jaya
The startup industry in Indonesia is no longer just a vertical issue E-commerce, ride hailing, and fintech. Startup actors are increasingly exploratory to work on innovations in other verticals that have so far escaped the attention of the public. In fact, there are problems that can actually be solved with technology.
One of them is manufacturing, an industry that is closely related to the characteristics of production costs and the use of large-scale machines. In Indonesia, it seems that there are not many startups in the manufacturing industry. However, startup Imagin has a vision to become manufacturing hub through innovation so that it can encourage maker domestic. Especially welcoming the government's big agenda towards Making Indonesia 4.0.
For information, Imajin is a startup platform provider that brings together demand and supply in the manufacturing industry. Imajin was appointed by the Ministry of Industry (Kemenperin) as manmanufacturing hub Indonesia in 2020. Imagin is also one of the selected participants in the accelerator program Startup Studio Indonesia by the Ministry of Communication and Information Technology (Kominfo) in 2021.
DailySocial.id chance to have a virtual chat with Co-founder & CEO imagination Chendy Jaya to get to know his services more deeply for the manufacturing industry.
Initial idea
Chendy tells about his interest in the mechanical world. He works for a manufacturing solutions company from Singapore, but based in Malaysia. According to him, he has learned many things from neighboring countries because the manufacturing industry there is much more advanced than Indonesia, especially in terms of efficiency and productivity.
This experience encouraged Chendy to develop an innovation in the manufacturing industry. Here, he met two co-founder Another imagination.
At that time, Imagin had just been established as a private company offering consulting services engineering in the fields of analysis, efficiency, and productivity in 2015. In addition, Imajin also develops related solutions, such as design and analysis. The focus is on medium to high-end companies in Indonesia that are considered to have awareness on efficiency and productivity.
In the 2018-2019 period, Chendy cs began to develop a platform that could bring together related business actors in the manufacturing industry. With pivot to a new business model, he and his team began to adopt growth culture as startups.
"Apparently our clients need local manufacturing vendors who can work on a product. They already have standards, but it's difficult to realize their products. From here, we thought we should create something because we often get requests like this," he said in a virtual session.
Manufacturing hub
Overall, Imagin has three business models, namely (1) a platform to bring together business actors in the manufacturing industry, (2) project financing (project financing), and (3) marketplace to supply raw material. The three services were launched in stages.
In the first model, the new Imagin focuses on connecting manufacturers fabricated metal, automotive, household appliances, and the packaging. Imagin has also partnered with 250 verified vendors from small and medium manufacturers. As an example of the work process, if there is a request for a perfume bottle order, the user just has to upload design to the Imagin website. Then a partner that fits the criteria and needs will appear.
"We are aware that point breadit not only connects clients with manufacturing plants, but also with small business owners, such as welding workshops or lathe workshops. They are unlikely to get a job online, let alone from a platform. We want to help them get jobs too," he said.
In addition, he sees the need for manufacturing production in Indonesia sometimes takes a long time. Thus, Imagin has dashboards in a manner real-time to monitor progress profession. "Usually what happens approval so long that the project doesn't work. It's not like that there, the machine can't be idle," he added.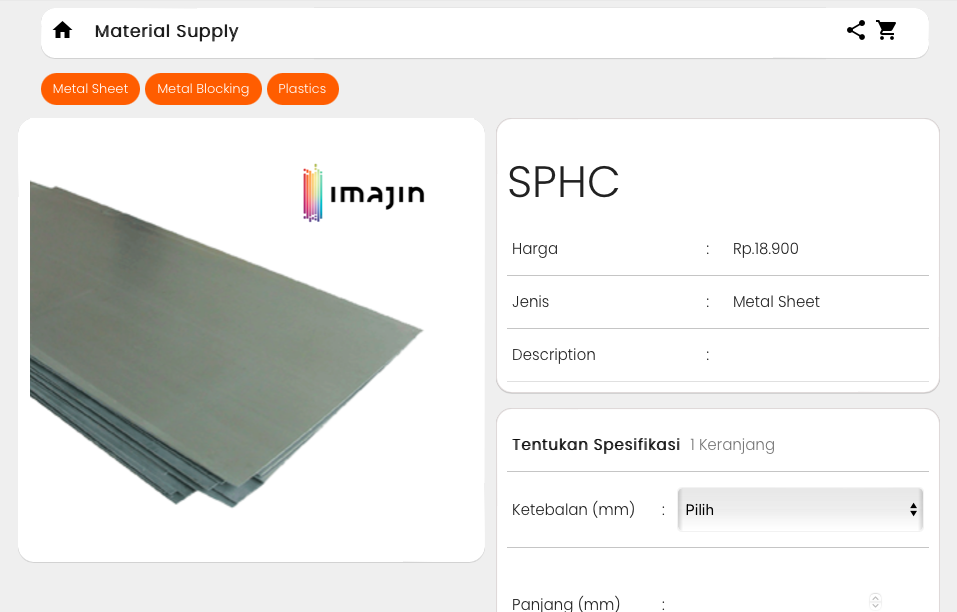 After launching the platform, Imagin added new services last year to accommodate the financing needs of its partners. This service is project financing which helps manufacturing partners to process product orders.
Imajin partners with four financial institutions to provide financing through the scheme project financing. Within three months, Imagin had distributed project financing of IDR 500 million. Chendy reveals that Imagin accepted the request project financing up to IDR 10 billion from partners.
Then, to strengthen Imajin's position as manufacturing hub, Chendy launched service marketplace to supply raw material based on the needs of its users. Imagination connects producers raw material which is delivered by a third party.
Strategy
To move its business, Imajin still relies on sources of capital from bootstrapped and some funding angel investors. Chendy said Imagin didn't use the money-burning model to get drive, instead of using strategy word of mouth.
So far, he said, the market acceptance of Imajin's services is pretty good. In fact, he revealed that Imagin had a business growth of 250% compared to the previous year, and this growth was achieved organically.
"Unlike the B2C model that burns money with promotions and changing behavior, we at B2B apply quality aspects, costand delivery. As long as these three aspects can be met, we think there is no need to burn money. Currently, we are just doing education to encourage awareness service and Improve product," he said.
He plans to allocate a budget marketing and promotion if it has series A funding. This plan is in line with the target of increasing users and regional coverage. Elaborating further, Chendy is still reluctant to comment on this fundraising plan.
In addition, Chendy said that he would increase business scale by collaborating with large-scale manufacturing companies as one of his partners. If realized, this company can be connected to the entire Imajin ecosystem. This strategy is to strengthen Imajin's base of verified and trusted partners.
Are you sure to continue this transaction?
processing your transactions....