Closer to Consumers! Here's an Easy Way to Activate the Chat Reply Feature throughout the BantuDagang Marketplace
Optimizing Customer Interaction by Activating the Chat Reply Feature to All Marketplaces on BantuDagang
It was digital, marketplace has become an important place for business. Not only as a place to sell products or services, marketplace also serves as a forum for interaction with customers.
However, the wide variety of marketplace types used by every business makes managing messages from multiple platforms a complex and time-consuming task. This is where the role of the omnichannel application becomes an effective and innovative solution because it can integrate various marketplaces and makes it easier for users to manage sales and customer messages from various marketplaces.
More than convenience, this feature brings significant benefits in increasing operational efficiency and providing a better customer experience. This time, we will discuss more about how to take advantage of the chat reply feature to all marketplaces on one of the omnichannel platforms, namely BantuDagang.
How to Activate the Chat Reply Feature to All Marketplaces on BantuDagang
To start using this feature, make sure your marketplace is integrated into the Bantudagang platform with the chat feature activated.

Image credit by BantuDagang
For Tokopedia, make sure the Chat & Webhook access type is activated. Activation can be done by opening the page Settings, then select Third Party Applications at Tokopedia Seller Center.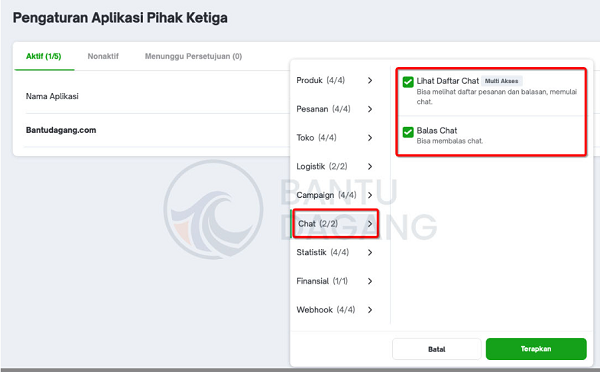 Image credit by BantuDagang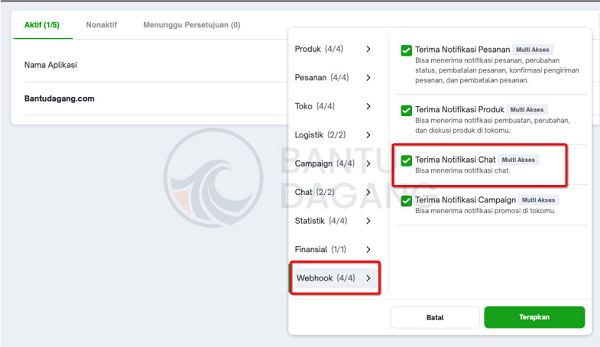 Image credit by BantuDagang
If all the steps above have been completed, the chat marketplace feature can be used. The chat list that will be integrated into BantuDagang is the newest chat after the integration process is complete.
The use of this feature is quite practical because you don't need to install additional applications. Also, you don't have to save emails and Password your shop when integrating it.
Benefits of Using the Chat Reply Feature to All Marketplaces
Communication Consistency
By integrating and responding to messages from all marketplaces through a single dashboard, you can ensure consistent communication with customers across all channels. This helps build a solid brand image and provides a positive customer experience.
Responsive and Efficient
The chat reply feature to all marketplaces allows you to respond quickly to customer inquiries and requests. That way, you can save time and effort in switching between platforms and ensure a fast response.
Increasing Customer Satisfaction
Fast response will provide a positive experience and convenience to customers, it will also increase customer satisfaction. Customers will feel heard and appreciated when their messages are answered quickly and responsively.
Effective Management
By using the reply chat feature to all marketplaces, you can manage messages from multiple platforms effectively. You can also view and manage all messages in one place, and track and monitor conversations with customers across various marketplaces more easily.
Tracking and Analytics
This feature allows you to collect important data and information from various platforms, as well as perform better tracking and analysis of customer interactions, preferences, and market trends across all marketplaces that you use. This information can be used to optimize business sales and marketing strategies.
Using the chat reply feature to all marketplaces will make it easier to manage communications with customers and improve their shopping experience. This can help strengthen customer relationships, increase loyalty and drive the overall growth of your business.
Are you sure to continue this transaction?
processing your transactions....