"Payable Software" Startup Spenmo Receives Series A Funding Of 484 Billion Rupiah (UPDATED)
Targeting SMEs, Spenmo currently has a team and services marketed to users in Indonesia
Startups fintech payment SaaS solution provider for business (payable software) Spenmo announced it raised $34 million (over 484 billion Rupiah) in Series A funding led by Insight Partners, a VC from the United States. Other investors participating in the round were Addition, Salesforce Ventures, Alpha JWC Ventures, Global Founders' Capital, Broadhaven, Operator Partners and Commerce Ventures.
Apart from institutional investors, several angel investors participate. They are William Hockey (founder of Plaid), Andy Cohen (Ex-SVP of Sales Bill.com), Ongki Kurniawan (Head of Stripe Indonesia), Kunal Bahl & Rohit Bansal (founders of Snapdeal), Matt Doka (founder of Fivestars), and John Kim (founder of Sendbird).
It claims this funding is one of the largest series A rounds a supported company has successfully closed Y Combinator in Southeast Asia.
The fresh funds raised will be used to build market penetration and access to more than 20 million SMEs and the middle market in Southeast Asia. The segment mostly does not use any kind of software to manage their debt, which they previously used spreadsheet or human labour.
Spenmo is a company fintech which provides SaaS solutions for managing business payments through corporate credit card products aimed at SMEs and medium-sized enterprises as their target users. This credit card is intended to assist businesses in managing finances when paying bills, tracking, categorizing purchases, and bookkeeping on autopilot in 90% less time.
In Indonesia, Spenmo already has a local team and is actively recruiting new talent. The Spenmo site is available in Indonesian to target new users.
In the official statement, Spenmo Co-founder & CEO Mohandass Kalaichelvan explained, Spenmo services were previously considered as a function back-office, but finance and debt are an important part of running a business.
"Finance teams implementing our services are getting their hours back. On average, they save over 50 hours and $10k each month. Our goal is to return 10 billion man-hours annually to fund teams across the region," he said.
Principal Insight Partners Rebecca Liu-Doyle now joins the board of directors at Spenmo following this round. He said the payment industry would be disrupted, especially in Southeast Asia which had not been touched by Spenmo's solution. "We are pleased to play a part in Spenmo's journey, which wants to continue to innovate and grow," said Rebecca.
Since launching in Singapore last year, Spenmo has expanded across Southeast Asia, bringing in several thousand customers representing a wide range of sectors, from high-growth startups, to SMEs, mid-market enterprises and accounting firms.
Corporate credit card
Having a corporate credit card in Indonesia is an expensive item for SMEs in Indonesia because banks have a number of strict requirements for the application process. Almost all banks issue corporate credit card products as their target users, in addition to credit cards for retail.
Because there is this gap, it finally opens up opportunities for players which so far has been offered to finance business capital or KTA. At Spenmo itself, with the physical and virtual credit cards they present, it allows companies that want to easily manage team expenses and have multiple bills by providing invoice payment features and automatic bank transfers.
Spenmo provides virtual and physical credit cards that can be used to pay rent, invoices, and employee salaries on a scheduled basis in the dashboard. Also, API can be easily integrated with accounting software (such as Xero, SAP, and myob) that are already used by companies.
It is claimed, SMEs can apply for a Spenmo account with a 30-minute process to complete, control (freeze and unfreeze) expenses with just one click, and prioritize security by setting pre-approved funds to avoid overspending.
There is a B2B paylater trend starting
Apart from corporate credit cards or productive capital loans, another option that is starting to be intensively held is services paylater B2B. According to a research publication released by DSInnovate titled "Indonesia Paylater Ecosystem Report 2021", currently there are several startup collaborations that offer these services.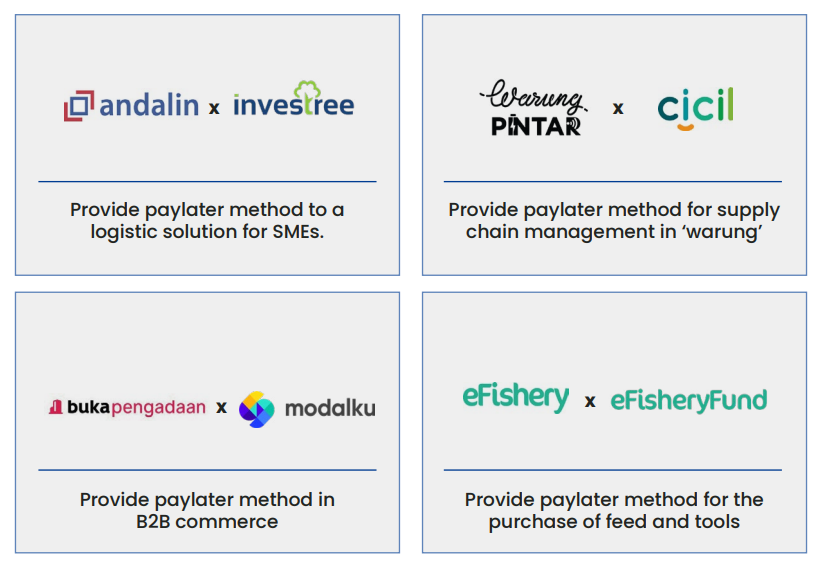 The concept, service acting as a financing provider partner, synergizing with procurement service owners -- both goods and services. In contrast to service lending which provides cash capital loans, paylater B2B focuses on financing or buying business equipment.
-
*We changed the headline by adding Spenmo's more appropriate business terminology
Are you sure to continue this transaction?
processing your transactions....