Carsome Closes Series E Funding Worth of 4.1 Trillion Rupiah (UPDATED)
It brought the company's valuation to $1.7 billion
The car marketplace platform, Carsome, announced a $290 million Series E funding round of 4.1 trillion Rupiah. This round brough the company's valuation to approximately $1.7 billion, awarding them as one of the largest automotive e-commerce platforms in Southeast Asia.
The round was led by several investors, including the Qatar Investment Authority (QIA), 65 Equity Partners and the Seatown Private Capital Master Fund. Also participating were Mediatek, Sunway, Gokongwei Group, YTL Group, and Taiwan Mobile. QIA was previously rumored to have led Traveloka's latest fundraising.
Carsome plans to use fresh funds to accelerate investments in people, products, technology, data capabilities, infrastructure and regional expansion of its "Carsome Certified" retail brand across their key markets in Malaysia, Indonesia and Thailand.
Earlier in September 2021, Carsome had announced a $170 million series D2 rounds. Simultaneously, the company also announced a credit (debt funding) worth $30 million to strengthen the car financing business. Then, the company's valuation increased to $1.3 billion.
Business in Indonesia
Carsome has been operating in Indonesia since 2017 with a consumer-to-business (C2B) business model. They buy used cars from the community, then auction the vehicles off to dealers in its network. However, its business model has been developed into C2B2C, instead of purchasing only, they sell used cars directly to consumers.
The online-to-offline approach combines the capabilities of web-based services with experience center outlets spread across various cities. Carsome Indonesia's Country Head Delly Nugraha said, "We found a big opportunity after expanding our business to the B2C segment. As a very retailed segment, in an effort to expand and improve our business, we will start expanding into strategic areas in the future."
In mid-2021, Carsome has acquired a majority stake in PT Universal Collections to expand its business in car and motorcycle auction services. This resulting in Delly's appointment as the President Director of PT Universal Collection. This corporate action allows Carsome to expand its network reach, access to finance and leasing providers, and potentially enter the motorcycle market.
Market competition
Carsome's main competitor in the regional market is Carro. The company was previously announced a $360 million series C funding in mid-2021 led by SoftBank Vision Fund 2, followed by several investors including East Ventures. With the latest funding, both Carro and Carsome have reached the unicorn status.
The ongoing strategy is identical, with the C2B2C model, Carro has the Carro Automall service for its O2O approach. In Indonesia, Carro has taken a series of strategic actions, including the Selling acquisition in 2020 and becoming a shareholder in Allo Bank in early 2022.
As both players rely on web services to reach its final consumers, here's the traffic comparison graph of the two services for the Indonesian market: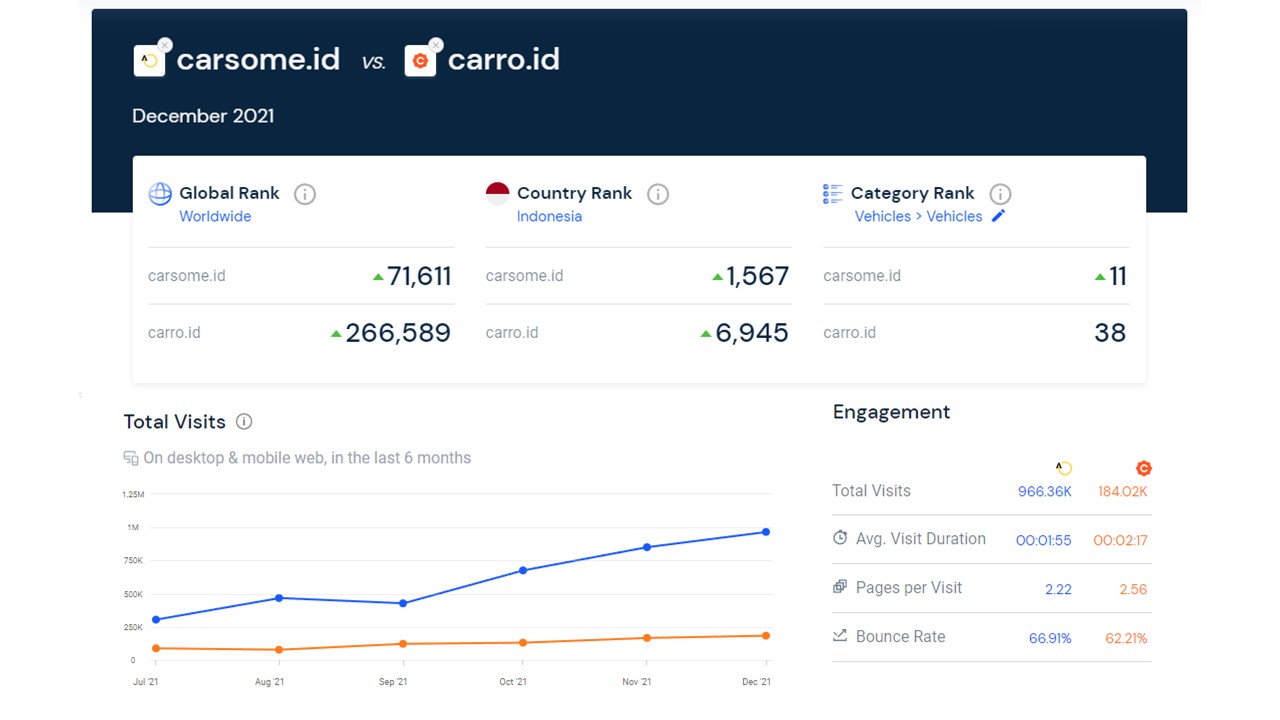 In Indonesia, there are also some other players, OLX Autos (formerly BeliMobilGue) which has now been integrated with OLX's services. The platform focused more on buying cars from consumers -- although some of the products that have been inspected are starting to be sold through OLX and other online marketplace channels.
– Original article is in Indonesian, translated by Kristin Siagian
Are you sure to continue this transaction?
processing your transactions....