Web3 Startup "Artopology" Gets Pre-Early Funding from Ideosource
Artopology is a blockchain-based artwork marketplace with an "underlying" of physical artwork
Web3 startup Artopology announces pre-start funding led by ideosource. No mention of the nominal received in the round.
"Undisclosed [for] pre-seed and medium raise di seed round at this time," said Ideosource's Co-Founder and Managing Partner Edward Chamdani when contacted DailySocial.id.
Arthropology is a curated art marketplace integrated with blockchain. They move physical works, such as paintings, sculptures, and art installations, which are exhibited and traded on the Arthropology platform accompanied by a digital certificate of authenticity registered with blockchain.
This startup was only released in early 2022 and is led by Intan Wibisono. Previously, he worked in public relations for various companies, one of which was Bukalapak.
Unlike most other web3 players, Artopologi wants to regenerate art collectors and connect the art ecosystem in Indonesia, so that this platform is equipped with various features, products and services that are suitable for art lovers.
"Artopology provides a solution for the distribution of sales of works that have had problems. Footprints are important because there are always disputes over ownership, disputes over authenticity, and disputes over values. We as facilitators will register physical works into the blockchain in the form of: Smart contract" said Co-Founder and CEO of Artopology Intan Wibisono, in a media workshop held in Jakarta, yesterday (27/10).
As another differentiation, Arthropology will verify and curate every artist, work, gallery, museum, and artist who joins. As a result, every work on the platform is claimed to be of high quality and not sporadic.
Another unique value is the focus on physical artwork, not digital artwork. Arthropology is not NFT marketplace, NFTs project, or launchpad; rather it traces the artist's work and career. Every work displayed is guaranteed authenticity by underlying physical work and can be proven by a certificate registered with blockchain, so that it cannot be changed and is eternal.
Arthropology is also integrated with the network blockchain. This marketplace can register certificates of authenticity automatically and easily, without the need for cryptocurrency. However, artists still need to have crypto wallet to be able to receive and transfer certificates.
Arthropology wants to pamper creators and artists to protect their works in a better way. Also for collectors to enjoy the works of art.
"This artopology is similar to the others, but complements the existing ones. This industry will be much better if there are good ways, one of which is a curated market shop, previously it was like a mixed hodgepodge. That's what the creators are worried about," added Rain Rusidi, art curator and lecturer at the Faculty of Fine Arts at the Indonesian Art Institute.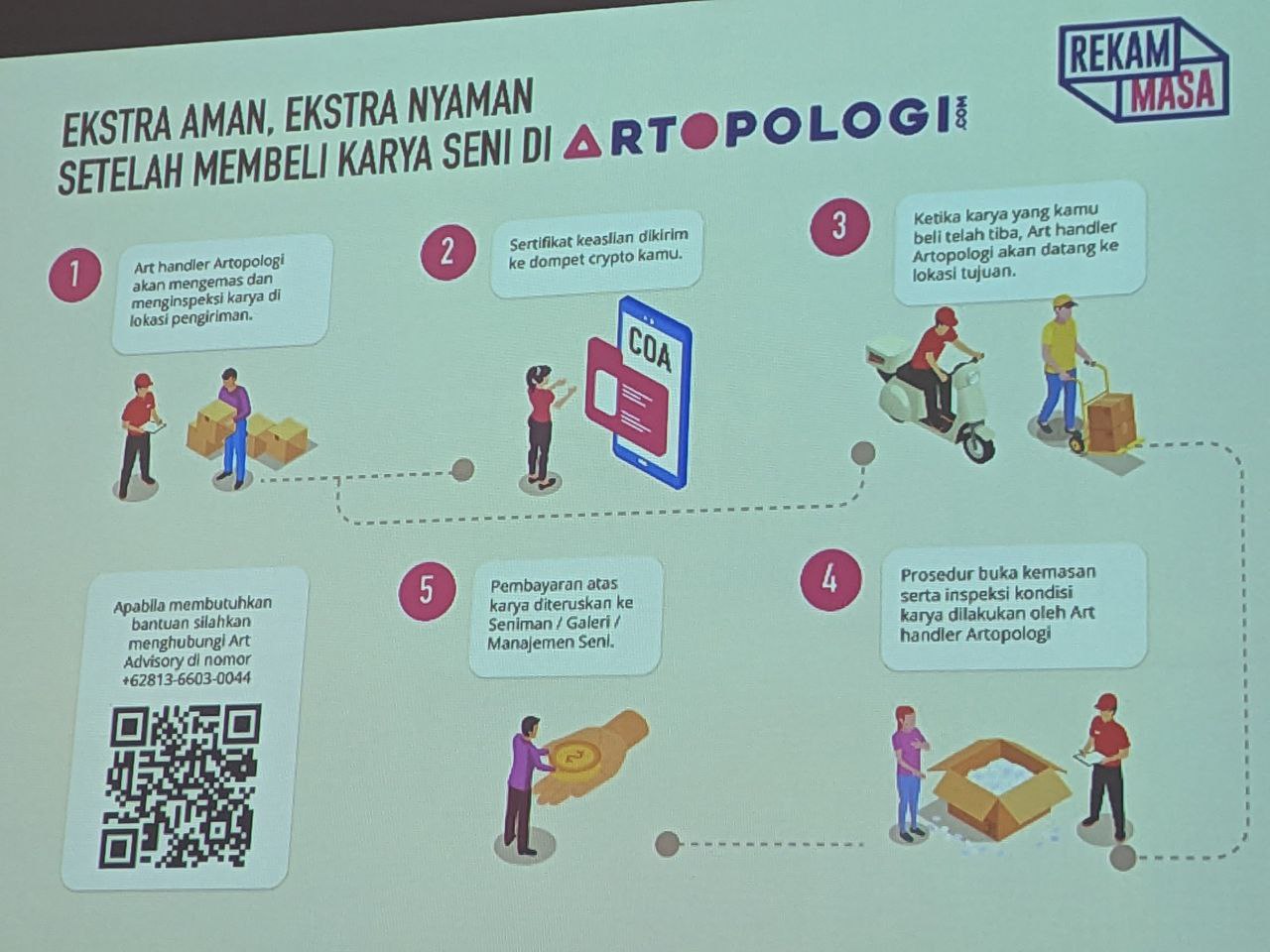 The Arthropology platform itself will be inaugurated to the public today (28/10) marked by the holding of an exhibition entitled "Rekam Masa" at the National Museum, Jakarta, which will last until November 6, 2022. The meaning of the theme marks life in a person's time, marked with a stamp. time that blockchain technology has.
Every artwork in this exhibition is integrated into a blockchain which is declared by a cryptographic code as a statement of authenticity for each inputted work.
The exhibition and platform will display paintings, sculptures, art installations, performances and fashion works from senior artists, such as Teguh Ostenrik, Galam Zulkifli, Dipo Andy, Mang Moel, FJ Kunting, Rinaldy Yunardi, Didi Budiardjo, Ghea Panggabean, Joshua Irwandi, and many more. other newcomer Indonesian artists.
Every artwork displayed will be registered in blockchain for authenticity and origin to be recognized. This provides potential royalties and fractional ownership opportunities. "The price is determined by the artist, of course there is a profit sharing with us. But this is a direct discussion with each artist and case by case, " concluded Intan.
Are you sure to continue this transaction?
processing your transactions....