Alpha JWC: Tier 2 and 3 Cities Are Key to the Digital Economy Leap in Indonesia
The digital economy in the tier 2 and 3 areas is projected to grow fivefold in the next five years
Alpha JWC Ventures together with Kearney published a recent report on the potential for non-metropolitan digital growth in Indonesia. Report entitled "Unlocking the next wave of digital growth: beyond metropolitan Indonesia" This is the result of collaboration with Credit Suisse, Amazon Web Service (AWS), and Xiaomi Indonesia.
In his presentation, the Co-Founder and General Partner of Alpha JWC Ventures, Jefrey Joe, said that his party wanted to: provide a deeper understanding of the potential for digital growth in cities tier 2 and 3 Indonesia. The aim is none other than to attract global investors so that they can help accelerate digital growth in the area.
This report was prepared based on the results of interviews with various stakeholders (stakeholder) in various industries spread across 13 cities tier 2 and 3, as well as the results of a survey of 2.100 respondents consumer and 1.100 retailer in 23 cities in Indonesia.
Indonesia's digital investment in 2020
For starters, this report reveals that digital investment in Indonesia will double in 2020 with a total value of $4,4 billion (Rp64,1 trillion) from $2,1 billion in 2019. Interestingly, although the total value of digital investment increased on an annual basis, the number of deals (deal) recorded a decrease from 221 to 173 deal.
"The Covid-19 pandemic has made startup investments in early stage until Pre Series A decreased. Startup in later stages and already have traction good, got a large funding allocation. Example, Wonderful received Series A funding which I think is the largest in Indonesia," said Jeffrey.
According to Jeffrey, investors have invested a lot in Indonesia, but are still holding back and being cautious. What's more the two diligence still difficult to do in the Covid-19 pandemic situation. However, based on interviews with 15 investors, as many as 80% said they were optimistic that investment in the digital sector would rise again in Indonesia.
This is reinforced by a number of factors, including the increasing growth of the economic mark, the adoption of digital services, to the government's efforts to encourage the digital startup ecosystem in the city tier 2 and 3.
Non-metropolitan digital potential
One of the interesting findings that is also highlighted in this report is the potential and projected contribution of cities in tier 2 and 3 on Indonesia's digital economy. To provide an in-depth explanation, Nielsen participated in mapping the information obtained in the field.
Based on the classification of this report, tier 1 (metropolitan) there are 15 cities, tier 2 (rising urbanites) there are 76 cities, tier 3 (slow adopters) there are 101 cities, and tier 4 (rigid watchers) there are 322 cities in Indonesia. Researchers used several parameter scores to classify cities, including expenditure per capita (35%), population size (25%), internet penetration (20%), provincial GDP (10%), and population density (10%).
In general, the growth of the digital economy in cities tier 2 and 3 are estimated to increase fivefold in the next five years. From a number of interviews with C-Level respondents at SME startups, fintech, and social commerce, consumers in tier 2 and 3 grew significantly so that 1% of growth expectations in the next 2-50 years are expected to come from outside Java.
Currently, metropolitan areas still make a large contribution (24%) to the national GDP. However, economic growth in non-metropolitan areas has also increased rapidly. When the digital potential is tier 2 and 3 can be developed significantly, its GDP contribution can increase 3-5% in 2030, and Jakarta's GDP will automatically shrink 5-6%.
Based on the survey results, as much as 80% of the total population in non-metropolitan areas is a segment that is late in adopting technology (laggards). Because of domination laggards in tiers 2 and 3, as many as 50% of respondents said they did not know (aware) with a number of digital activities.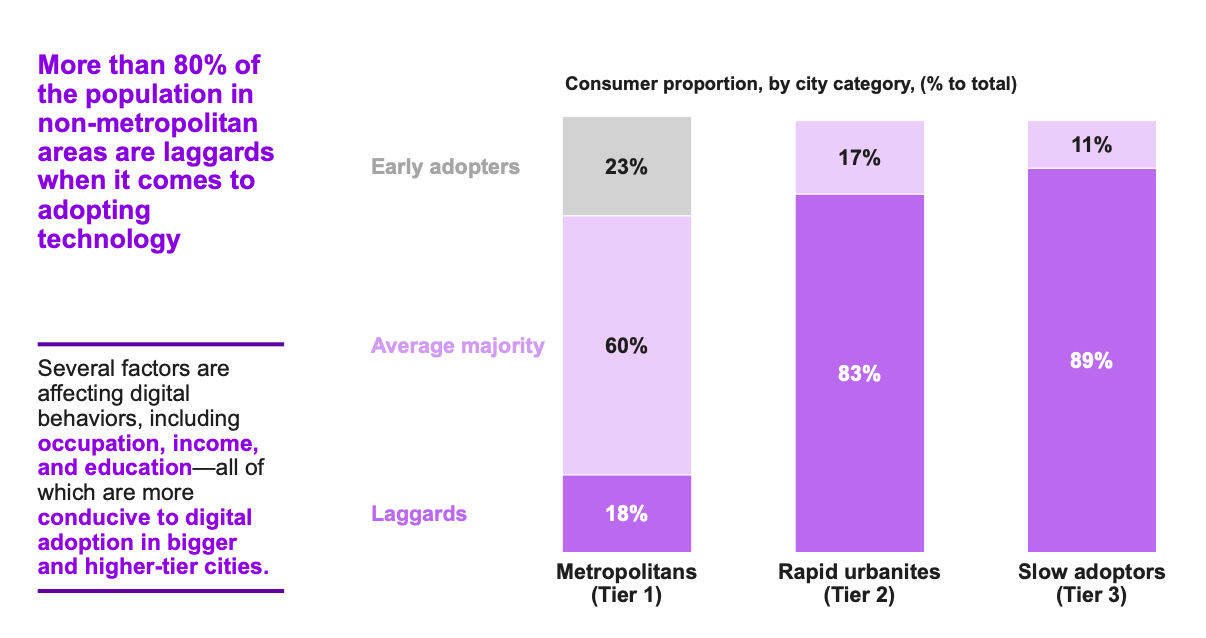 This report found that e-commerce (66%) is the activity most recognized by respondents.While, awareness for other digital activities less than 50%, among others ride hailing (47%), food delivery (41%), EdTech (30%), payment (24%), lending (11%), and healthtech (5%).
Low awareness digital in tier 2 and 3 are caused by a number of factors. As many as 53% of respondents admitted that it was difficult to use the service, 44% of respondents mentioned price and promotion factors, and 41% related to product availability. Interestingly, some digital activities in the city tier 1 is less known to the respondent, namely lending (15-20%), EdTech (<10%), healthtech (<10%). Temporary, awareness the three service categories in tier 2 less than 5%.
According to this report, current city tier 2 and 3 are just at the stage of starting digital adoption and are 4-5 years behind in adoption from cities tier 1. However, in his analysis, adoption in tier 2 and 3 will increase in 2025 as consumers become more familiar and accustomed to using digital services.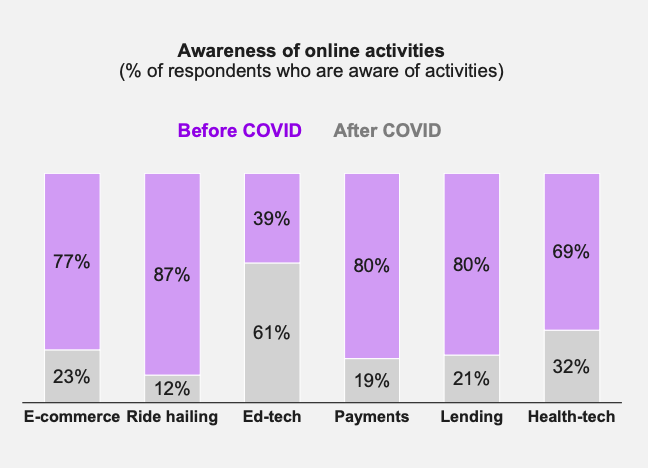 More specifically, tier 2 cities are considered more ready to boost digital growth compared to tier 3 and 4. This is because more and more players and enablers are focusing on these areas. The government is also considered to have begun to spread the focus on infrastructure development outside Java, such as Kalimantan, Sulawesi, and other provinces in Eastern Indonesia.
What startups and investors need to consider
According to Shirley Santoso, Partner and President Director of Kearney, the key to being able to do leap frog The digital economy in Indonesia lies in the area tier 2 and 3. Especially with the pandemic situation, digital adoption has increased significantly. "This has sparked adoption in tier 1 becomes more mature and the growth space is reduced. This makes startup actors start 'running' to tier 2 and 3," added Shirley.
This report also reveals other findings that can be considered by startups and investors in developing their business focus going forward. Respondents in Java assessed that there were three main concerns in adopting digital, namely (1) ease of use, (2) promotion and price, and (3) product availability.
On the other hand, non-Javanese respondents pay more attention to aspects of (1) security, (2) ease of use, and (3) delivery in using digital services.
When the stakeholders can complete various concern above, including infrastructure improvements, the share of the digital economy in tier 2 and 3 could increase in 2025. If broken down, the contribution of e-commerce could increase from 30% in 2020 to 48% in 2025. Contribution payment can jump from 22% to 41%, and ride and delivery increased from 21% to 35%.
In terms of value potential, GMV e-commerce in tier 2 and tier 3 are projected to increase fivefold from $9 billion in 2020 to $45 billion in 2025, while GTV payment is estimated to grow sevenfold to $20 billion in the same period from $3 billion in 2020. Then, the portion ride hailing and delivery predicted to rise from $2 billion to $5 billion.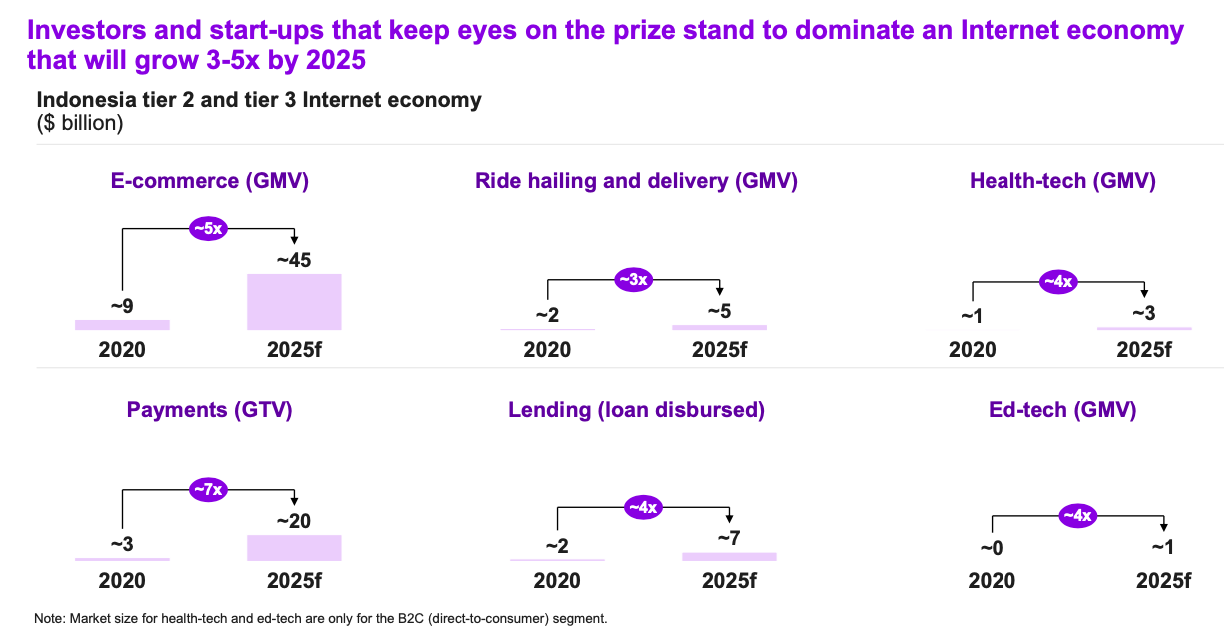 A number of startups tier 1 has actually done a massive expansion to tier 2 and 3. In his notes, GrabKiosks are starting to expand coverage in 500 cities, Bukalapak claims to have 5 million stall partners centered in tier 2 and 3, as well as Tokopedia which has begun to expand its reach to rural areas.
"The crisis we are facing is not only an economic crisis, but also a health crisis. This situation spurs us on how Indonesia can manage the health and economic crisis. at the same time. Indonesia has started to do so through the 5M protocol, vaccination, and others. This is important to get through the crisis and push the segment back travel and transportation," said Shirley.
Are you sure to continue this transaction?
processing your transactions....