KunciCoin Focuses on Building a Local Blockchain Ecosystem
The NFT-based streaming platform "KunciPlay" is one of the innovations to support the application of blockchain in various industries
PT. Famindo Key to Success through LockCoin develop technology blockchain the next generation to support multi-industry deployments, such as NFTs marketplace, Metaverse, Decentralize Finance (DeFi), and retail markets.
KunciCoin was founded by Julius Agus Salim who also doubles as CEO, and Joko Crypto. KunciCoin offers a variety of utilities and collaborations which include Funesia, DoyanRebahan.com, KunciComedy, Artotelegroup, OMNIVR, Yukk, KunciGames, and I-Crypto Mining.
To DailySocial.id, KunciCoin co-founder Joko Crypto conveys his business plan, including the launch of KunciPlay which is a music platform streaming based NFT first in Indonesia.
Strengthen the quality of crypto projects
KunciCoin was launched in 2021 for reasons of saturation with the quality of local crypto projects in Indonesia. Many projects don't have a clear plan, and the vision is simply focused on profit. For this reason, KunciCoin is based on planned products and projects and can be used for daily activities. According to Joko, Indonesia has a chance to catch up with the players blockchain or another global crypto project.
The way it works consists of coins and tokens. Coins use blockchain themselves, such as BNB, Ethereum, Solana, or Polygon. Meanwhile, tokens use technology blockchain which has existed. Currently, the new KunciCoin is available in the token standing above blockchain bnb. However, KunciCoin is developing blockchain based on Solana.
"Our monetization strategy and business model is to build projects and products from our own assets, namely KunciCoin. Crypto assets do not always have to betrade a day, but can be used in everyday life as has been used by several countries," he said.
KunciCoin has also launched the Qoinpay application to utilize crypto assets as well as KunciPlay which is an application streaming based music blockchain NFT first in Indonesia.
With technology blockchain, KunciPlay offers transparency to users in providing clarity regarding music royalties to musicians, users and companies. In addition, users can earn royalties from the ownership of the works they buy. This is referred to as one of KunciPlay's advantages compared to other platforms streaming existing music.
"We're working with a few crypto exchanger locally and overseas, such as Indodax and Bybit. We also work with strategic partners from the community because a reputable crypto project has strong ties and can make it last," he said.
Next year, the company will launch payment or utilization tokens to integrate all existing products. All launched products will be integrated with the KunciCoin crypto asset.
KunciPlay to expand the ecosystem
KunciPlay is claimed to be the first platform in Indonesia in the ecosystem blockchain and Web3. Each copyrighted work of the musicians listed and listedlisting in KunciPlay into Non-Fungible Token (NFT) products, both in audio and video formats.
Utilization of technology blockchain in KunciPlay service is a strategy to introduce and bridge the Web2 system which is currently used on many existing digital platforms, and is ready to transition towards Web3.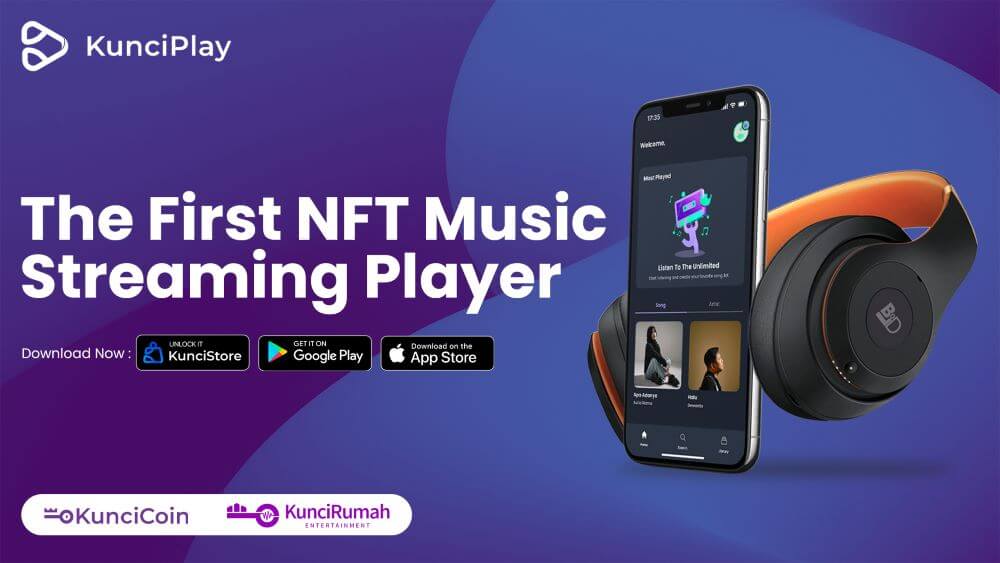 On KunciPlay's first release, several songs from prominent musicians, such as Ifan Seventeen, Ariel Nidji, and David Noah, were included. Going forward, KunciPlay will collaborate more with musicians to give users choices for their favorite musicians and songs.
He hopes that this innovation can provide a sense of fairness and certainty to musicians considering that all platform activities are recorded on Blockchain. Every musician will get royalties from every song played or played by every user or individual on the platform.
The first release of KunciPlay will have a Music Subscription feature embedded which allows users to subscribe to KunciPlay to be able to listen to music in its entirety and in its entirety. In the future, KunciPlay will include Video on Demand features, Integrated NFT KunciNFT, Live Streaming, and many more.
"From the research conducted, there are issues of openness and clarity of royalties that musicians have been facing. Therefore, KunciPlay makes use of technology blockchain and NFT to provide openness, clarity, and royalty fairness for fellow musicians. KunciPlay will also be integrated with the entire KunciCoin ecosystem."
Application Information Will Show Up Here
Are you sure to continue this transaction?
processing your transactions....