Fintech Funding in Southeast Asia Falls Sharply, Lowest Since 2020
According to the FinTech in ASEAN 2023 report, fintech funding in 2023 (YTD) was recorded to have fallen to $1,3 billion from $5,1 billion in 2022
Indonesia and Singapore are recorded as still leading the funding fintech in Southeast Asia with an accumulated 86% of total funding of $1,3 billion flowing to these two countries by 2023 (year-to-date/YTD).
However, funding channeled to fintech in Southeast Asia in 2023 (YTD) slumped 74% to $1,3 billion compared to 2022 of $5,1 billion. Likewise, the number of funding transactions fell 60% to 94 deals in 2023 (YTD). The figure becomes lowest achievement since 2020.
The FinTech in ASEAN 2023 report published by UOB together with PwC and the Singapore FinTech Association (SFA) reviews funding trends in the six largest economies in Southeast Asia (ASEAN-6), including Indonesia, Malaysia, the Philippines, Singapore, Thailand and Vietnam.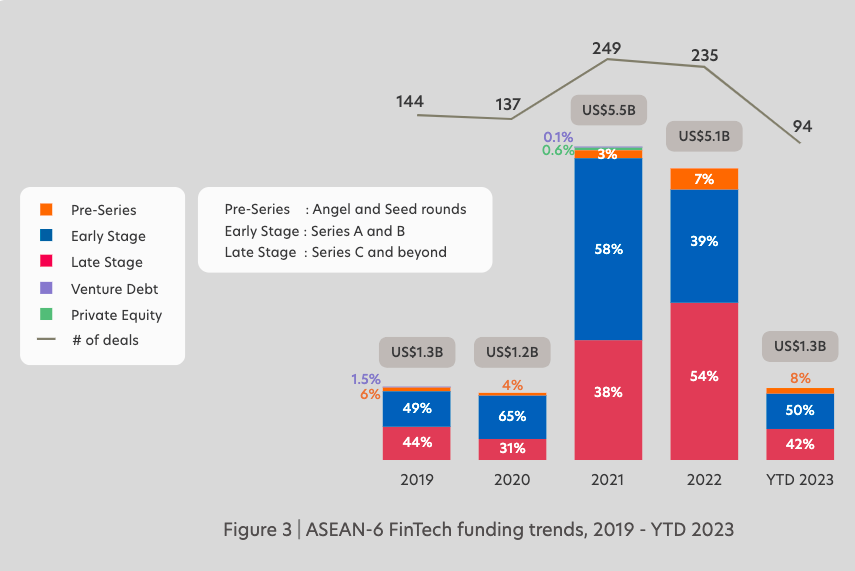 Of the total funding obtained this year, 50% was injected into early startups and 42% into advanced stage startups. According to a number of investors interviewed, fintech The initial stage attracts more funding due to new ideas and small capital.
"The decline that occurred in 2023 was due to a surge in funding obtained by the sector fintech in 2022 where VCs are holding back during the pandemic. The second factor is driven by policies and good market conditions, startups have brought in a lot of capital in the last decade. "With changes in macro conditions, it is natural to pay close attention to fundamentals," said Quest Ventures Managing Partner James Tan.
Funding fintech Indonesia
Decreased funding fintech in Southeast Asia automatically also has an impact on funding flowing to Indonesia. Indonesia contributed 27% (approximately $351 million) of the total funding value fintech $1,3 billion by 2023 (YTD) in Southeast Asia. This figure is down from the previous share of 29% (around $1,4 billion) for a total of $5,1 billion in 2022.
Based on the numbers, 16% or 15 transactions were injected into fintech Indonesia. This number has decreased quite significantly compared to 2022, which was 22% or 52 transactions.
Additionally, this report found Alternative lending became the segment that received the most funding for the first time with a value of $408 million or one third of the total funding fintech in ASEAN-6. In 2022, funding fintech still dominated by the payments sector (39%), while alternative loans are only 10%.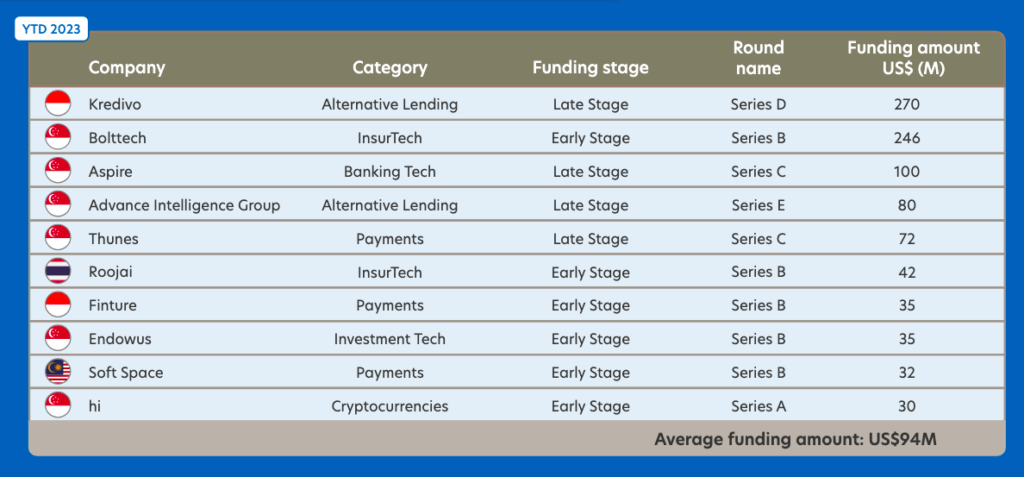 Indonesia was recorded as receiving the most funding in the alternative lending sector with a share of 84%, followed by the Philippines (59%) and Vietnam (48%). Series D funding received Kredivo Holdings of $270 million in early 2023, contributing to funding in Indonesia's alternative lending sector.
Train green fintech
This report also presents findings related to funding fintech to the green sector or green fintech, which is said to be in line with the industry's increasing focus on sustainability (sustainability). Green fintech offers solutions and roles to help business people start their journey towards sustainability.
Funding flowing into the sector greentech and green fintech in Southeast Asia it was recorded that it decreased in 2023 (YTD) to $169 million from last year's position of $300 million. However, investors see that there is increasing trend greentech, as well green funding which will be the key to the growth of green fintech.
There are three factors that will be the driving force greentech in this area. First, regulators where companies are now required to report the impact of their business activities on the environment. Second, Gen Z consumers are attracting public attention because they have high awareness of the environment.
Gen Z is said to prefer products/services that are in line with their values, and this shows that sustainability aspects need to be involved in the company's business strategy. Lastly, stakeholders. Investors, financial institutions and employees are demanding that companies adopt sustainability strategies and report on their progress.
Are you sure to continue this transaction?
processing your transactions....