Amazon Web Service Has No Plans to Build Servers in Indonesia
Having had an office in Indonesia since December 2017, Amazon's CTO is reluctant to answer questions about the potential presence of e-commerce services
The day after news Amazon's potential entry of e-commerce services to Indonesia, at the 2018 AWS Startup Day event, Amazon CTO & VP Werner Hans Peter Vogels emphasized that Amazon could not answer questions and justify reports that were in the form of speculation or rumors.
In front of the media, Vogels reminded again that his visit to Indonesia was focused on promoting Amazon Web Service (AWS) and how startups can take advantage of technology. cloud which is currently very affordable, for startups as well as SMEs.
"We ensure that the technology that AWS has is relevant for startups, SMEs to enterprises. We have also lower prices up to 70 times cheaper to reach more customers," said Vogels.
No local server plan
To strengthen marketing activities, AWS has teams and offices in Indonesia that have been present since December 2017. Asked whether there are plans to build servers in Indonesia, related to regulations that require the availability of local servers in many sectors, Vogels reiterated that until now AWS customers from Indonesia feel quite satisfied with the existing service, even though the server is not in Indonesia, but in Singapore.
"To get around this problem, we offer another solution in the form of a technological structure that can be followed by using a direct connection or using an internet connection private line in Singapore to get direct access or we put a local team to meet directly with regulators to be able to comply with existing regulations," said Werner.
Werner added, currently AWS has customers from startups, enterprises, to financial companies that are required to implement these regulations, however can be overcome by utilizing architectural guidelines such as implementing encryption.
"So I can say at the moment we haven't got a feedback from customers who require AWS to build servers in Indonesia. However, we recognize that all countries want universal access private," said Werner.
Education through AWS Academy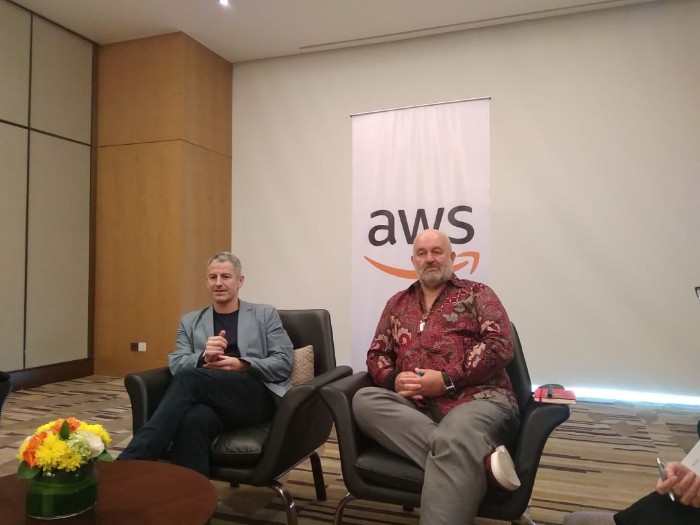 One of the obstacles facing AWS today is in-depth education related to technology cloud, implementation and other technical issues. For this reason, the company through AWS Academy, launched a series of activities in collaboration with universities, one of which was with ITB and other universities in Singapore.
With this activity, it is hoped that candidates engineer those who are still students can get the right and thorough education about technology cloud, so that when you graduate you can understand technology cloud appropriately.
"The activity has become shorts and long term plans from AWS. To provide in-depth knowledge, AWS Academy also prepares professional teaching staff from the United States to Europe related to technology cloud, said Vogels.
Currently, Indonesia is a country that has quite good potential in Southeast Asia, seen from the growth of entrepreneurs, startups to internet penetration. This makes AWS want to invest more and focus on placing account Manager who are ready to help companies to adopt technology cloud-New.
"AWS has been around for 12 years before competitors came to offer similar services. For this reason, with the technology and security guarantees that we have and affordable prices, we focus on helping customers create technology cloud right for their needs," Vogels said.
Are you sure to continue this transaction?
processing your transactions....